The 15 best restaurants in Berlin
Few cities can boast 28 Michelin stars, but you don't need to splash out to enjoy the best restaurants in Berlin
The absolute best restaurants in Berlin may have received nearly 30 Michelin stars between them, but if you don't know what to look for, you're likely to stumble between döner stands all night in a hunger-induced fugue state. Though you'll go home having memorised the names for all those glorious kebab sauces (kräuter, knoblauch, scharf, anyone?), you'll have missed out on some truly life-changing meals.
So where to go, and what for? If you fancy a cheap and cheerful midday plate of houmous and fresh veg, head to Neukölln's Sonnenallee, or to one of several venerable Israeli haunts in Prenzlauer Berg. Kreuzberg's köfteci and ocakbasi will warm meat-eating stomachs late into the night with grilled lamb, lentil soup and fresh bread. And if you're feeling indulgent, we recommend sampling one of those Michelin-hyped addresses, or for those on tighter budgets, one of several new Neapolitan-style pizza joints Berliners are going wild for.
Long day out ticking off this city's endless brilliant museums and attractions? Line up a blowout at one of these for later (and pack some baggy trousers).
Eaten somewhere on this list and loved it? Share it with the hashtag #TimeOutEatList.
Best restaurants in Berlin
Part of the Grill Royal gourmet empire, Kin Dee has proven a worthy successor to Thai-Berliner institution Edd's. Head chef and owner Dalad Kambhu strays into similar fusion territory, serving creative fine Thai cuisine with a focus on fresh, high-quality ingredients. With its set menu of small plates, excellent vegetarian options and a well-chosen wine list, Kin Dee has already won over the locals – and was awarded its first Michelin star in 2019. This makes Kambhu the youngest woman ever to receive the honour in Germany. How better to celebrate than with a meal you won't be forgetting any time soon?
Price: Pricey
Unlike many of Berlin's fine-dining establishments, this small restaurant prides itself on its informality – despite its place at number 37 on the world's best restaurants list. The tasting menu might include amuse-bouches of spicy cashews, prawn sashimi and marinated pork belly, moving on to main courses of wagyu beef, lobster, Australian winter truffle and tofu. Everything has a Japanese touch and comes served with blobs, smears or foams of contrasting flavours and colours. Book ahead.
Price: Blowout
One of the city's best-known venues, the riverside Grill Royal is a stylish, friendly and exceptionally meaty experience. Not for vegetarians or anyone on a diet or budget, Grill is as brilliant for people-watching as it is for its (stoutly priced) steaks and seafood. The meat is sourced from local suppliers as well as from Argentina, Ireland and Australia. The walls are adorned with rather striking soft-porn art from the owner's collection. Reservations are essential.
Price: Blowout
4
Photograph: Courtesy Yelp/Nina W.
Offering a menu composed entirely of desserts and drinks, concept restaurant Coda earned its first (long-awaited) Michelin star in 2019. Masterminded by chef René Frank, its plates are artfully composed, use only the freshest ingredients and place an emphasis on the experimental. Come by for the blowout six-course tasting menu which pairs desserts with drinks (from €98). Alternatively, head to the bar for a superlative cocktail.
Price: Pricey
Recent opening Malakeh's Syrian cuisine is as mouth-watering as its origin story is heartwarming. Owner Malakeh Jazmati has no formal kitchen training, but once found a following as Syrian TV personality Maliket al-Tabkh ('the Queen of Cooking'). Driven out of her country by the war, she came to Berlin in 2015 and has set up this restaurant with her husband Mohammed. As a poignant reminder of the home she left behind, Malakeh is decked out with pictures of Syrian artists and activists. Food-wise, expect excellent kibbeh in a yoghurt sauce, moreish fried aubergine and some of the city's freshest tomatoes.
Price: Average
6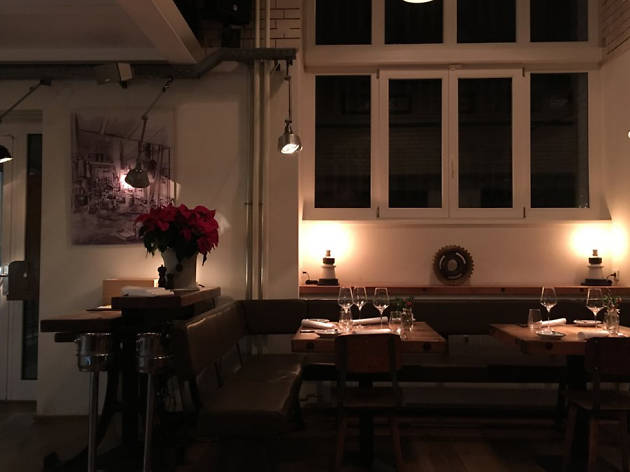 Photograph: Courtesy Yelp/Michael A.
Fancy a side of history with your main? Eins44 serves exquisite fine dining in the industrial surroundings of a former schnapps factory. Proving there's a place for high-end eating in down-and-dirty Neukölln, the restaurant serves both lunch and dinner. Lunches tend towards the classics, while in the evening you can pick three (€46) or up to six courses (€73) from flexible menus featuring seasonal dishes such as venison with shiitake mushrooms and prawns with vermouth and yellow beetroot.
Price: Pricey
7
Photograph: Courtesy Yelp/Horváth
Operating outside the usual Berlin luxury hotel system, Austrian chef Sebastian Frank gained a Michelin star in 2011 at this canal-side restaurant. Enjoy a tasting menu of typical German ingredients transformed through novel techniques and flavour combinations: the onion, pigeon and kohlrabi, and the sturgeon, rib and celery, are charred, elegant and perfectly plated. The Austrian wine list is also excellent. Booking advised.
Price: Blowout
People flock from all over the city to sample Azzam's houmous, made fresh throughout the day. The grilled minced lamb is perfectly seasoned, and the falafel is a crunchy, sesame-speckled delight. You get a lot for your money, too: each dish comes with raw veg, bitter olives, garlicky mayo or tahini sauce, and a basket of stacked pita bread which doubles as cutlery.
Price: Bargain
9
Photograph: Courtesy Yelp/Berthold R.
If Berlin had a Chinatown, it would be Charlottenburg's Kantstrasse. This tiny hole-in-the-wall spot knocks out Taiwanese classics such as noodle soups and gua bao (rice buns filled with duck) as well as more esoteric plates of dressed beef tongue or pigs' ears sliced finely over rice noodles. It's almost always full in the evening, but the turnover is fast enough that you'll find a seat pretty quickly.
Price: Bargain
A trip to Rogacki, a German-Polish deli-cum-food market, is like stepping back in time. The draw here is the fish: specialities include bratherings (brined and fried herring) and rollmops (pickled herrings rolled around gherkin). Alongside the excellent, high-quality produce, you'll find gourmet 'islands' at which you can pull up a stool and order a fischbrötchen or oysters and wine for much less than at KaDaWe. It's excellent for people-watching, too.
Price: Bargain
This restaurant's tagline is 'vocally local' – meaning they refuse to import food from beyond the capital and its immediate surroundings. Sadly, that also means no chocolate. However, chef and sommelier Billy Wagner will win you over to the cause: he uses neglected traditional methods to create a seasonally shifting menu packed with bold, contemporary flavours. The frontage is nondescript, visible only to those in the know, and you have to ring a bell before being ushered around a long wooden table with just 28 seats. Booking is, unsurprisingly, essential.
Price: Pricey
Das Lokal comes from fine heritage: formerly Kantine, a cult pop-up of sorts which had occupied a space earmarked for demolition in David Chipperfield's architectural office. The seasonal menu changes weekly and might feature starters of pigeon with chestnuts, mussels in broth or asparagus croquette – all have bold, local flavours in abundance. We recommend anything with offal or game in it.
Price: Pricey
13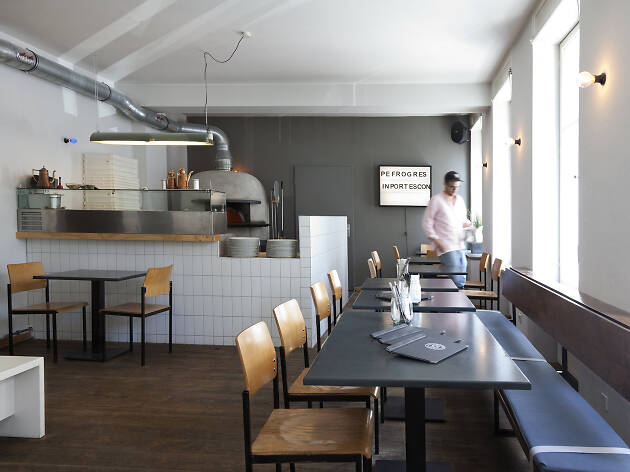 Photograph: Standard Serious Pizza
Another year, another Neapolitan-style pizza restaurant opening in Berlin. We're not complaining, though. Berlin's pizza renaissance has upped the quality of the pies by huge margins, and Standard in Prenzlauer Berg is a crowd-pleasing favourite. You can't go wrong with the margherita, with its fior di latte mozzarella and San Marzano tomatoes (€8.50), or the more out-there house white pizza featuring smoked cheese, semi-dried tomatoes, aubergine and olive pesto (€14.50).
Price: Average
14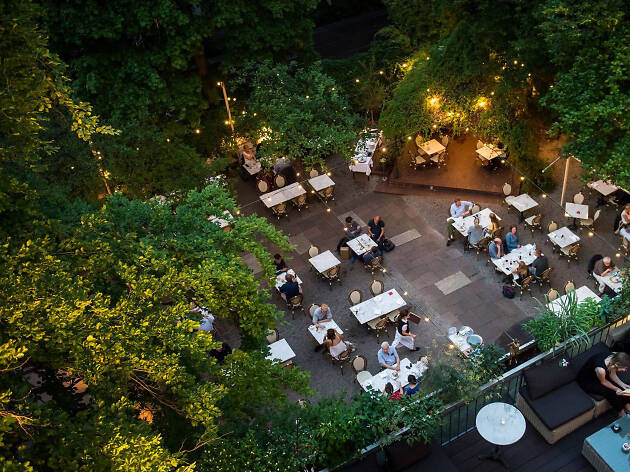 Photograph: Café Einstein Stammhaus
For a taste of old-world decadence that never goes out of style, visit this Nollendorfplatz institution. It's set in a neo- Renaissance villa built in the 1870s by a wealthy industrialist; red leather banquettes, parquet flooring and the crack of wooden chairs all contribute to the historic Viennese café experience. You could come for a bracing breakfast of herb omelette with feta cheese and spinach, or, in the afternoon, a classic apple strudel and a Wiener Melange (a creamy Austrian coffee), all served with a flourish by the charming uniformed waiters.
Price: Average
Refurbished a few years ago, this venerable sausage stand has been under the same family management since 1930. After coming up with a secret recipe for ketchup (which wasn't available after the Wall was built), it was the first place to offer currywurst in East Berlin and still serves the most famous – and quite possibly the best – version in the city. Expect queues.
Price: Bargain
Looking for somewhere to stay? Try here...
As tourist destinations go, Berlin is cheap. We all know that – that's why it's such a mecca for the night-out-hungry yoof. But this also extends to a more moneyed clientiele; you can do pretty well if you splash out on a fancy hotel suite.