Getting around Berlin
Berlin is served by a comprehensive network of buses, trains, trams and ferries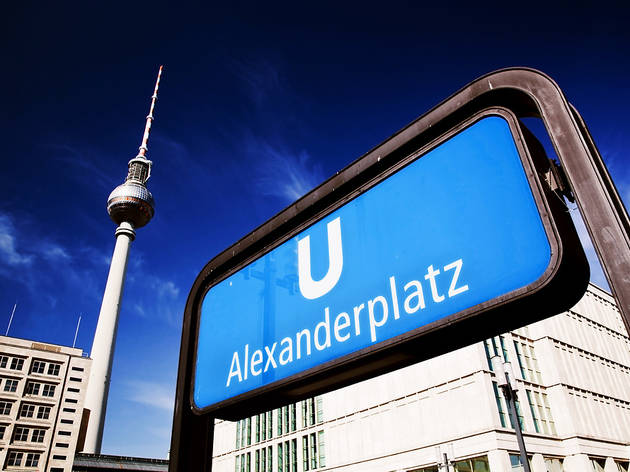 By

Zoe Jewell and Dave Rimmer
|
With the completion of the inner-city-encircling Ringbahn in 2002, the former East and West Berlin transport systems were finally sewn back together, though it can still sometimes be complicated travelling between Eastern and Western neighbourhoods. Even within one half of the city, journeys can involve several changes of route or mode of transport. But services are usually regular and frequent, timetables can be trusted, and one ticket can be used for two hours on all legs of a journey and all forms of transport.
Arriving and leaving
By air
The new Berlin Brandenburg Willy Brandt Airport (BER) should have opened some years ago. But, following years of confusion and controversy, no-one seems to know exactly when it will open, with current estimates stretching to 2018 and beyond. Until then, Berlin remains served by two airports: Tegel and Schönefeld.

Information in English on all airports (including live departures and arrivals) can be found at www.berlin-airport.de. Both Tegel and Schönefeld are likely to close as soon as BER opens, just south of the Schönefeld site.
Flughafen Tegel (TXL)
Airport information 0180 5000 186, www.berlin-airport.de. Open 4am-midnight daily. The more upmarket scheduled flights from the likes of BA and Lufthansa use the compact Tegel airport, just 8km (5 miles) north-west of Mitte.
Buses 109 and X9 (the express version) run via Luisenplatz and the Kurfürstendamm to Zoologischer Garten (also known as Zoo Station, Bahnof Zoo or just Zoo) in western Berlin. Buses run every 5-15 minutes, and the journey takes 30-40 minutes. Tickets cost €2.70 (and can also be used on U-Bahn and S-Bahn services). At Zoo you can connect to anywhere in the city.
From the airport, you can also take bus 109 to Jacob-Kaiser-Platz U-Bahn (U7), or bus 128 to Kurt-Schumacher-Platz U-Bahn (U6), and proceed on the underground from there. One ticket (€2.70) can be used for the combined journey.
The JetExpressBusTXL is the direct link to Berlin Hauptbahnhof and Mitte. It runs from Tegel to Alexanderplatz, with useful stops at Beusselstrasse S-Bahn (connects with the Ringbahn), Berlin Hauptbahnhof (regional and inter-city train services as well as the S-Bahn), Unter den Linden S-Bahn (north and south trains on the S1 and S2 lines). The service runs every 10 or 20 minutes, 4.30am-12.30am (5.30am-12.30am at weekends) and takes 30-40 minutes; a ticket is €2.70.
A taxi to anywhere central will cost around €20-€25 and take 20-30 minutes.
Flughafen Schönefeld (SXF)
Airport information 0180 5000 186, www.berlin-airport.de. Open 24hrs daily.
The former airport of East Berlin is 18km (11 miles) south-east of the city centre. It's small, and much of the traffic is to eastern Europe and the Middle East. Budget airlines from the UK and Ireland also use it – EasyJet flies in from Bristol, Gatwick, Glasgow, Liverpool, Luton and Manchester; Ryanair from Dublin, East Midlands, Edinburgh and Stansted.
Train is the best means of reaching the city centre. S-Bahn Flughafen Schönefeld is a five-minute walk from the terminal (a free S-Bahn shuttle bus runs every ten minutes, 6am-10pm, from outside the terminal; at other times, bus 171 also runs to the station). From here, the Airport Express train runs to Mitte (25 minutes to Alexanderplatz), Berlin Hauptbahnhof (30 minutes) and Zoo (35 minutes) every half hour from 5am to 11.30pm. You can also take S-Bahn line S9, which runs into the centre every 20 minutes (40 minutes to Alexanderplatz, 50 minutes to Zoo), stopping at all stations along the way. The S45 line from Schönefeld connects with the Ringbahn, also running every 20 minutes.
Bus X7, every 10 or 20 minutes, 4.30am-8pm, runs non-stop from the airport to Rudow U-Bahn (U7), from where you can connect with the underground. This is a good option if you're staying in Kreuzberg, Neukölln or Schöneberg. When it's not running, bus 171 takes the same route.
Tickets from the airport to the city cost €3.30, and can be used on any combination of bus, U-Bahn, S-Bahn and tram.
A taxi to Zoo or Mitte is quite expensive (€30-€35) and takes around 45 minutes.
Flughafen Berlin Brandenburg Willy Brandt (BER) www.berlin-airport.de.
The airport's operators promise a fast train shuttle will transport passengers to the city centre in just 20 minutes.
Airlines
Air Berlin 0180 573 7800, www.airberlin.com.
Air France 0180 583 0830, www.airfrance.de.
Alitalia 0180 507 4747, www.alitalia.de.
British Airways 0180 526 6522, www.britishairways.com.
EasyJet 01805 666 000, www.easyjet.com.
German Wings 0906 294 1918, www.germanwings.com.
Iberia 0180 544 2900, www.iberia.com.
Lufthansa 01803 803 803, www.lufthansa.de.
Ryanair 0900 116 0500, www.ryanair.com.
By rail
Berlin Hauptbahnhof
0180 599 6633, www.bahn.de.
Berlin's central station is the main point of arrival for all long-distance trains, with the exceptions of night trains from Moscow and Kiev, which usually start and end at Berlin Lichtenberg (S5, S7, S75).
Hauptbahnhof is inconveniently located in a no-man's land north of the government quarter, and is linked to the rest of the city by S-Bahn (S5, S7, S9, S75), and by the new U55 underground line that runs to the Bundestag and, in 2016, the Brandenburger Tor only (connecting there with S-Bahn lines S1, S2, S25). Eventually, the line will extend to connect to the U5 at Alexanderplatz, via Museumsinsel and Unter den Linden, but not until at least 2019.
On their way in and out of town, inter-city trains now also stop at Gesundbrunnen, Südkreuz and Spandau, depending on their destinations.
By bus
Zentraler Omnibus Bahnhof (ZOB)
Masurenallee 4-6, Charlottenburg (301 0380, www.iob-berlin.de). Open 6am-9pm Mon-Fri; 6am-3pm Sat, Sun. Buses arrive in western Berlin at the Central Bus Station, opposite the Funkturm and the ICC. From here, U-Bahn line U2 runs into the city centre.
Public transport in Berlin
The Berlin transport authority, the BVG, operates bus, U-Bahn (underground) and tram networks, and a few ferry services on the outlying lakes. The S-Bahn (overground railway) is run by its own authority, but services are integrated within the same three-zone tariff system.
Information
The BVG website (www.bvg.de) has a wealth of information (in English) on city transport, and there's usually someone who speaks English at the 24-hour BVG Call Center (194 49). The S-Bahn has its own website at www.s-bahn-berlin.de.
The Liniennetz, a map of U-Bahn, S-Bahn, bus and tram routes for Berlin and Potsdam, is available free from info centres and ticket offices. It includes a city centre map
A map of the U- and S-Bahn can also be picked up free at ticket offices or from the grey-uniformed Zugabfertiger – passenger-assistance personnel.
Fares and Tickets
The bus, tram, U-Bahn, S-Bahn and ferry services operate on an integrated three-zone system. Zone A covers central Berlin, zone B extends out to the edge of the suburbs and zone C stretches into Brandenburg.
The basic single ticket is the €2.70 Normaltarif (zones A and B). Unless going to Potsdam or Flughafen Schönefeld, few visitors are likely to travel beyond zone B, making this in effect a flat-fare system.
Apart from the longer-term Zeitkarten, tickets for Berlin's public transport system can be bought from the yellow or orange machines at U- or S-Bahn stations, and by some bus stops. These take coins and sometimes notes, give change and have a limited explanation of the ticket system in English.
You can often pay by card, but don't count on it (if you do, don't forget to collect your card – infuriatingly, the machines keep the card until all the tickets are printed, making it very easy to forget). An app, FahrInfo Plus, is also available for iOS and Android, which allows you to purchase and carry tickets on your smartphone; details on www.bvg.de/en/travel-information/mobile.
Once you've purchased your ticket, validate it in the small red or yellow box next to the machine, which stamps it with the time and date. (Tickets bought on trams or buses are usually already validated.)
There are no ticket turnstiles at stations but if an inspector catches you without a valid ticket, you will be fined €40. Ticket inspections are frequent, and are conducted while vehicles are moving by pairs of plain-clothes personnel.
Single ticket (Normaltarif)

Single tickets cost €2.70 (€1.70 for children between the ages of six and 14) for travel within zones A and B, €3 (€2) for zones B and C, and €3.30 (€2.40) for all three zones. A ticket allows use of the BVG network for two hours, with as many changes between bus, tram, U-Bahn and S-Bahn as necessary travelling in one direction.
Short-distance ticket (Kurzstreckentarif)

The Kurzstreckentarif (ask for a Kurzstrecke) costs €1.60 (€1.20 reductions) and is valid for three U- or S-Bahn stops, or six stops on the tram or bus. No transfers allowed.
Day ticket (Tageskarte)
A Tageskarte for zones A and B costs €6.90 (€4.70 reductions), or €7.40 (€5.30) for all three zones. A day ticket lasts until 3am the morning after validating.
Longer-term tickets (Zeitkarten)

If you're in Berlin for a week, it makes sense to buy a Sieben-Tage-Karte ('seven-day ticket') at €29.50 for zones A and B, or €36.50 for all three zones (no reductions).
A stay of a month or more makes it worth buying a Monatskarte ('month ticket'), which costs €79.50 for zones A and B, or €98.50 for all three zones.
Tourist travelcards

There are two excellent-value travelcards aimed at tourists, which pack in unlimited transport within designated zones, with a bundle of other attractive perks – discounts and deals with partnering tourist and cultural attractions, shops, bars and clubs. For zones A and B, the Berlin CityTourCard (www.citytourcard.com) costs €17.40 for a 48-hour pass, €24.50 for 72 hours and €31.90 for five days, while the Berlin WelcomeCard (www.berlin-welcomecard.de) is €19.50 for 48 hours, €26.70 for 72 hours (€40.50 including access to museums at Museum Island) and €34.50 for five days.
U-Bahn
The U-Bahn network consists of ten lines and 170-plus stations. The first trains run shortly after 4am; the last between midnight and 1am, except on Fridays and Saturdays when most trains run all night at 15-minute intervals. The direction of travel is indicated by the name
of the last stop on the line.
S-Bahn
Especially useful in Eastern Berlin, the S-Bahn covers long distances faster than the U-Bahn and is a more efficient means of getting to outlying areas. The Ringbahn, which circles central Berlin, was the final piece of the S-Bahn system to be renovated in 2002, though there are still disruptions here and there.
Buses
Berlin has a dense network of 150 bus routes, of which 54 run in the early hours. The day lines run from 4.30am to about 1am the next morning. Enter at the front of the bus and exit in the middle or at the back. The driver sells only individual tickets, but all tickets from machines on the U- or S-Bahn are valid. Most bus stops have clear timetables and route maps.
Trams
There are 21 tram lines (five of which run all night), mainly in the East, though some have been extended a few kilometres into the Western half of the city, mostly in Wedding. Hackescher Markt is the site of the main tram terminus. Tickets are available from machines on the trams, at the termini and in U-Bahn stations.
Other rail services
Berlin is also served by the Regionalbahn ('regional railway'), which once connected East Berlin with Potsdam via the suburbs and small towns left outside the Wall. Run by Deutsche Bahn (www.bahn.de), it still circumnavigates the city. The website has timetables and ticket information in English.
Travelling at night
Berlin has a comprehensive Nachtliniennetz ('night-line network') that covers all parts of town, with more than 50 bus and tram routes running every 30 minutes between 12.30am and 4.30am. Maps and timetables are available from BVG kiosks at stations, and large maps of the night services are found next to the normal BVG map on station platforms. Ticket prices are the same as during the day. Buses and trams that run at night are have an 'N' in front of the number.
On all buses travelling through zones B and C after 8pm, the driver will let you off at any point along the route via the front door.
Truncated versions of U-Bahn lines U1, U2, U3, U5, U6, U7, U8 and U9 run all night on Fridays and Saturdays, with trains every 15 minutes. The S-Bahn also runs at 30-minute intervals.
Boat trips
Getting about by water is more of a leisure activity than a practical means of navigating the city, but the BVG network does include a handful of boat services on Berlin's lakes. There are also several private companies offering tours of Berlin's waterways.
Reederei Heinz Riedel
Planufer 78, Kreuzberg (693 4646/www.reederei-riedel.de). U8 Schönleinstrasse. No credit cards.
A tour through the city's network of rivers and canals costs €4.50-€18.
Stern und Kreisschiffahrt
Puschkinallee 15, Treptow (536 3600/www.sternundkreis.de). S8, S9, S41, S42 Treptower Park. Open April-early Oct 9am-6pm Mon-Fri; 9am-2pm Sat.
Around 25 cruises along the Spree and around the lakes. Times vary. A 3hr 30min tour costs €18.50.
Taxis in Berlin
Berlin taxis are pricey, efficient and numerous. The starting fee is €3.40 and thereafter the fare is €1.79 per kilometre for the first seven kilometres, and €1.28 per kilometre thereafter. The rate remains the same at night. For short journeys ask for a Kurzstrecke – up to two kilometres for €4, but only available when you've hailed a cab and not from taxi ranks. Taxi stands are numerous, especially in central areas near stations and at major intersections. You can phone for a cab 24 hours daily on 261 026. Most firms can transport people with disabilities, but require advance notice. Cabs accept all credit cards except Diners Club, subject to a €1.50 charge.
If you want an estate car (station wagon), ask for a combi. As well as normal taxis, Funk Taxi Berlin operates vans capable of transporting up to seven people (ask for a grossraum Taxi; same rates as for regular taxis) and has two vehicles for people with disabilities.
Cycling in Berlin
West Berlin is wonderful for cycling – flat, with lots of cycle paths, parks and canals to cruise beside. East Berlin has fewer cycle paths and more cobblestones and tram lines.
Cycles can be taken on the U-Bahn (except during rush hour, 6-9am and 2-5pm), up to a limit of two at the end of carriages that have a bicycle sign. More may be taken on to S-Bahn carriages, and at any time of day. In each case an extra ticket (€1.80 for zones A and B) must be bought for each bike. The ADFC Fahrradstadtplan, available in bike shops (€6.90), is a good guide to cycle routes.
Berlin's bike rental scheme, Call-A-Bike, operates in summer only. The bikes are parked in designated docking stations. You have to register to use the system; you can register at a docking station terminal, via the website (www.callabike-interaktiv.de, in German only) or by calling 0700 0522 5522. There's a one-off registration fee of €12 and a charge of 8c per minute, up to a maximum of €15 per 24 hours. The Pauschal annual subscription (€36) allows unlimited journeys of up to 30 minutes for free, and make sense for those making longer visits.
Bike hire
The companies below rent bikes, or see Fahrradverleih in the Yellow Pages.
Fahrradstation
Dorotheenstr.30, Mitte (2838 4848/www.fahrradstation.de). U6, S1, S2, S5, S7, S9, S75 Friedrichstrasse. Open 10am-7.30pm Mon-Fri; 10am-6pm Sat; 10am-4pm Sun. Rates Per day from €15; 3 days €35.
Other locations Auguststrasse 29A, Mitte (2250 8070); Leibzigerstrasse 56, Mitte (6664 9180); Kollwitzstrasse 77, Prenzlauer Berg (9395 8130); Bergmannstrasse 9, Kreuzberg (215 1566); Goethestrasse 46, Charlottenburg (9395 2757).
Pedalpower
Grossbeerenstrasse 53, Kreuzberg (7899 1939/www.pedalpower.de). U1, U7 Möckernbrücke. Open 10am-6.30pm Mon-Fri; 11am-2pm Sat. Rates Per day from €10. No credit cards.
Other locations Pfarrstrasse 115, Lichtenberg (5515 3270).
Driving in Berlin
Despite some congestion, driving in Berlin presents few problems. Visitors from the UK and US should bear in mind that, in the absence of signals, drivers must yield to traffic from the right, except at crossings marked by a diamond-shaped yellow sign. Trams always have right of way. An Einbahnstrasse is a one-way street.
Breakdown services
ADAC
Bundesallee 29-30, Wilmersdorf (0180 222 2222). No credit cards. 24hr assistance for about €65/hr.
Fuel stations
Aral
Holzmarktstrasse 12, Mitte (2472 0748). Open 24hrs daily. Kurfürstendamm 128, Wilmersdorf (8909 6972). Open 24hrs daily.
Parking
Parking is usually metered in Berlin side streets (residents get an Anwohnerplakette pass), but spaces are hard to find. Buy a parking ticket from a nearby machine; if you don't have one, you risk getting your car clamped or towed.
There are long-term car parks at Schönefeld and Tegel airports. Otherwise there are many Parkgaragen and Parkhäuser (multi-storey and underground car parks) around the city, open 24 hours, that charge around €2 an hour.
Vehicle hire
Car hire in Germany is not expensive and all major companies are represented in Berlin. There are car hire desks at all the city's airports.
Car-sharing services such as DriveNow are increasingly popular.
Walking in Berlin
Berlin is a good walking city, but it's spread out. Mitte is most pleasant on foot, but if you then want to check out Charlottenburg, you'll next need to take a bus or train.