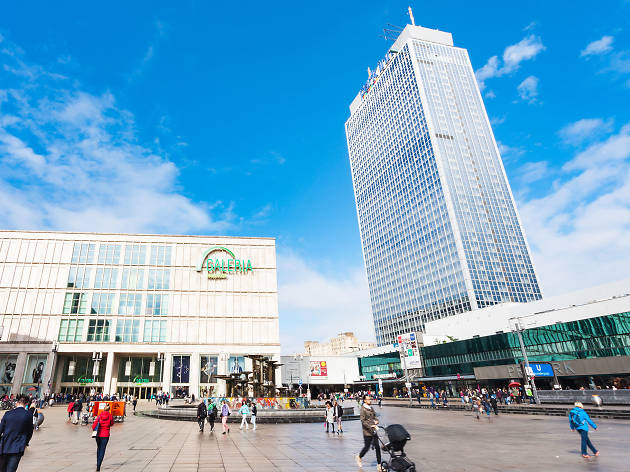 The 12 best cheap hotels in Berlin
Raking in at a relatively low average price of $100 euros per night, the best cheap hotels in Berlin offer great deals
Somehow, when it comes to accommodations, Berlin remains one of the most affordable European cities, with the average room price just over one hundred euro per night. Especially with advance booking, it's possible to score a perfectly lovely and well-located hotel room below this average.
While hugely popular nowadays, apartment sharing isn't as cheap as it once was, and you could find yourself negotiating recycling laws with the neighbors in broken German. You might want to skip the party hostels, too—there's plenty of that in places where you aren't trying to sleep—and opt to recharge your batteries after a day of graffiti-gazing in a cheerful room of your very own at the very best cheap hotels in Berlin.
What to do with all that extra cash? Plenty: eat traditional German foods at the best restaurants town, meet the locals at neighbourhood bars, tour the city's top attractions properly and more
Best cheap hotels in Berlin
Just across the Platz, the owners of the Circus Hostel also run the moderately priced Circus Hotel, whose 63 double rooms, each with private bath, surround a central terraced winter garden and café run by breakfast food maestros Commonground. There are also serviced apartments nearby at Choriner Strasse 84.
Photograph: Courtesy Yelp/Lekkerurlaub
This charming bijou B&B is in one of the prettiest and buzziest bits of Kreuzberg, and it feels a little like staying at a chic but welcoming friend's place. Katrin, the host, goes out of her way to make you feel at home. Set on the ground floor of a typical Berlin tenement, the rooms are small but clean. Each room is unique and tastefully decorated, although two of the beds can only be reached by ladder, so avoid these if you're scared of heights. A generous breakfast is served up every morning, and the lovely café serves meals from 9am to 6pm; there are also dozens of bars and restaurants within a two-minute radius.
The prime location aside (it's only 50m from Oranienburger Strasse), this member of the Backpacker Germany Network is loosely themed on Douglas Adams' The Hitchhiker's Guide to the Galaxy. Rooms are bright and cheerful, with parquet floors. Lockers are free; individual bathrooms and showers, and a keycard system guarantee security. The laundry is cheap, as are the shots in the bar; and with rentable 'Sens-O-matic' sunglasses and Squornshellous Zeta mattresses to help you recover, what more could a backpacker (or hitchhiker) need? Towels, of course, which are available for free at reception.
A real gem on the Spree. This delightful hotel is a creative fusion of old and new, combining restored rococo reception rooms with ultra-modern bedrooms designed by Nalbach & Nalbach. As well as highlighting the artwork of George Baselitz—originals hang in the corridors and all 109 rooms—the hotel's decor has been meticulously thought out to the smallest detail, from the Philippe Starck bathrooms to the Breuer chairs in the conference rooms. Staff are pleasant, and the views from the top suites across Mitte are stunning.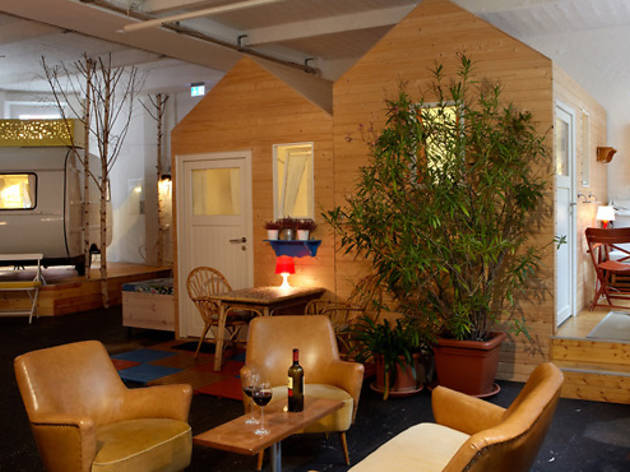 The Hüttenpalast (literally "cabin palace") is a large hall that was once the factory floor of an old vacuum cleaner company. Since 2011, it's been home to eight vintage caravans and three little cabins, each sleeping two people. It's set out like a mini indoor campsite, with separate male and female shower rooms and a tree in the middle. Each morning, guests emerge from their boltholes to discover the tree has borne fruit—well, little bags containing croissants. There's fresh coffee on hand and the streetfront café does an à la carte menu for those with particularly grumbling stomachs. Each caravan is different—Kleine Schwester (Little Sister) is decked out with white wood panelling and matching linen; the Herzensbrecher (Heartbreaker) has a domed metal ceiling; the Schwalbennest (Swallow's Nest) is big enough to squeeze in a table. If you're at all claustrophobic, the cabins, also unique in design and decoration, are slightly larger—and there are also regular loft-style hotel rooms of varying sizes.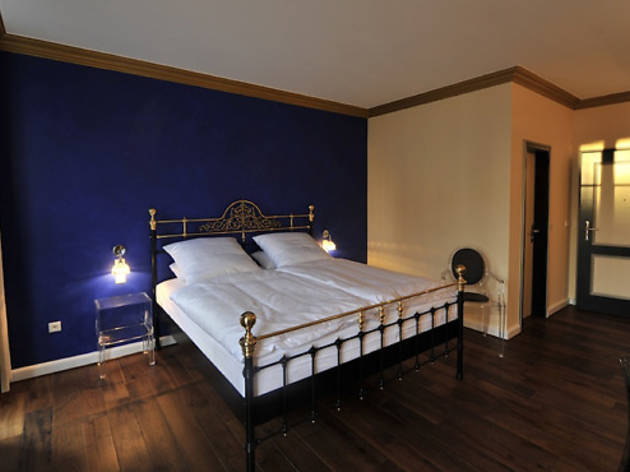 Housed in an elegant 19th-century townhouse, this 27-room boutique hotel was created by an advertising executive to provide a humorous antidote to identikit hotels. There are a number of house rules—including no photography and no large groups—to help foster an atmosphere of anything-goes discretion. The rooms are quite stark, with brass beds offset by block-coloured walls, and there are Molton Brown goodies in the bathroom. Breakfast is served in the all-day deli, and the high-end steak restaurant, The Brooklyn, specialises in rare whiskies and Napa Valley wines.
Berlin's "hostel boat" is moored on the Spree by the East Side Hotel, across the river from Kreuzberg. The rooms—or, rather, cabins—are clean and fairly spacious (considering it's a boat), and all have their own shower and toilet. The four-person room can feel a little cramped, but if you need to get up and stretch there are two common rooms, a lounge and three terraces offering lovely river views. The owners have now done up a second boat, the Western Comfort, which is moored across the river on the Kreuzberg bank.
With its purposefully unfinished look and effortlessly creative vibe, Michelberger might seem like Berlin in a nutshell to some. While the cheaper rooms are characterised by a stylish simplicity reminiscent of a school gym, the pricier rooms have an air of tongue-in-cheek decadence—decked out in gold from floor to ceiling or in the style of a mountain resort—complete with sunken bathtubs and movie projectors. Michelberger might not be as spick and span as other hotels, but it's much more fun. The downside of the convenient location (right across from Warschauer Strasse U-Bahn station) is that some rooms are quite noisy; the quieter ones face the courtyard.
If you're allergic to pink, you'd be well advised to check in elsewhere. New York designer Karim Rashid opened his eye-popping music and lifestyle hotel in a huge modern building right by the River Spree. Even the elevators are illuminated by different coloured lights, and some are decorated with photos of Rashid and his wife. As you'd expect from a music hotel with its own music manager, all rooms are equipped with iPod docking stations, and if you're in the mood for a spontaneous jam, you can order a Gibson guitar or an electric piano up to your room. More dedicated musicians can make use of the rehearsal rooms and two recording studios, or perform at one of the rooftop gigs and parties. As you can imagine, open mic night here is superb. The river view is beautiful, and the breakfast buffet leaves no wish unfulfilled. There's a pleasant sauna too.
This boutique hotel is Berlin through and through: fully vegetarian, with organic products in the rooms and even a complimentary yoga mat. Rooms are bright and spacious, and the penthouse suite even boasts its own sauna—but there's also a spa with ayurvedic treatments that's available to all guests. The lovely rosewood furniture was sustainably made specifically for the hotel.
The Bleibtreu is a friendly, smart and cosy establishment popular with the media and fashion crowds. Although on the smaller side, the rooms are very modern and decorated with environmentally sound materials. Private massages are offered, as well as reflexology, making it a wonderful choice for the health-conscious, but good service and plenty of pampering mean it should appeal to anyone.
In the area around Gedächtniskirche, not a lot is left of the charm and glamour that made the Ku'damm the most legendary street of pre-war Berlin. This makes this wonderful pension, which is hidden away on a quiet sidestreet, a real gem. The house, built in 1895, used to be home to the Danish silent movie star Asta Nielsen and has been lovingly restored. The 14 rooms are decorated with elegant dark wood furniture and art deco detailing. Even if it sounds a little dusty, everything is spotless. The owner has done his best to make the bathrooms match modern standards without destroying the overall feel – in one room the bathroom is hidden inside a replica of an antique wardrobe − but some fall slightly short of the standards you would expect from a newer hotel. However, very reasonable prices make up for this. And the breakfast served in the cosy dining room is as good as anywhere more expensive.
Willing to splurge on your stay?
As tourist destinations go, Berlin is cheap. We all know that – that's why it's such a mecca for the night-out-hungry yoof. But this also extends to a more moneyed clientiele; you can do pretty well if you splash out on a fancy hotel suite.