Are you hungry? Like, eat-a-horse hungry?
Then here's some excellent news. For those with eyes (possibly) bigger than their belly, there are plenty of places in and around Birmingham that should be able to satisfy even the most insatiable of appetites.
Here are eight destinations where you can put your eating skills to the test. Let's get stuck in...
Flaming Grill Flaming Challenge
Flaming Grill
There are several pubs around Birmingham that serve Flaming Grill food, including the Pheasant Inn in Smethwick, the Village Green in Perry Common and the Raven in Ward End being just a few.
All of these share the same thing in common: the Flaming Grill Flaming Challenges.
Currently there are four challenges that brave meat eaters can enjoy: the 'Flaming Challenge Burger' (which contains two 12oz beef patties, two breaded chicken burgers, BBQ pulled pork and more); the '32oz Challenge Steak' (complete with onion rings, chips, peas and a tomato); and the 'Fire Extinguisher Wings' (24 extra hot chicken wings, with tortilla chips, served inside a fire extinguisher).
Finally there is the colossal 'Trash Can Challenge' – a combination of ribs, a burger, BBQ pulled pork, chicken skewers, onion rings, corn on the cob and baked beans so large it is served on a trash can lid.
If you manage to complete these, you'll be rewarded with a certificate and your photo on the pub's 'Wall of Flame'.
If these meals aren't enough, Flaming Grill is also running a competition for the next wave of challenges. Take a look at the site to see some of those monsters.
Flaming Grill, various locations. See website for details.
The Vegan Grindhouse Challenges
The Vegan Grindhouse
If meat 'aint your thing, you can still face the prospect of an super-sized and belt-loosening meal, courtesy of street food sellers The Vegan Grindhouse.
These guys have recently taken up residency at the Mockingbird Theatre cafe and will be there every Monday until the end of the year. They can also offer particularly peckish punters two vegan friendly food challenges.
The 'Death Proof Burger Challenge' consists of a stack of three vegan quarter pounders, three rashers of 'bacon', three slices of 'cheese', lettuce, tomatoes, gherkins, jalapenos and three sauces of your choice.
The 'Planet Terror Chilli Bowl Challenge' is a large bowl of six bean chilli topped with four different hot sauces and lots of jalapenos.
Complete either of these challenges and you'll get money off your next meal and a photo immortalising yourself on The Vegan Grindhouse's hall of fame.
The Vegan Grindhouse, Mondays at The Mockingbird, Custard Factory, Gibb Street, Digbeth, Birmingham, B9 4AA.
Crust Man Vs. Food Challenges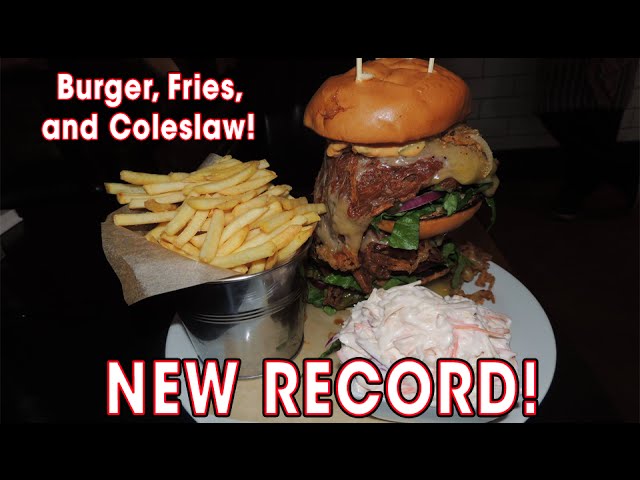 American food joint Crust in Shirley is well known for its challenges and has two food-based feats that competitive eaters can tuck into.
The first, called 'Mr. Big', consists of three steak burgers topped with crispy bacon, smokey BBQ pulled pork, mature cheddar and crispy onions, accompanied by fries and coleslaw. The second, known simply as 'Hot Wings!' requires diners to get stuck into six super hot wings.
We know what you're thinking – there isn't a huge amount of food here. Well, simply polishing off the plate isn't enough to be considered for the hall of fame for these challenges .
If you want to eat your meal for free, the Mr. Big needs to be eaten in less than 20 minutes (with the eight minute, eight second record shown above), while you need to survive the hot wings for at least ten minutes, without resorting to either a drink or using a napkin. Not so easy now, eh?
Crust, 227 Stratford Road, Shirley, Solihull, B90 3AH.
UK Burger Battle: JudgeMEAT Day
This is a food challenge with a difference. Rather than asking diners to pack away as much food as they can, here the onus is on one of two teams of burger makers to emerge victorious.
At JudgeMEAT Day, on September 12, UK Burger Battles will be hosting an event where diners have a four hour window to collect and eat a burger from the two competing burger-making teams and vote on the one they decide was the best. In previous burger battles, entrants have included Grillstock, the Original Patty Men, Crafty, Fat Hippo Burger Bar and the Paget Arms.
While eating, the voters will also be entertained by music from several DJs and, of course, drinks at the bar.
JudgeMEAT Day, September 12, 5pm-2am, Spotlight, Unit 2 Lower Trinity Street, Birmingham, B9 4AG. Tickets are available online.
Hungry Toad UFC Challenge
The Hungry Toad
Street food vendors Hungry Toad has a menu featuring burgers, ribs and a range of Mexican dishes. Amongst those lurks a beastly burrito than often surfaces when the pop-up makes an appearance at one of the many local festivals.
The Hungry Toad Burrito Challenge – occasionally referred to as the 'UFC Challenge' (we can only speculate what that stands for, but we reckon the 'F' stands for 'fat') – is a 3.3lb behemoth that stretches across three tortillas and is packed with beef chilli, cheese, tortilla chips, guacamole and plenty more.
So far, the record for completing this challenge stands at 19 minutes and 45 seconds. You'll have to keep an eye on Hungry Toad's social media if you want to find out where your next chance to take the challenge might be.
Hungry Toad, locations vary.
Mission Burrito El Doble and El Triple
Mission Burrito
With a couple of branches in Birmingham, Mission Burrito can also cater to those who reckon they can tackle a heavyweight amount of Mexican food.
Mission Burrito has two 'Man Vs. Burrito' challenges for you to attempt. The first, the comparatively puny 'El Doble' weighs in a two pounds and uses two 12-inch tortillas, with a double helping of meats, rice, beans and sale.
The real challenge – 'El Triple' – is a three-pound burrito is about the length of your arm and weighs three times that of a regular burrito, thanks to a triple serving of meat, beans and rice.
Defeat El Triple and you can proudly wear a limited edition teeshirt and earn a place in Mission's lucha libre hall of fame.
Mission Burrito, The Water's Edge, Brindleyplace, B1 2GL and St. Martins Walk, The Bullring, B5 4BU.
Tinseltown Challenge Burgers
Compared to some here, the Tinseltown 'Challenge Burgers' might seem a little tame. That is not to say that they can be easily dismissed.
The 'Empire State Challenge Burger' and 'Towering Inferno Challenge Burger' both boast many layers of cheese, along with four beef patties weighing a combined 20oz, plus, the latter is packed with jalapeno peppers too.
The 'Chicken Challenge Burger', as the name suggests, features one pound of chicken fillets, along with sliced cheese and barbecue sauce. All are served with the obligatory fries.
Tinseltown Star City, 32 Watson Road, Birmingham, B7 5SA.
Rub Smokehouse Epic Food
Finally, we have new kid on the block, Rub Smokehouse, and you could argue that there is very little on the menu that couldn't satisfy the seriously hungry. Even so, this BBQ joint has a substantial section of seriously challenging mega meals it classifies as 'Epic Food'.
Particular highlights include the 'Rub Dog Millionaire' – a half-metre hot dog topped with onions, pulled pork, cheese and jalapenos, accompanied with beans and fries; 'The 51st State', which consists of two 6oz cheeseburgers sandwiched with steak, mushrooms, bacon, two eggs and onion rings and speared by a corn dog; and finally the 'Tomahawk Steak', a 28-day matured steak actually the size of an axe.
Do you get a reward for finishing one of these? Not that we can tell – unless you count indigestion, of course...
Rub Smokehouse & Bar, Unit 4, Regency Wharf, Broad Street, Birmingham, B1 2DS.
Have these mountainous meals left you salivating? Take a look at some of our favourite restaurants in Birmingham.