Heads up! We're working hard to be accurate – but these are unusual times, so please always check before heading out.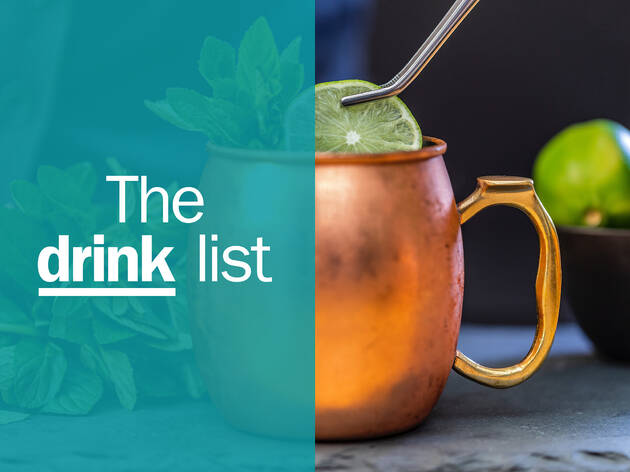 The 15 best bars in Birmingham
From a New York-themed drinking den to a boozy bolthole specialising in mead, here's our pick of the best bars in Birmingham
The best bars in Birmingham have shaken up the local drinking scene like a killer martini. With a host of new and exciting venues opening, there's never been a better time to grab a serious cocktail or a small-batch artisanal gin in the city. Looking for an obscure craft beer to enjoy while you play pinball? You've definitely hit the jackpot. Whether you're hunkering down with colleagues after work or living it up with mates on the weekend, Birmingham has, quite simply, raised the bar. From hidden speakeasies to glitzy Birmingham cocktail bars and restaurant drinking dens that will revamp your taste buds, here's the juice on the city's best bars.
Drank somewhere on this list and loved it? Share it with the hashtag #TimeOutDrinkList. You can also find out more about how Time Out makes recommendations and reviews bars.
Best bars in Birmingham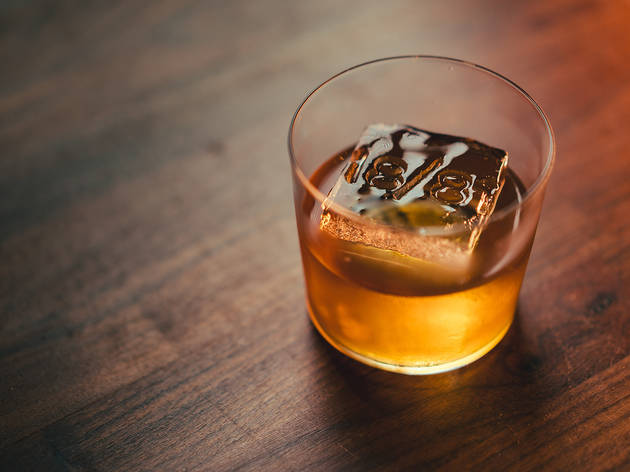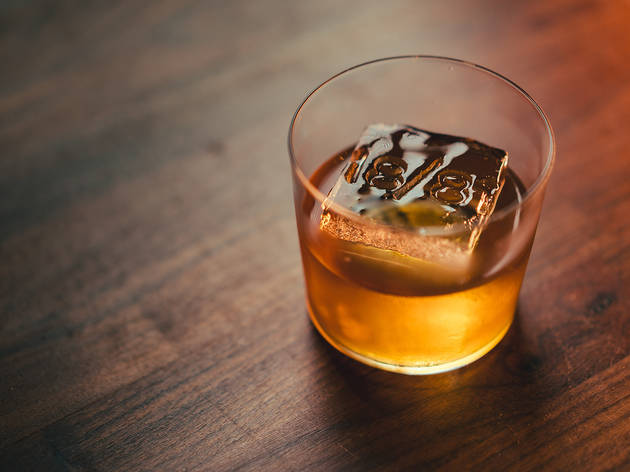 Photograph: Courtesy 18/81
A quick fumble down a forgotten side street will lead you to this super-cool speakeasy housed in a former army barracks dating back to 1881 (hence the name). Under the watch of master mixologist Robert Wood (once of The Edgbaston and 40 St Paul's), the cocktails are cutting-edge and served with specially sourced 18/81 branded ice. The vibe is as chilled as the drinks and splashes of street art from local rebel Foka Wolf make 18/81 one not to miss. Ring their bell and they will ring yours.
Despite offering over a hundred beers, Pure is as often the pick of Brum's gin-swigging contingent as it is the protectorate of boys' business lunches or post-work ales. With local legends Purity Brewing partly behind the city centre's industrial chic, the beer is unsurprisingly served right every time, and the drinks list includes a blackboard chock full of tasty surprises.
Photograph: Courtesy TripAdvisor
Craft beer, all-day breakfasts, burgers, coffee, cakes – get it all at Cherry Red's. This favourite independent spot in a listed building on historic John Bright Street is marvellously homely, despite its quirkiness. It's part bar, part café and part living room, and with its goldfish bowl windows looking out on the street, it's a great place to kill some time and people-watch while you wait for a train from nearby New Street station.
Proclaimed World Gin Bar of the Year, 2019 by Gin Magazine, 40 St Paul's proudly presents 140 of the very finest gins available to humanity. Overlooking St Paul's Church on the last remaining Georgian square in Birmingham, it's a cosy and intimate spot with just 24 seats, so you might want to book ahead. But you'll be glad you did, because you'll struggle to find a better G&T anywhere on this planet.
Photograph: Courtesy TripAdvisor
Oozing sophistication and style, The Edgbaston is a boutique hotel in an Edwardian townhouse that boasts three stunning cocktail lounges. Attention to detail is the order of the day, with sleek art deco finishes and an extensive selection of the world's finest spirits. The bartenders are effortlessly knowledgeable but good-humoured, and the range of signature and classic cocktails will make you wonder whether you're in Birmingham or 1920s New York.
Photograph: Courtesy 1000 Trades
During the industrial revolution, Birmingham was known as the City of 1000 Trades, and this hip hangout in a listed building in the heart of the Jewellery Quarter is all about craft. From craft beers to natural organic wines, the bar is thoughtfully stocked with artisanal goodies. The same philosophy applies to the kitchen residencies, DJs and artwork adorning the exposed brick walls: everything is local, expertly crafted and proudly presented as the very best of Brum.
A bar dedicated to pinball? There has to be a twist. And there is, because as well as a flashing, bashing collection of some 20 modern and retro machines, this City Arcade bar is a wizard when it comes to craft beer, speciality coffee and loose leaf tea. Whether you're twitching the flippers on a 1993 Twilight Zone table, or wetting your whistle with something rare and tasty, you'll be guaranteed to want a replay.
This is one of Birmingham's best-known and most-loved cocktail bars – and for good reason. It's part of a local family encompassing other creative venues such as The Victoria and Bodega, but Island Bar stands out among them all. Located in the city centre, this place can be found near the recently revitalised John Bright Street, which is the scene for a number of new restaurants, cafés and bars. Island Bar is also a neighbour of the Alexandra Theatre, making it an ideal stop for pre- or post-show tipples.
Ginger's is part of a prestigious family tree. It's housed within Purnell's Bistro, which, along with the nearby restaurant of the same name, is owned by Birmingham's renowned Michelin-starred chef, Glynn Purnell. The decor is sleek and impressive without being overly fancy. The atmosphere is warm and welcoming, and staff are friendly. Plus, the bartenders really know their stuff. The cocktails (around £6-£9) are expert blends ranging from the classic to the contemporary.
Photograph: Courtesy Vanguard
Upstairs above 1000 Trades, this winning bolthole specialises in mead, a honey-based alcoholic drink. Bartender Samuel Boulton can hit you with 15 (count them) varieties of this ancient fermented honey tipple, not to mention a slew of creative cocktails. If you're into the history of booze, this is a must.
Photograph: Courtesy TripAdvisor.com
A city can never have enough gin bars, and sometimes it's the hidden ones we are most thankful for. The Gin Vault is a blink-and-you'll-miss-it basement bar that can only be accessed by a canalside door. Inside, it's all rough wood panels and exposed brickwork, but some clever lighting really warms the place up, as does the live music during the weekends. Definitely one to stumble into, but be careful as you stumble out – you really don't want to know what's in that canal.
Photograph: Courtesy TripAdvisor
12. Ana Rocha Bar & Gallery
When is an art gallery not an art gallery? When it's a Spanish tapas bar, antiques showroom, luxury watch shop and cocktail bar as well. The wonderfully eccentric and slightly bonkers Ana Rocha Bar & Gallery is all things to all cultured people, and a real gem in the Jewellery Quarter. Float up its red carpet and drink it all in.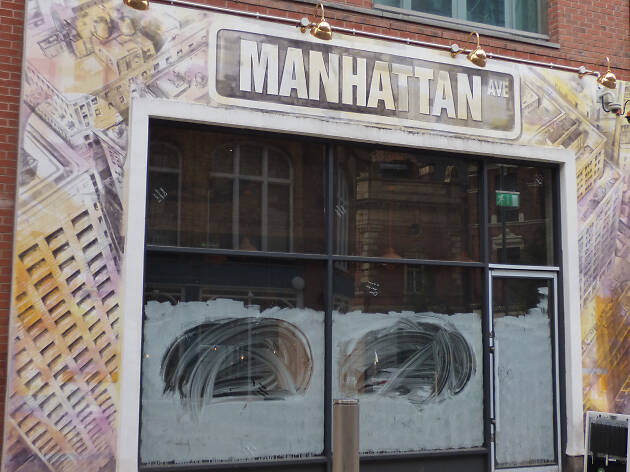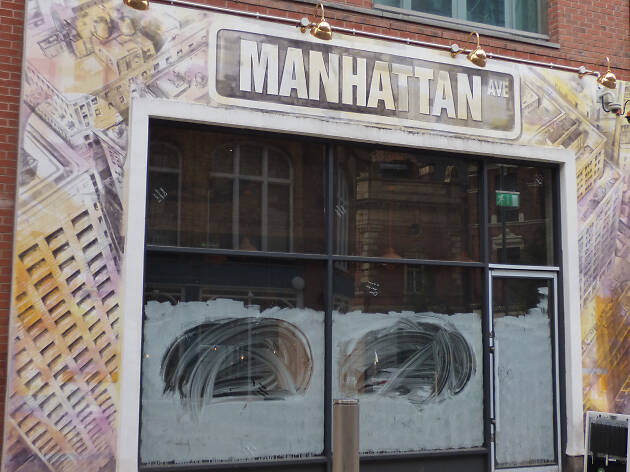 Photograph: Courtesy CC/Flickr/Elliot Brown
New York has a Boulton & Watt themed pub, so it's only fair Birmingham should repay the compliment with this nod to the Big Apple. With its dramatic New York cityscape murals and industrial finishes, the décor creates a buzzing urban vibe, yet this remains a relaxing place to enjoy a cocktail, a light snack and a bit of New York jazz.
Bacchus makes the grade thanks to its sheer wackiness. It's one of those places that's always fun to duck into with a visiting friend, if only to watch their reaction to the extravagant décor within. The bar is tucked away on the basement floor of the Burlington Arcade, a complex of hotels and shops in the centre of town, and located on one of Birmingham's oldest streets. Dating back to 1398, this is a pub that's taken the historical theme of the area and run wild with it.
Perfectly placed in the vicinity of Chinatown and the Gay Village, the Loft Lounge is a decadent and fun bar that provides the perfect launchpad for a night on the town. The atmosphere is relaxed during the day and early evening, giving way to a hive of activity on weekend nights, when revellers pour in to enjoy a drink and a chat in the luxuriously decorated bar. High-backed chairs and gilt-framed mirrors set the scene. Cocktails are the big pull here, with a two-for-one deal running all day Sunday to Friday.
Next, why not try a local boozer?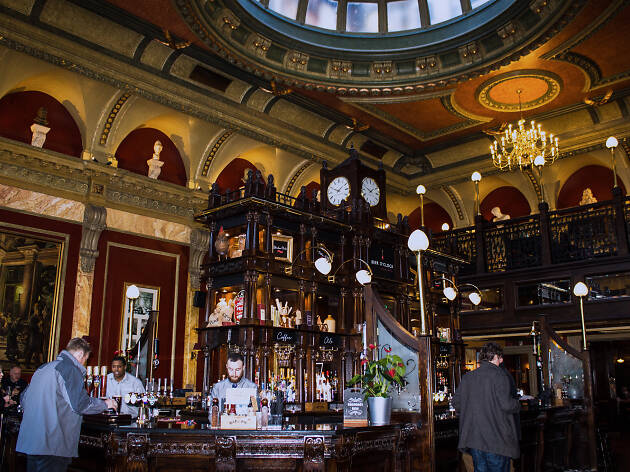 Whether it's a cheeky half you're after, some delicious pub grub or a lazy afternoon sipping classic ales, drinking at one of the best pubs in Birmingham is a quintessential Brummie experience. These are the city's best boozers of all.