The 20 best restaurants in Birmingham you need to try
London who? The best restaurants in Birmingham are winning more Michelin stars by the year – here's where to head when lockdown's over
March 2021: Fingers crossed, it won't be long until Birmingham's restaurants can swing open their doors again. Under the current lockdown exit strategy, UK restaurants should be able to reopen from April 12 at the earliest for outdoor meals only, and from May 17 indoor dining will hopefully be on the cards again, subject to social-distancing rules. In anticipation of being able to eat delicious dishes without having to do the washing up afterwards, we've updated our list of the best restaurants in Birmingham. From the many Michelin-starred heavyweights across the city and enduring old-school joints to exciting new ventures changing up the city's culinary scene and laidback street food spots, here are the hottest tables in Birmingham we think you should be booking once lockdown lifts.
For every culture and nationality that lives side-by-side in this extraordinary, resilient and welcoming city, there are new openings and exciting delicacies to try at every turn. It goes far beyond Birmingham's wealth of brilliant Indian restaurants – though they rank among Britain's best. Once more famous for its Dunlop tyres than its Michelin stars, the UK's second city has recently been transformed into a proper foodie haven on a par with many capitals around the world. Move over, London – thanks to a mini-constellation of newly awarded stars, the last decade, in particular, has seen Birmingham cement its reputation as a culinary destination in its own right.
Wherever you look, new and tantalising restaurants keep popping up, and though some are expensive, others are cheap as chips. Hungry? Take a seat, peruse the menu and take your pick from Birmingham's absolute best.
Eaten somewhere on this list and loved it? Share it with the hashtag #TimeOutEatList. You can find out more about how Time Out makes recommendations and reviews restaurants here.
Best restaurants in Birmingham
What is it? Michelin-starred grandeur to suit any special occasion.
Why go? In 2013, Adam's began life as a less than glamorous pop-up in a former sandwich shop. Thanks to subsequent high demand and an almost cult-like following, Adam's amped up the production pace and outgrew its original location (receiving a Michelin star in the process). These days, you'll find Adam's in a much grander premise on Waterloo Street, where contemporary fine dining is the name of the game. It isn't cheap, but the quality is high and offers a bit of gastronomic adventure. After all, it's not every day you get to tuck into crab cashew satay.
Time Out tip: If you're feeling particularly peckish, opt for the tasting menu, where you'll get to nibble on eight different mouthwatering courses each served with specially paired vino.
What is it? This is, put simply, the best sushi in Birmingham.
Why go? Japanese sushi from a Polish chef on Bristol Street – how Brummy can you get? Gaijin means 'outsider', but, as we all know, in Birmingham, there's no such thing. Michal Kubiak has endeared himself to his adopted home city with some expertly prepared and beautifully presented sushi and sashimi, in a tiny 10-seater restaurant that maintains a minimalist Japanese aesthetic but delivers maximum bang for your buck.
What is it? Top-quality European dishes in an elegant setting.
Why go? One of the city's first Michelin-starred restaurants, Simpsons is still a shining destination for fine dining. Located in the leafy suburb of Edgbaston, the pretty garden of this grand Georgian restaurant and guest house is a draw in summer and makes a perfect backdrop for chef Luke Tipping's seasonal menu.
What is it? Michelin-starred restaurant specialising in British gourmet dishes.
Why go? Chef Glynn Purnell is a lynchpin of Birmingham's gastronomic scene, famous for his nose-to-tail cooking. Having won Birmingham one of its first Michelin stars at a previous restaurant, Purnell set up shop on his own soon after, where, sure enough, the Michelin gods came knocking again.
Time Out tip: Try the Brummy tapas menu, which takes in everything from poppadums to slow-cooked beef.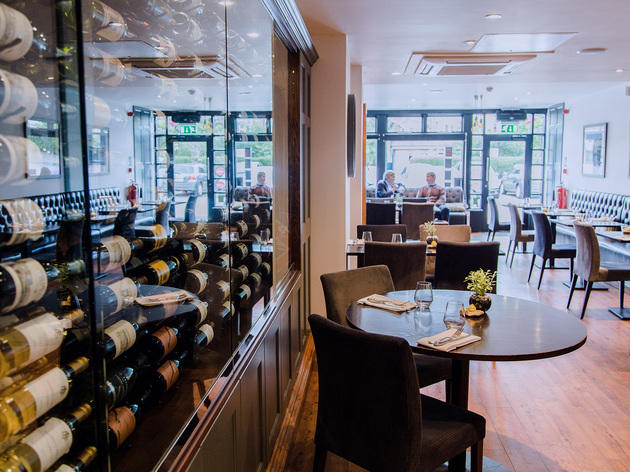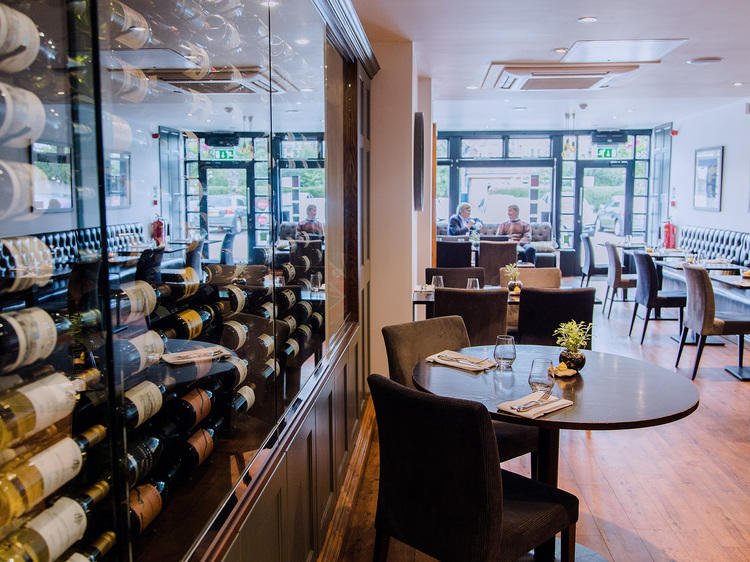 What is it? Michelin-starred dishes that'll excite even the most discerning diner.
Why go? This intimate and friendly neighbourhood restaurant has wowed the critics and counts a Michelin star among its many awards. It's headed up by chef Brad Carter, who trained at Birmingham's renowned College of Food (now University College Birmingham). His creative cooking focuses on top-notch British produce, with each dish made up of three key ingredients.
What is it? Refined Indian food in high-end surrounds.
Why go? Birmingham super-chef Aktar Islam won a Michelin star in 2019 with this posh, progressive Indian restaurant on Summer Row. From the stunning cherry-blossom decked bar to the bustling open kitchen, the emphasis is firmly on style. And the former Lasan chef and TV star's reinterpretations of Indian classics like laal maans and hyderabadi biryani are truly inspired.
What is it? Possibly Birmingham's best-known Indian restaurant
Why go? Lasan has ridden a wave of publicity ever since it was featured on Gordon Ramsay's 'The F Word' in 2010. The décor is a fusion of modern and traditional; fancy mirrors and ornaments adorn the space. Fine dining is the guiding principle at Lasan and every dish is carefully constructed and beautifully presented.
Time Out tip: Lasan is located among the quaint Victorian buildings of Birmingham's Jewellery Quarter, backing onto the leafy St Paul's Square, making it a great little spot for post-dinner bar hopping.
What is it? High-class cooking in an upmarket manor hotel in Solihull.
Why go? Housed in an upmarket manor hotel with a walled Victorian garden, Peel's is the first restaurant in Solihull to receive a Michelin star. A succession of locally rooted chefs have helped to renovate and elevate the place to its current high standard. The menu focuses on simplicity, with an emphasis on high-quality produce.
Time Out tip: Accompanying wine flights are available to complement the gourmet cuisine (£40 - £60).
What is it? Modern British dishes with a cool Scandi aesthetic.
Why go? This intimate Jewellery Quarter spot is quietly making a name for itself with its Nordic-inspired modern British cuisine. Chef Ben Tesh spent a very brief spell as a stage at Noma, but what he learnt shows in every thoughtfully presented dish. The stripped-back décor provides further evidence of the Scandi influence, but what the chef manages to conjure with fine English ingredients is far flashier. One to watch.
What is it? A stunningly beautiful game-changer for Chinese food in Brum.
Why go? Tattu has transformed the old basement in the grade II-listed Grand Hotel, and its progressive menu will transform the way you think about Chinese food. With its sleek lines and cherry blossom flourishes, the opulent setting at this new top-end restaurant feels so right when you indulge in imaginative dishes like the sirloin of wagyu beef with Nikka-marinated foie gras. Truly uplifting.
Time Out tip: Try and grab a seat under the hanging cherry blossom.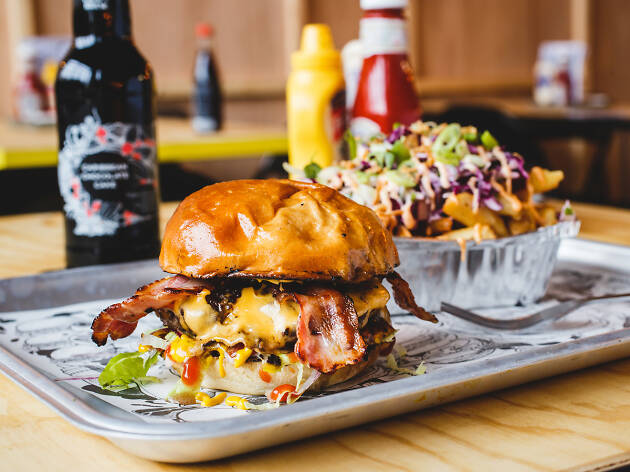 Photograph: Jack Spicer Adams
What is it? Effortlessly hip street food joint.
Why go? After spending a couple of years roaming the city, this burger spot has found a permanent home in a Digbeth archway. Launched by a bunch of designers, it provides a fun atmosphere in which to enjoy innovative patties and craft beers. The staff refer to themselves as 'patty pimps and purveyors of filth', and the menu is deliciously messy. Hip hop megastar Drake ate here, which is the ultimate kudos for a burger bar.
Time Out tip: The Alabama slammer is a particular highlight: a boneless chicken thigh with ginger and lime slaw. Tasty.
© Zindiya
What is it? This Indian street food joint plays on tradition, but jazzes it up for the city crowd.
Why go? From the décor – mismatched furniture, exposed brick walls, big murals of Indian brand logos – to the thalis, which may feature pani puri (potato and chickpea dumplings), chilli cheese on toast and okra fries this place is as vibrant as they come. As well as craft beer, you'll find lassis, masala chai and Indian soft drinks.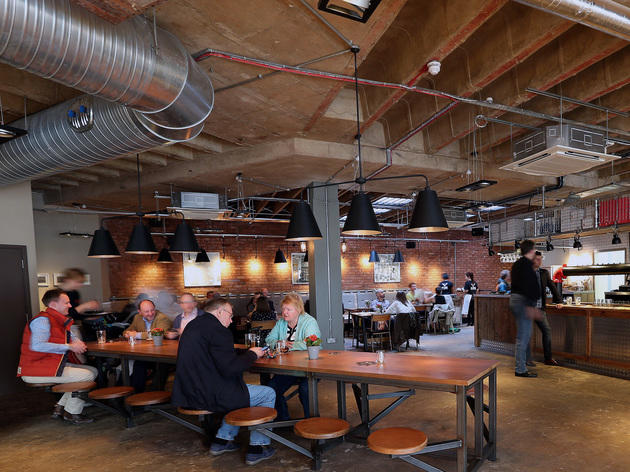 What is it? An industrial-style joint that will satisfy even the fussiest craft beer enthusiast.
Why go? Despite offering more than 100 beers, Purecraft is a go-to haunt for Brum's gin-swigging contingent too. As well as a more substantial food menu – itself employing an array of ales and lagers as ingredients – a plethora of moreish, pastry-based bar bites keeps the rabble on the right side of lively all evening.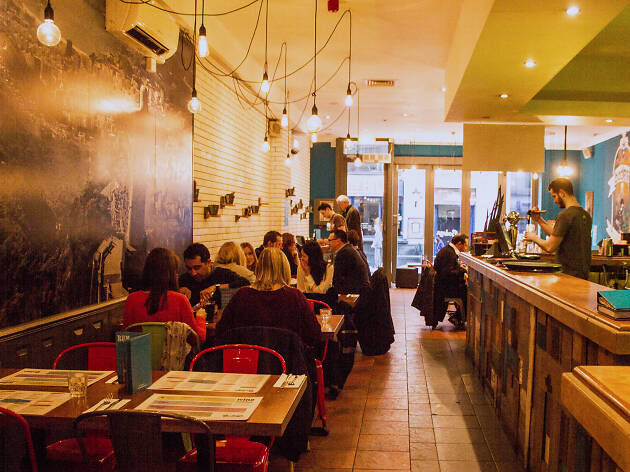 Photograph: Sal Maxuda
What is it? Quality Latin American street food.
Why go? Casual, lively and playful, Bodega is one of the most hard-to-book restaurants in Birmingham. The secret of its success lies in its combination of great food, buzzing atmosphere and killer drinks. Bodega's moreish menu of burritos, nachos and must-have sweet potato fries with chipotle mayo may no longer be a novelty, but it's still pulling in the Brummy crowds.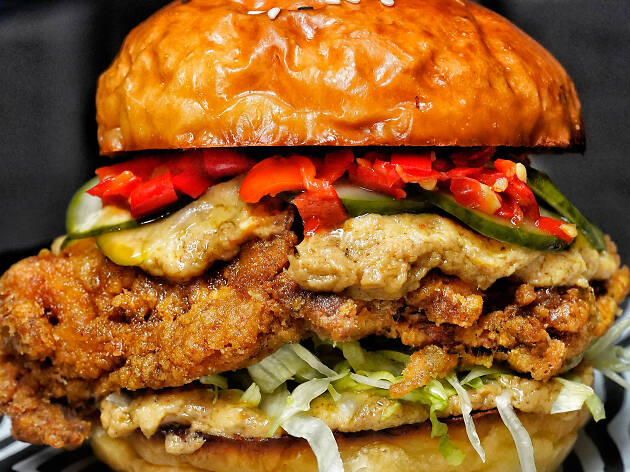 What is it? A free-range fried chicken joint known for its inventive wings.
Why go? As small as a bantam, but as bold as a rooster, this chicken spot has been stuffed full of punters ever since it opened last year. The modest industrial space works on a first come, first served basis but, given the fast nature of the food, you shouldn't be waiting long. Bonehead's speciality is free-range fried chicken. As a tasty entry point, try the soy honey butter wings with Jack Daniel's syrup.
Time Out tip: Look out for its regular takeovers (Beavertown and Eat Vietnam have already had a go).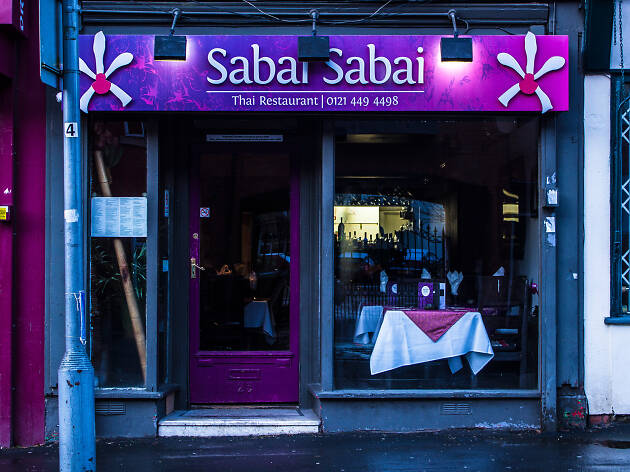 Photograph: Sal Maxuda
What is it? Top-quality Thai food in the city centre, with branches in Moseley and Harborne.
Why go? The much-loved Sabai Sabai has now opened a swanky city-centre branch in the art deco Legal & General building. Craving a classic Thai meal in a great location? You can't go wrong with an evening here. The usual suspects, like pad Thai, satay skewers and green curry are all made expertly, but for something new, try the fiery geng bha jungle curry.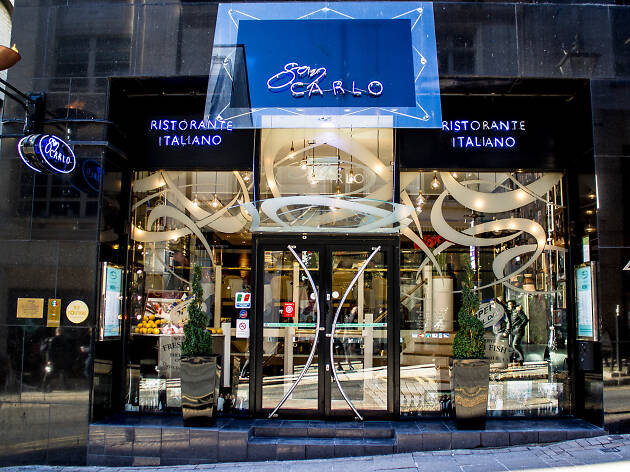 Photograph: Sal Maxuda
What is it? Award-winning Italian for food lovers.
Why go? With affordable Italian cuisine and branches across Birmingham, Manchester and Chester, it'd be easy to assume that San Carlo is just another chain. But not only is each restaurant individually styled (and rather glamorous), the lively San Carlo is the recipient of both regional and national foodie awards. And what food. There are an astonishing 140+ dishes to choose from, all of which are created with fresh produce and combine unusual flavours in daring ways.
Time Out tip: Try the lobster ravioli.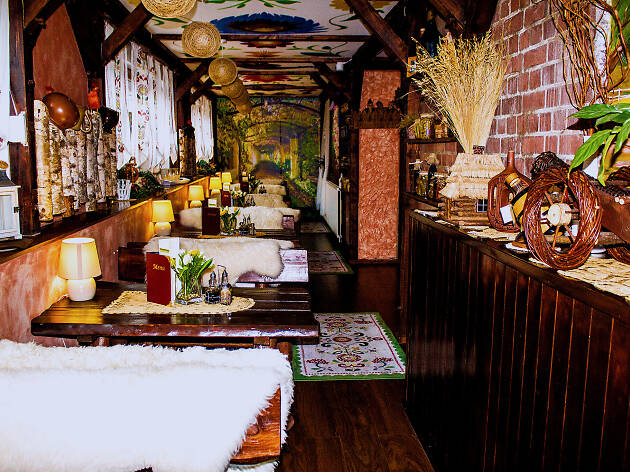 Photograph: Sal Maxuda
What is it? Traditional Polish eating.
Why go? Meaning 'tavern' in Polish, Karczma is basically a cosy Eastern European-style inn. For starters, the ceiling is thatched and flanked by wooden beams. You'd be hard-pressed not to feel at home here – especially with the comforting menu of dumplings, stew and potato pancakes.
Photograph: Courtesy TripAdvisor
What is it? Filthy burgers and beers, but clean, honest fun.
Why go? Cool, edgy and lots of fun, The Meat Shack brings its uproariously decadent burgers to a permanent city-centre location after years of hounding the streets. Their trademark smashed patties are a big draw (the Hell Shack packs a hefty punch), but vegetarians can indulge in an equally attractive cheese and mushroom beast called Bella Emberg. Graffiti-strewn walls and a backstreet location make it seem all the more depraved, and gladly so.
Photograph: Courtesy TripAdvisor.com
What is it? The Birmingham outpost of one of the grand dames of the London restaurant scene.
Why go? Already a beloved destination of celebrity types in London, The Ivy arrived in Birmingham with a lot of baggage, which down-to-earth Brummies were soon able to unpack. Go for solid classics - prawn cocktail, shepherd's pie and crème brûlée - in a flamboyant décor and breezy atmosphere.
What is it? Join Brum's very own bao house movement.
Why go? Promising bao, bowls and beer, the tiny Tiger Bites Pig delivers a thoroughly modern take on traditional provincial Chinese recipes. It's rapidly won a reputation for its pillowy-soft steamed buns stuffed with a range of goodies, from red braised pork belly to twice-cooked smoked duck breast.
Time Out tip: Its close proximity to New Street station makes it an excellent shout for a bottle and bun before your train home.
Fancy a mid-afternoon blowout?
From laid-back to extravagant, there's now a whole host of top-level restaurants offering afternoon tea in Birmingham. Whether you want to go trad, or mix things up a bit, there's something on Brum's bustling culinary scene that'll hit the sweet spot.