Co-founder of The Quietus and one of the country's finest music scribes, John Doran, will be launching his debut book Jolly Lad, published by Strange Attractor, at an evening of spoken word and far-out music at the city's Eastside Projects on May 22. Details here.
John will be joined at the event, entitled An English Trip, by Arabrot, aka Norwegian noise-rock musician Kjetil Nernes, dub poet Roger Robinson, who's worked with King Midas Sound and Techno Animal, and Leeds' live techno band Chrononautz.
Jolly Lad is a gut-wrenchingly funny, tearily poignant and occasionally disturbing memoir inspired by John's regular MNEK columns for Vice and has already garnered praise from the likes of Caitlin Moran and Jonathan Meades. The hardback edition comes with a CD of readings and music from the Manic Street Preacher's Nicky Wire, members of British Sea Power, Eccentronic Research Council, GNOD, Grumbling Fur and more.
To get us in the mood, John, a long-time visitor to the city's more far-out events like Supersonic, has provided us with a guide to Brum's extreme music.
Black Sabbath – Black Sabbath (Black Sabbath)

The self-titled track off Black Sabbath's self-titled debut album is where it all starts. Those that heard this track on its day of release – Friday 13 February 1970 – experienced the unthinkable: guitar music much heavier than anything that had come before, including Black Country peers, Led Zeppelin. This was music that seemed to emanate evil. But this track didn't just signify another development in rock's arms race, instead it represented something more significant – a clean break with the past that also kick-started a massive leap forward in popular music.
The tolling bell, the driving rain, the sludgy, overdriven bass lines melting into fuzzed-out riffs based not on the traditional blues scale but on the eerie-sounding Devil's Interval (often known as the augmented 4th or flattened 5th), which was associated more with horror movies and funeral dirges than rock. This song by Aston's finest heralded the birth of heavy metal. This was the birth of doom.
Judas Priest – Dissident Aggressor (Sin After Sin)

Judas Priest's legacy is assured in the world of heavy metal and fans know them to be true musical innovators. The West Brom band bridged the gap between the original doom-metal of Black Sabbath and the myriad extreme-metal genres of the '80s and beyond. Priest laid the bedrock for thrash, death, black and other forms of metal madness that would save it from being just another offshoot of rock and help it become the most dominant musical genre of the last two decades.
They also cemented the dress code. Out went all of the uncomfortable throwbacks to the '60s – loon pants, paisley shirts, velvet jackets – and in came tight denim, patches, leather, studs and biker boots. And while everyone else was cutting their hair short in the late-70s, they opted to keep theirs long. Heavy metal's anti-uniform uniform was born.
The Sin After Sin album not only marked the start of the group's imperial period but it marked the point where they became a truly visionary band laying down the foundations for bands that would follow – from Iron Maiden to Slayer via Venom – with a piercing form of operatic proto-thrash metal.
Napalm Death – Multinational Corporations (Scum)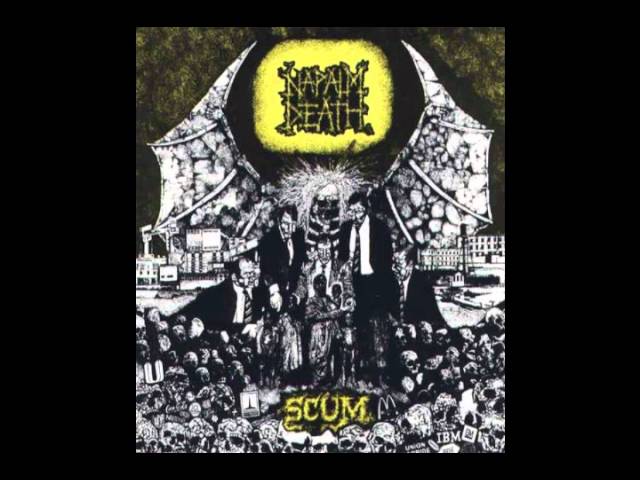 From the beginning, Napalm Death, probably the most important extreme-metal band of all time, wanted to push at sonic boundaries. They were searching to find a new language to express their dissatisfaction with the world. Their intention was to combine the crushing density of heavy metal and the harsh atonal noise of industrial with the speed and social awareness of second-wave punk and the "shock of the new" sound of thrash.
Their message was one of complete resistance and disgust with the world and this extreme stance was matched equally by a striking sense of revulsion in the very noise itself. The new sound they created in the mid-80s would come to be known by its fans (who included a very supportive John Peel) as grindcore.
Godflesh – Like Rats (Streetcleaner)
When Godflesh formed in the late-80s they envisaged combining the relentless grind of Swans, the harsh industrial attack of Throbbing Gristle and the atonal guitar noise of PiL's Metal Box – and the results were devastating.
After a self-titled EP, their 1990 full-length debut on Earache, Streetcleaner, was a psychedelic and disturbing combination of heavy metal, post punk and industrial. It literally seethed with a balefulness and paranoia that was reflected by the cover art of the silhouettes of crucifixions seen against a burning lava flow, suggesting a world going to hell. The image was taken from Ken Russell's bombastic but impressive film Altered States that was watched by the front man and his friends when they were high on LSD.
The influence that Birmingham has had on founder Justin Broadrick and on the sound of Godflesh cannot be underestimated. There is an obvious tangential connection between the industrial steel mills of city and the "metallic" music of bands such as Black Sabbath. But with Godflesh, their antipathy towards their hometown and sonic and lyrical bile are a direct product of the experience of growing up in the giant city – like a dark inversion of Wordsworth's relationship with the Lake District.
Anaal Nathrakh - Pandemonic Hyperblast (Codex Necro)
Anaal Nathrakh slay hard. Prepare to have your face melted off, puny humans.
An English Trip at Eastside Projects, May 22.

Visit Brum's historic music venues.