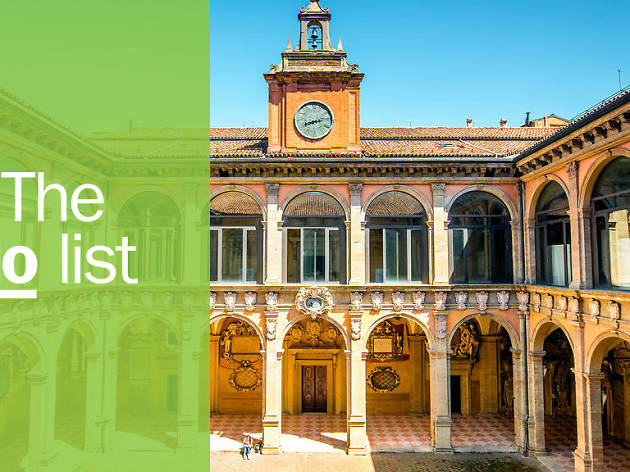 The 13 best things to do in Bologna
Looking for great things to do in Bologna? Check out our comprehensive guide to the best attractions, events and sights.
There is no doubt about the fact that one of the best things to do in Bologna (if not the best thing to do) is to eat here. And, since the most delicious food in the world is Italian and the best food in Italy is in the norteast region of Emilia-Romagna, you are in for a treat.
In addition to the amazing restaurants in town, the capital of Emilia-Romagna si famed for its legendary university, swelteringly hot summers and as home to the most quintessential of all Italian dishes: spaghetti bolognese.
So pack your stretchiest sweats and head to beautiful Bologna.
Done something on this list and loved it? Share it with the hashtag #TimeOutDoList and tag @TimeOutEverywhere. Find out more about how Time Out selects the very best things to do all over the world.
Best things to do in Bologna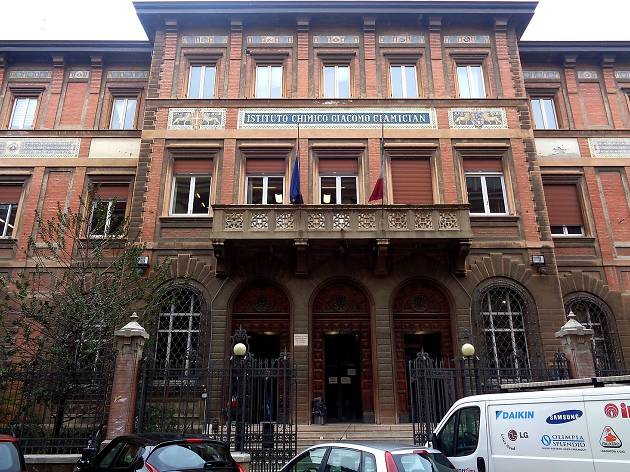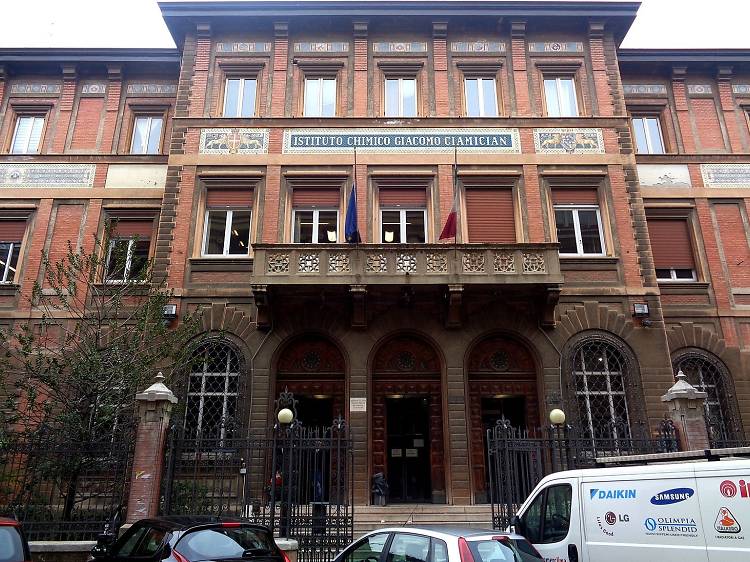 Photograph: Courtesy CC/Wikimedia Commons/Andrijko Z.
What is it? The oldest university in Europe.
Why go? Established 930 years ago, Università di Bologna holds the title of world's oldest university in continuous operation, and the city is built around its student population. Head to the east of the city to soak up the atmosphere. Wander around the beautiful university buildings and pop into one of the student bars with a copy of Dante's 'Inferno' under your arm and see if you can blend in.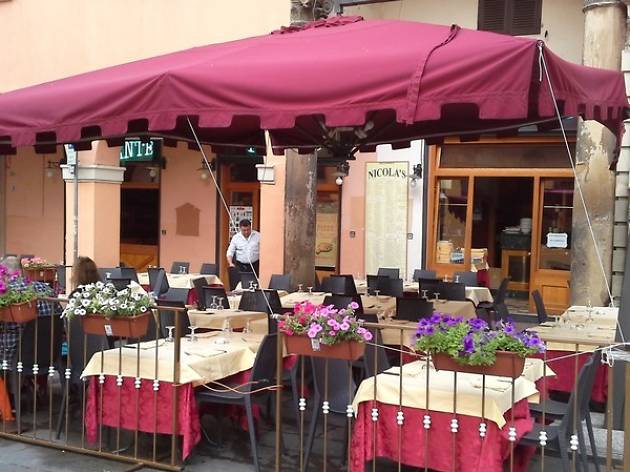 Photograph: Courtesy Pizzeria Ristorante Nicola's
2. Pizzeria Ristorante Nicola's
What is it? A friendly pizzeria loved by locals.
Why go? The home of pizza might be 350 miles away in Naples, but the melanzane pizza from Nicola's gives the Southerners a run for their money. Low prices, unassuming decor and al fresco dining in the summer make for a budget-friendly treat. Meat eaters should try the Bolognese staple tortellini in brodo soup for starters, and there are a quite a few veggie options here too.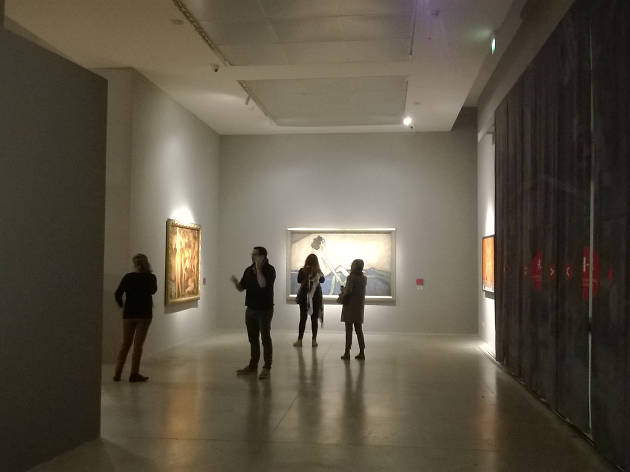 Photograph: Courtesy CC/Flickr/CiaoMilano
3. The Museum of Modern Art, Bologna
What is it? A large gallery packed with contemporary Italian art from the past 70 years.
Why go? MAMbo is a welcome tonic for when you've seen one too many Renaissance frescoes. When you're done with the experimental art and special exhibitions, head to the bar for a hugo (a northern Italian cocktail made with prosecco, gin and elderflower cordial) among the city's cultural elite.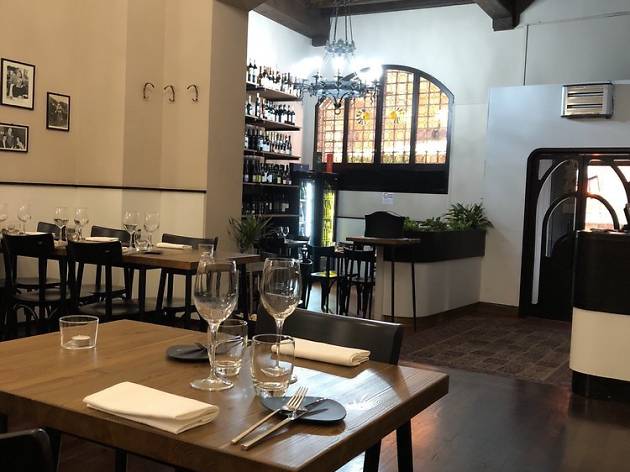 Photograph: Courtesy Yelp: Kevin J.
What is it? The perfect stop off for a fancy lunch, this joint's been serving up perfect pasta since 1919.
Why go? Pappagallo turns simple pasta dishes into a fine dining experience. Take a table outside after a long day of sightseeing, order a soothing glass of wine and tuck into a lasagne that ain't your mama's cookin'. Small portions mean you can order more courses, right?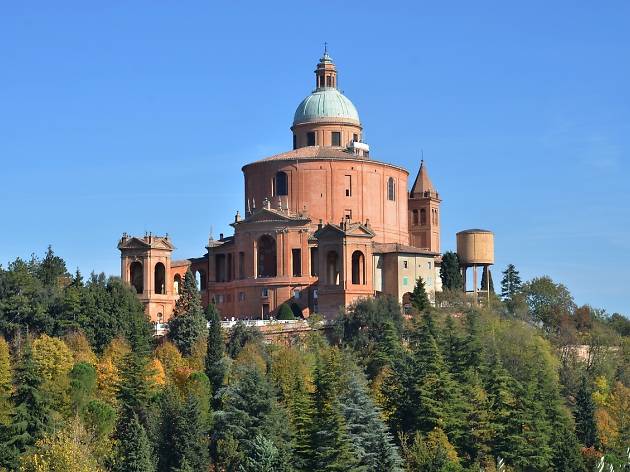 Santuario di SanLuca
What is it? A basilisco on a forested hill outside of the cit. It's got views-a-plenty.
Why go? Take a trip out of town to visit this beautiful basilica, where the journey is as impressive as the destination. Bologna is home to almost 40km of porticoes (archway-covered pathways), some of which date back to the Middle Ages, all of them with a height of seven feet – room for a horse and rider. Walk the 3.8km, under 666 arches to the church on top of the Monte della Guardia and enjoy the simply stunning views.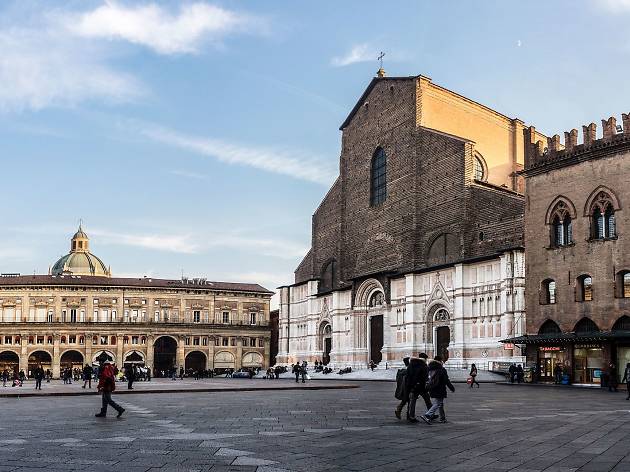 Photograph: Courtesy CC/Wikimedia Commons/Vanni Lazzari
What is it? Bologna's elegantly designed main square.
Why go? It's home to the gothic Basilica di San Petronio, an unfinished behemoth that includes 22 side chapels. Impressive. It's also the perfect spot to watch the world go by with an aperitivo after the walk back from San Luca on the hill. Negroni, anyone?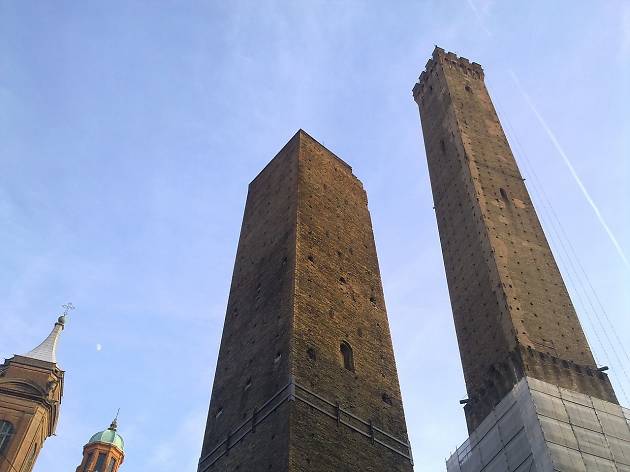 Due Torri
What is it? The most recognisable landmark of Bologna.
Why go? The Two Towers have stood sentinel in the city since 1119. Leaning in a way that surely only Italian towers can, the pair has been name-checked by the likes of Dante and Carducci. For just €5 you can climb the 498 stairs to the top of Asinelli (the taller tower) and enjoy some pretty special views of the city.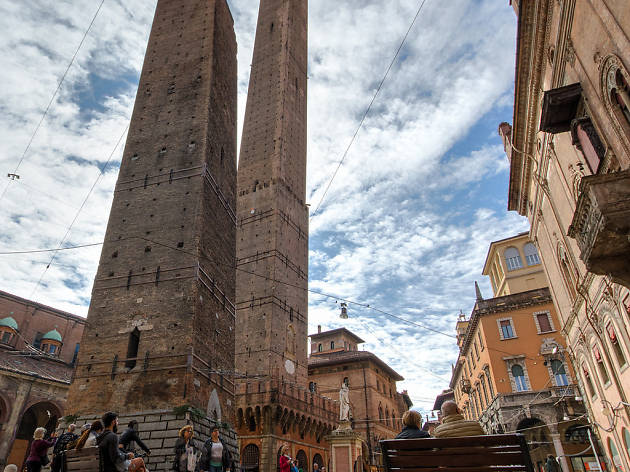 Photograph: Courtesy CC/Flickr/=BSayler
What is it?
A hole-in-the-wall pizza place.
Why go?
After climbing the towers, treat yourself to a €2 slice of pizza the size of your head. Cheap, cheerful, constantly busy – you could eat here three times a day for a week and still be left greedy for more.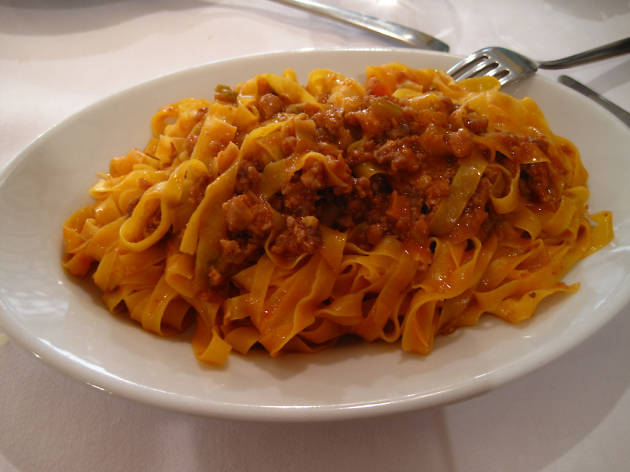 Photograph: Courtesy CC/Flickr/surtr
What is it? Traditional trattoria serving up Bolognese favourites.
Why go? Rule number one in Bologna, never call it spaghetti bolognese. It's tagliatelle al ragu. And some of the best ragu is at Anna Maria's - a traditional trattoria, run by Anna Maria whose name has been above the door for more than 30 years. The walls are plastered with pictures of the legion of famous Italians who have dined there and if it's good enough for them...
Photograph: Courtesy Yelp/Cat C.
What is it? A classy choice for a sophisticated meat-heavy dinner.
Why go? Tucked away behind Piazza Maggiore, Battibecco prides itself on chic decor, super service and a simple menu of good food done well. Vegetarians beware – this is a meat and fish-heavy menu – ut for carnivores, whatever you order won't just taste good it'll look great in the 'gram too.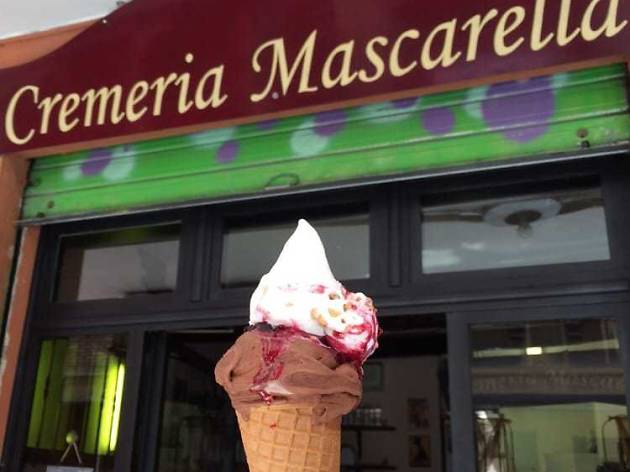 Photograph: Courtesy Yelp/Tina Y.
11. Gelateria Cremeria Mascarella
What is it? Traditional gelateria serving experimental flavours.
Why go? If you go to Italy and don't gorge on gelato, did you even go? Bologna is home to dozens of delicious gelaterias but head up into the historic Ghetto Ebraico neighbourhood to try flavours like tequila and lime or blood orange and Campari.
What is it? Where to head for some retail therapy.
Why go? The area around Piazza Maggiore is a shopping haven, especially for visitors who want to take a taste of Bologna home with them. Explore the cobbled streets between Via Rizzoli and Via Clavature to pick up fresh pasta, handmade jewellery and… an Aperol spritz or three. Why not, eh?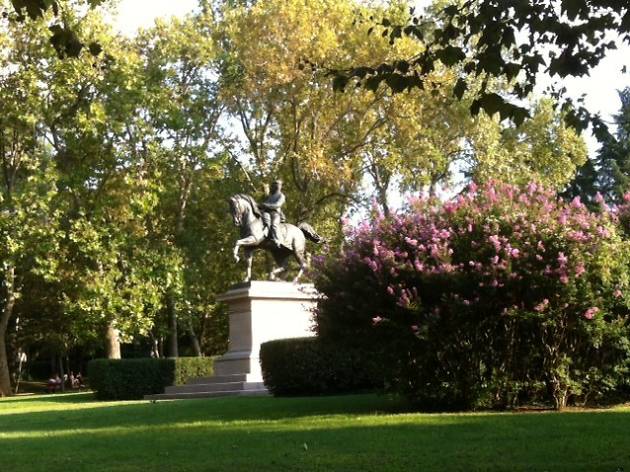 Giardini Margherita Bologna
What is it? Bologna's largest city park, spanning 26 acres. Curiously it's inspired by English parks.
Why go? After climbing towers and hills around town, take a stroll around this city park and see if you can spot some of its cutest inhabitants – turtles! Stop off at the Le Serre café for aperitivo, live music and a breath of fresh air in the heart of the city.