Heads up! We're working hard to be accurate – but these are unusual times, so please always check before heading out.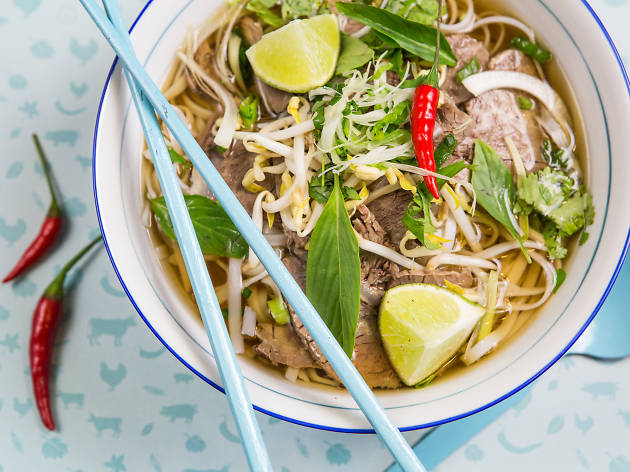 The 7 best places for street food in Budapest
Want to snaffle something on the run? This is the best street food in Budapest right now – from pho to pizza to 'fruit soups'
In the decade that Hungary's government talked down western values, its capital's food scene became more open than ever. Not so long ago, Budapest's street food offering was predictable: a guy sells pizzas at 200 forints a slice – a year later dozens were doing it. After that, a handful of Vietnamese pho restaurants turned into a landslide. Soup joints? Same thing. A few years later, however, only the best endure, and the scene has enjoyed an uptick in variety and overall quality. As well as new takes on Hungarian classics, Middle Eastern food has moved way beyond the Turkish kebab shops. Unimaginable in the days when 'vegetarian option, please' in Hungary meant deep fried camembert or a 'cheese roll', nowadays vegan and vegetarian street food proliferates. The guys throwing your pizza could even be Italian.
Still need to tick off the sights, and looking to snaffle something on the go? These are the best street food spots in Budapest right now.
RECOMMENDED: Full guide to the best restaurants in Budapest
Best street food in Budapest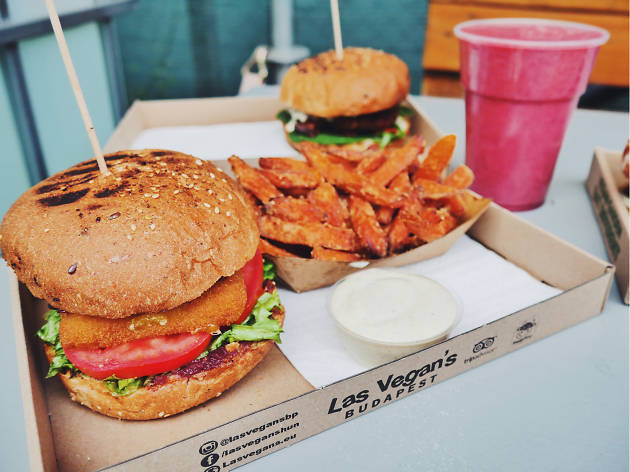 Photograph: noraspiration / Instagram
On the former premises of defunct ruin pub Rácskert, the trucks at Vegan Garden offer exclusively plant-based street food, including Mexican tortillas, Middle Eastern food, burgers, chimney cakes (a proud Hungarian innovation) and dairy-free ice cream. The fun of Vegan Garden is in grabbing a table and mixing and matching dishes from the dozen or so trucks crammed into the space. At the rear is Kristóf's Kitchen, run by Hungarian author and gay icon Kristóf Steiner. After spending a few years in Tel Aviv, Israel, Kristóf launched a menu focused on Middle Eastern – though now increasingly global – delicacies such as hummus, falafel and shakshuka. Of all the goodies on offer here, we heartily recommend the palak paneer, sweet potato mash and onion bhaji box.
40 Dob utca, 1072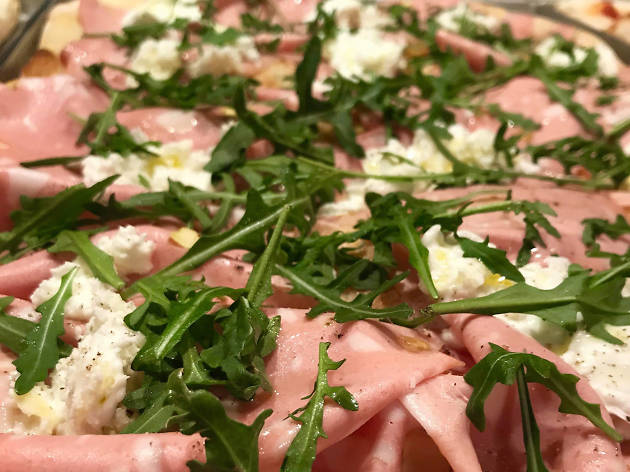 Photograph: Pizzica
Post-punk... and post-pub? If you like your pizza and your music edgy, Pizzica is for you. Brothers Paolo and Enrico Bartolomeo serve light square pizza slices in this cosy two-storey gaff where Joy Division and other post-punk bands rule the stereo. Light years from the half-a-euro greasy triangular slices that predominate in Pest, the boys from Lecce, southern Italy, serve up pizza in cute boxes, and infused olive oils sit on the shelves for those wanting an extra kick. Toppings rotate, but star premium ingredients, whether truffles, buffalo mozzarella or fresh basil. Cash only.
21 Nagymező utca, 1065
Photograph: PIXELTASTER / Árpád Pintér
'Meat, meat, meat,' proclaims the sign at Cupákos. Bang slap in the middle of the Budapest party zone, Cupákos is a haven for carnivores. Prepared in front of your eyes, many of its dishes are typically Hungarian and include 'commie carbonara' túrós csusza (pasta with cottage cheese and pork belly) and lecsó (Hungarian ratatouille) with sausage. Those not so keen on the local cuisine won't go home hungry, though, as the menu includes plenty of duck, chicken, pork and beef dishes, meaning any meat lover can find something delicious.
Dob utca 31, 1074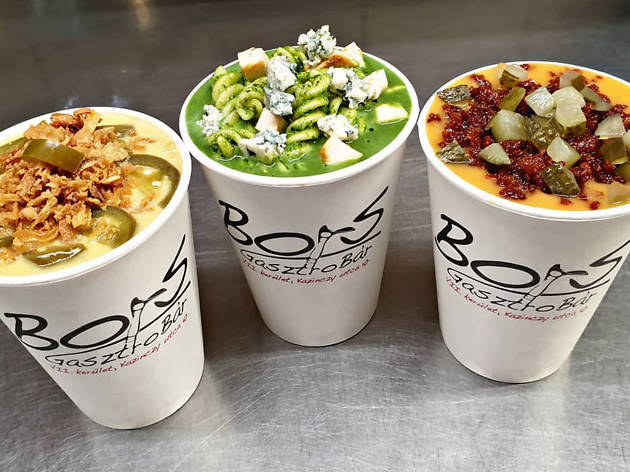 Photograph: Bors Gasztro bar / Facebook
Bors is famous for its soups, so much so that the queue usually spills out on to the street outside. They change the menu on a daily basis, so you can always expect a surprise. The daily special soups on offer – sketched on blackboards above the counter – show remarkable creativity. Making an appearance alongside your standard gazpacho and vegetable varieties are Hungarian specialities such as fruit soups. But the real draw here is the wacky ones – think Nutella pancakes, Raffaello chocolates and black forest gateau. Time Out recommends ordering a soup and warm baguette combo for HUF1,300-1,700 (around €4-€5, depending on size).
10 Kazinczy utca, 1075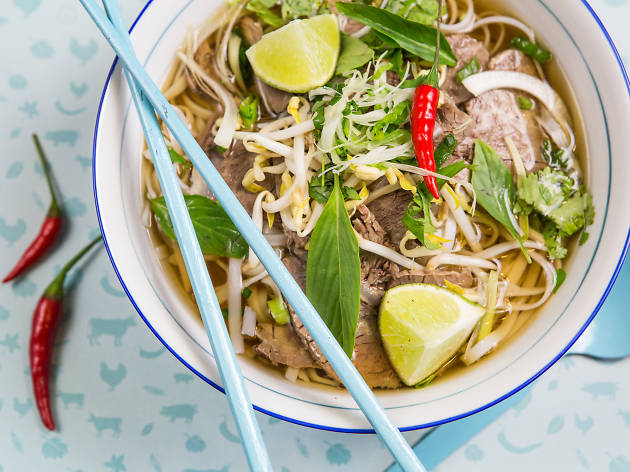 Photograph: Funky Pho
Vietnamese soup joints have taken off in Budapest over the past decade, but Funky Pho's status as the best of the bunch is beyond doubt. Herbivores and omnivores are welcome at this pan-Asian restaurant, where the award-winning tripe bites (HUF 1,190, around €3.60) are a must for meat eaters and the vitamin-rich kimchi (HUF 790, around €2.50) is a safe bet for vegans. Fancy a warming pho? Try Funky Pho's vegan recipe or choose from the selection of meat toppings. This place is tiny, so be prepared for to queue at peak times. Cash, no cards.
7 Mozsár utca, 1066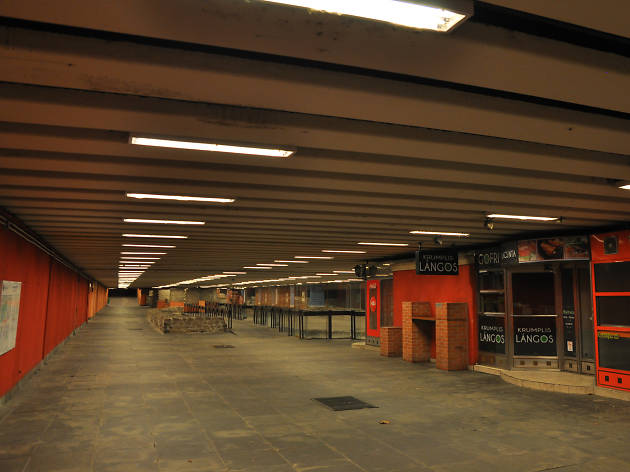 Photograph: Christo / Wikimedia Commons
What could be a more authentic Hungarian experience than chomping on fried food in an underpass amid the tower blocks of Óbuda. A delicacy to some – and a crime against your body to others – lángos is a traditional deep-fried dough, usually doused in garlic sauce, sour cream and grated cheese. Don't be deceived, though: this is high quality street – if not health – food. Widely considered the best in town, Krumplis Lángos offers a range of toppings, including things like tzatziki. It's budget-friendly, too: a gigantic lángos costs approximately the equivalent of just over a euro.
Flórián tér metro station, Óbuda, 1035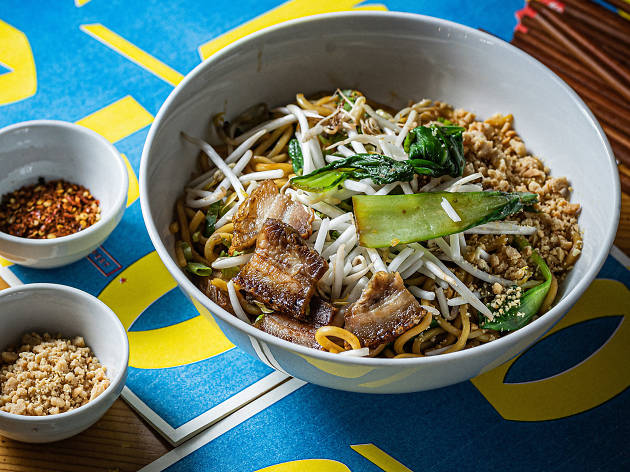 Photograph: Ngon Street Food, Pixeltaster
Budapest's legendarily sketchy Chinese Market has long been the only major source of authentic East Asian food for expats in search of a five-spice fix. With its bright décor and top-class food, Ngon Street Food has upped the game significantly. Its Thai and Vietnamese menu stars pho (from HUF 2,000) and yum yum (from HUF 2,200) soups, as well as thai curry and fried noodles with meat, fish, prawns, vegetables or tofu. The flavours reflect the chef's Isan roots and that Thai region's tradition of simple yet tasty street food. The pan-Asian supermarket next door sells a wide selection of Malaysian and Indonesian products, too.
35 Köbányai út, 1087
Need to cool off? We've some ideas...
Budapest's bathing culture goes back centuries – to the Romans and perhaps beyond – and today you'll find a variety of baths and spas that cater to (nearly) every taste. There are 16th-century Turkish baths; there are grand fin-de-siècle pools; there are ultra-modern thermal facilities and even outdoor beach-style bathing spots.