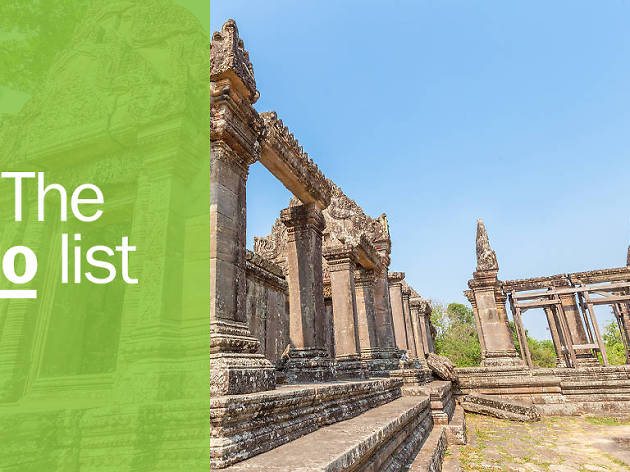 The 12 best things to do in Cambodia
Look past the awe-inspiring twelfth century temples of Angkor: there are plenty more things to do in Cambodia.
Cambodia's main claim to tourist fame is the network of awe-inspiring twelfth century temples of Angkor—but there are plenty of more awesome things to do in Cambodia. Increasingly, travellers are discovering the country's other wonders, like jungles, wildlife and islands. Cambodia is one of Southeast Asia's poorest countries and, although there are shams, there are many reputable non-governmental organisations (NGOs) that tourists can engage with. As the nation emerges from an all-too-recent history of genocide at the hands of the Khmer Rouge, the Cambodian spirit seems irrepressible, and visitors will find welcoming smiles wherever they explore.
Done something on this list and loved it? Share it with the hashtag #TimeOutDoList and tag @TimeOutEverywhere.
Find out more about how Time Out selects the very best things to do all over the world.
Best things to do in Cambodia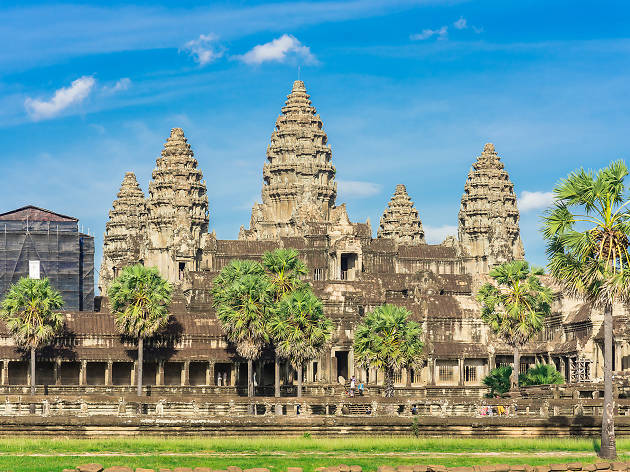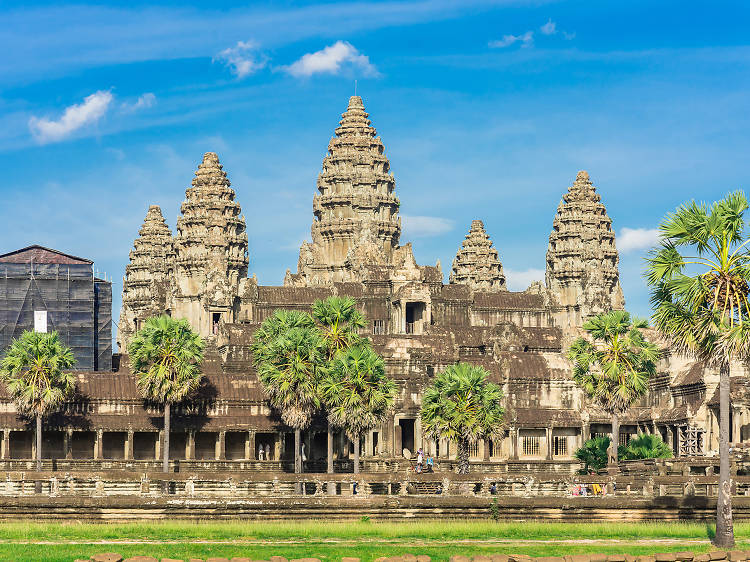 Photograph: Shutterstock
Where is it? Fifteen minutes from Siem Reap.
What is it? A twelfth century city complex that was once the centre of the Khmer empire.
Why go? Angkor was the capital of the Khmer empire from the ninth to the fifteenth century, and you can explore the empire's temples and ruins within the UNESCO World Heritage site of Angkor Archaeological Park. Here, you can hire bicycles or a tuk-tuk driver to take you around, and an accredited guide can help you understand the bas-relief carvings. The highlight – the immense Angkor Wat – is touted as the biggest religious monument in the world, and is visited by around two million tourists yearly.
Beyond Angkor Wat, don't miss the Bayon within the walled Great City of Angkor Thom. Built by King Jayavarman VII, it's a narcissistic temple celebrating his god-king status, incorporating over 200 massive stone faces. Ta Promh temple was made famous by the movie 'Tomb Raider'. Unlike other temples, the jungle has not been restrained here. Strangler figs with roots like octopus tentacles cascade over many walls, and rubble is strewn throughout.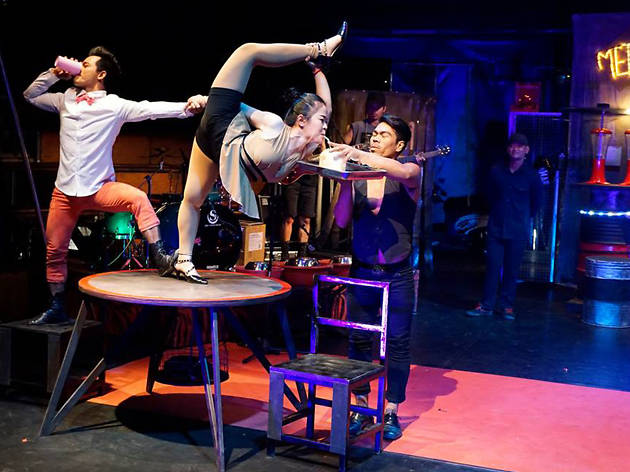 2. Phare Cambodian Circus
Where is it? Siem Reap.
What is it? Jaw-dropping cultural performances by at-risk Cambodian youth.
Why go? The circus uses dance, theatre, live music and acrobatics to tell Cambodian folklore stories relevant to the modern day with energetic, impressive shows. All performers are graduates of Phare Ponleu Selpak School, a non-profit association. Funds from shows support education and social support programs to give children and youth a focus and employment skills. Book ahead as performances sell out.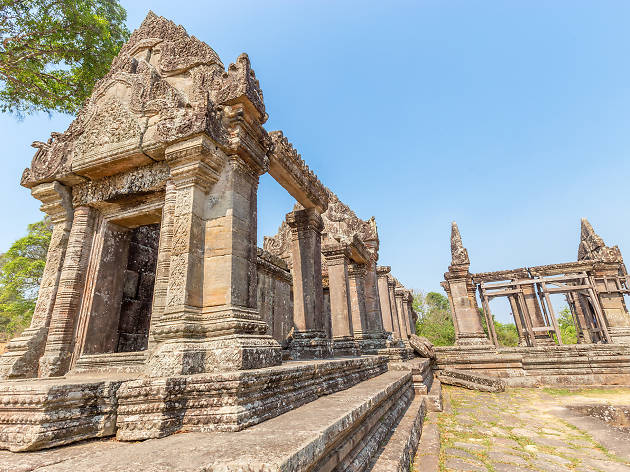 Photograph: Shutterstock
Where is it? Near the Thai border, two to four hours' drive north of Siem Reap.
What is it? A remote clifftop temple.
Why go? This ancient temple has no busloads or package tourists. Perched on a clifftop at 625 metres elevation, the temple overlooks the northern Cambodian plains. Disputes between Thailand and Cambodia over the temple's ownership have waged intermittently since 1907, most recently from 2008 to 2011. Entry to the temple is via five ceremonial entrance gates, and it's an uphill slog. Tours from Siem Reap are easily arranged.
Where is it? Northeast of Phnom Penh, about five to six hours' drive.
What is it? An elephant sanctuary protecting forests and Indigenous livelihoods.
Why go? Cambodian forests are being threatened like never before, and the Indigenous Bunong people who previously relied on the forest are marginalised. The Mondulkiri Project employs Bunong people, teaching conservation skills and caring for rescued elephants. Here you'll hike alongside five elephants through the jungle and join them for a bath in the waterfall swimming hole. A two-day tour incorporates hiking, a visit to the Bunong farms and an overnight stay at the jungle lodge. Choose your elephant operator carefully, as some don't follow ethical practices.
Where is it? Phnom Penh.
What is it? Traditional Khmer dining in a tropical garden.
Why go? Romdeng is set in the garden of a colonial mansion and serves traditional Khmer favourites, including the ubiquitous fish amok curry in banana leaf. If you're adventurous, try creepy crawly tarantulas, or perhaps crunchy fried crickets with froglets, or even red tree ants with beef and basil. Romdeng is supported by two social enterprises assisting children and youth. The staff are young trainees, learning hospitality skills to create a better future. Many were previously homeless or at risk.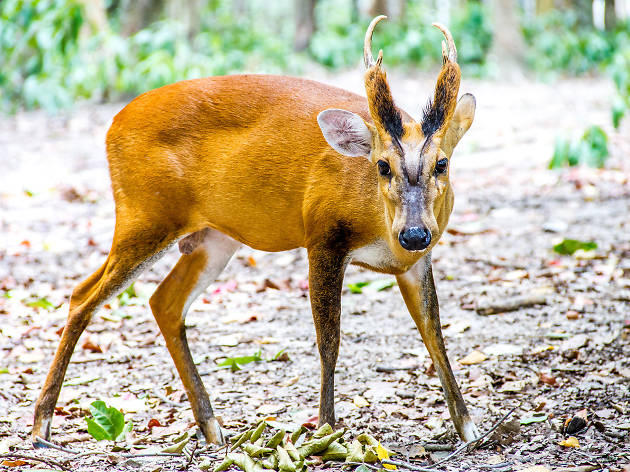 6. Phnom Tamao Wildlife Rescue Centre
Where is it? One hour outside Phnom Penh.
What is it? A Wildlife Alliance haven for rescued wild animals.
Why go? Every year, thousands of animals are caught by illegal snares in Cambodia's jungles and destined for the pet trade or sold for body parts for traditional Asian medicines. This organisation cares for over 1,400 rescued animals across more than 100 species. The full-day guided tour includes behind-the-scenes action, such as an elephant with a prosthetic leg allowing staff to change his stump liner. You'll also meet rescued clouded leopards, tigers, gibbons, bears, and otters.
7. Grasshopper bike tours: Rats, Trash and Booze
Where is it? Siem Reap.
What is it? Off-the-beaten-path cycling around quirky attractions.
Why go? If you're suffering from temple fatigue, Grasshopper Tours offers a cycling trip through the quiet lanes of Siem Reap, visiting surprising social enterprises. You'll meet the giant rats that have been trained to safely sniff out landmines, saving countless lives. Next, you'll visit Rehash Trash, where disadvantaged women weave discarded litter into colourful bags and homewares. Join in to create your own souvenir. The final stop on this tour is a rice-wine distillery, where you'll taste traditional spirits infused with local flavours.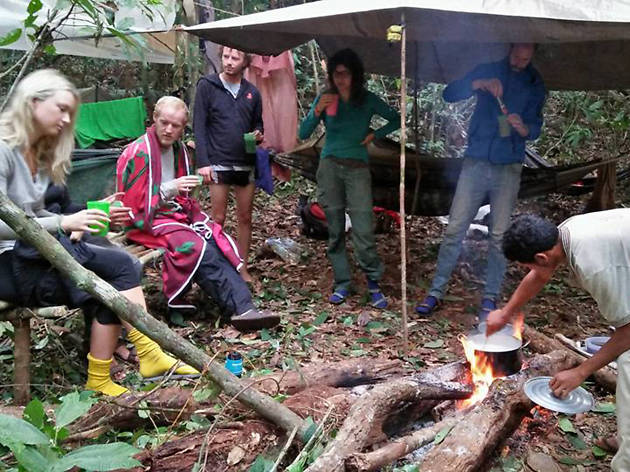 8. Osoam Cardamom Community Centre
Where is it? Cardamom Mountains, seven hours' drive northwest of Phnom Penh.
What is it? A real Cambodian community providing sustainable tourism and development.
Why go? This ecotourism farm assists 327 families from the Chorng and Poer ethnic groups develop sustainable livelihoods in tourism and agriculture. You may choose to volunteer – constructing buildings or teaching English or computing skills. Alternatively, take an adventure with local guides with a single or multi-day hiking trip, where you'll spot rare wildlife. Alternatively, just hang at the friendly homestay, swimming in lakes, browsing the pepper plantation or enjoying the Khmer food. All profits support the community.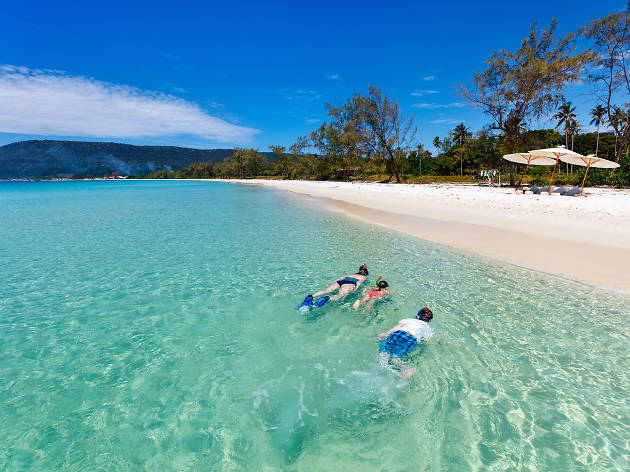 Photograph: Shuterstock
Where is it? Off Cambodia's southern coastline.
What is it? A laidback island, perfect for relaxing in nature.
Why go? Koh Rong Sanloem is the quiet little sister of party island Koh Rong. The most popular beach is Saracen Bay, where the sand is white and the water is aquamarine. Once you're tired of snorkelling and diving, take the one or two-hour hike to the island's northern tip. Bring water and a few dollars to enter the lighthouse for spectacular ocean views. Watch for sea eagles, hornbill birds and monkeys. The trail passes through some forest clearing.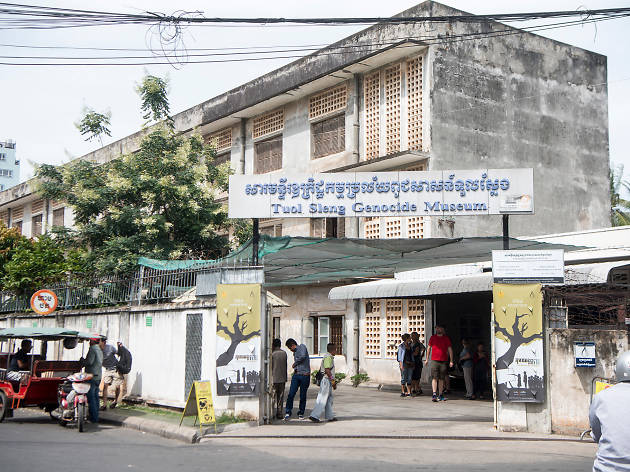 10. Tuol Sleng Genocide Museum
Where is it? Phnom Penh.
What is it? A gruelling but powerful genocide museum.
Why go? Between 1975 and 1978, more than 17,000 people were detained and tortured by Khmer Rouge forces in this former high school, and later murdered. The school is now the Tuol Sleng Genocide Museum, a testament to cruelty. Entry includes an audio guide, and tours are available. Progressing through rooms displaying photographs of victims, instruments of torture and human skulls is profoundly dismal. But it's important to understand some of what this nation has endured and how it's shaped the people.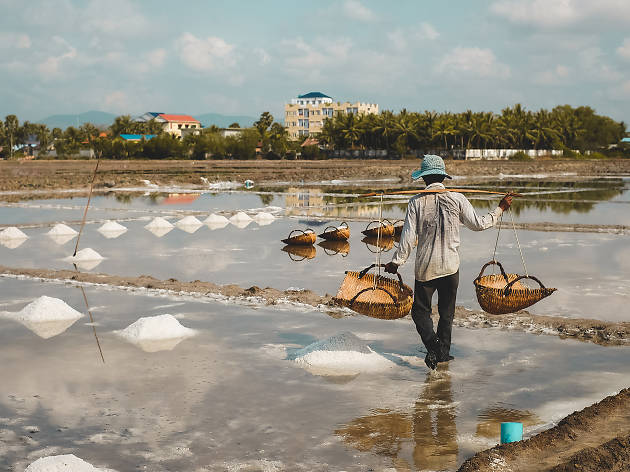 Where is it? On the southern coastline, around three hours' drive from Phnom Penh.
What is it? A low-key seaside town, featuring national parks and fishing villages.
Why go? Kampot is a sleepy town featuring charmingly dilapidated French colonial architecture set on the Kompong Bay River. Farms here produce famous pepper, although tourists come for boutique hotels and riverfront relaxing. If that's too mellow, rock-climb through Cambodia's largest cave system with Climbodia. Or, rent a motor scooter and ride up Bokor Mountain for amazing views (cloud-cover permitting), continuing on to nearby Kep, a French-era coastal retreat. Dine at Kep's famous waterfront crab market for the freshest and cheapest crabs you'll find.
12. Foreign Correspondents Club
Where is it? Phnom Penh.
What is it? A rustic bar overlooking the Mekong River for tourists, expats, and locals.
Why go? The Foreign Correspondents Club (commonly called FCC) was opened by western journalists in 1993 in the upper floors of a slightly decaying colonial-style building overlooking the river. The FCC was the cultural and intellectual centre of Phnom Penh, and world-changing media stories were filed from here in the 1990s. The rustic bar is decorated with historic photographs and tropical river breezes are swished around by lazy ceiling fans. FCC's connection with journalists ended in dispute, however the club remains an icon, perfect for a sunset beer.
Best selling Time Out Offers