The 22 best restaurants in Cambridge
There's more to Cambridge than punting and books. Find the ideal dinner spot with our list of the best restaurants in Cambridge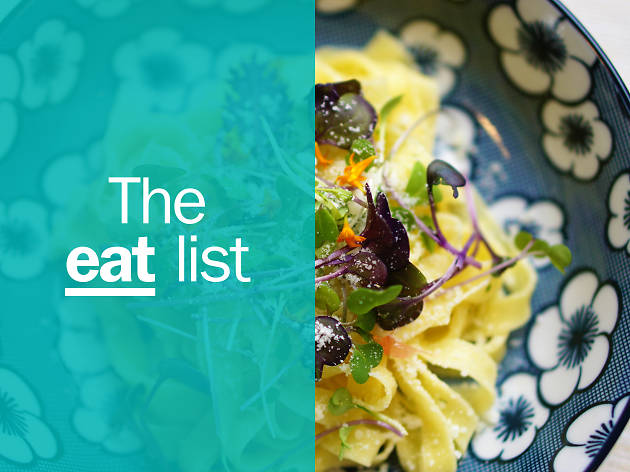 Possibly the most English of all the English cities (limestone gallore, bucolic river walks, wide open parkland), Cambridge is flat-out beautiful. But along with punts on the river, Kings College Chapel and myriad other great things to do, the thing you need to know about Cambridge is this: it's the land of pubs. There's enough real ale on offer here to fill the river Cam twice over, and many of the best pubs serve hearty grub as well. Or, if you're looking for something a little posher, the city's not exactly short of high-end restaurants. Book into one of the best hotels in the city, then drink all the afternoon Pimm's you desire at one of the best restaurants in Cambridge.
Best restaurants in Cambridge
1
This oysters-and-champers venue will give you a taste of the Cambridge high life. Trinity, Cambridge - the restaurant not the college - is the sister of Varsity, another popular Cambridge jaunt to splash your cash in. Trinity specialises in meat and fish of the 'pan-fried pigeon' variety. Come here to celebrate finally passing your PhD with slippery, sexy seafood.
Price: High-end to blowout (depending on how you order).
2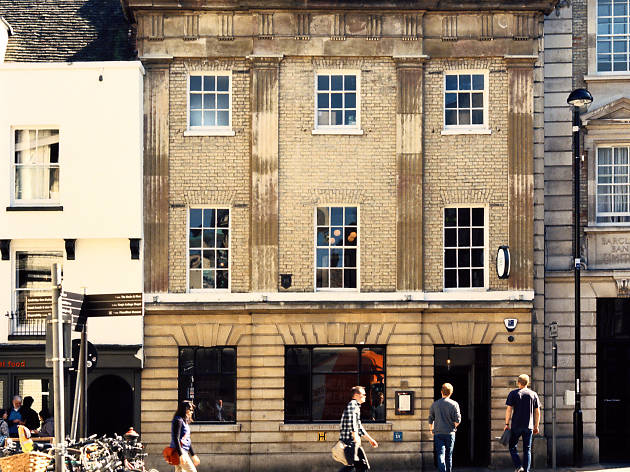 © Jason Lowe
Cambridge is not only home of the Pint Shop (they also have branches in Oxford and Birmingham now), but its Grade II-listed building was once home to EM Forster. How's that for a slice of intrigue with your supper? The food here is fancy pub fare (pork and fennel scotch eggs, charcoal grilled burgers and truffle chips), but the drinks are where the Pint Shop really shines. The gin menu alone is three pages long, the whisky and wine menus aren't far off, and the beer? Well, you'd have to troop up to the bar to check the board, as these change regularly, but feature breweries from all over the country.
Price: Mid-range.
3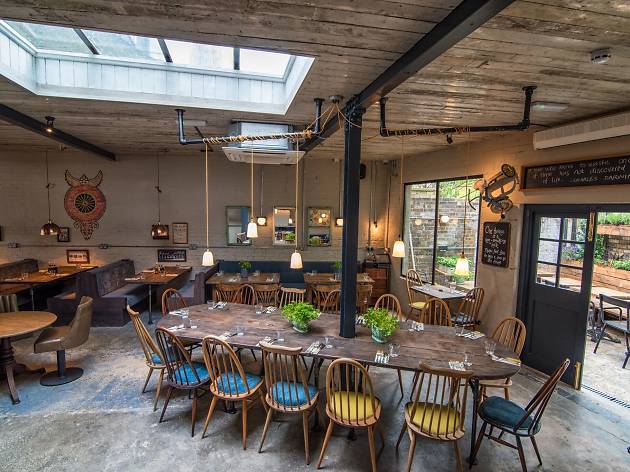 The Old Bicycle Shop It probably won't surprise you to discover that The Old Bicycle Shop was once exactly that. And if the name wasn't enough of a hint, there are themed bits and bobs around the place, like the chain cog candle holders, which are a very nice touch. While the prices aren't on the cheap side here, this is a great option for vegetarians and vegans. Forget boring old bean burgers, you can get things like pulled jackfruit kebabs here and chana masala with lime-baked tofu and toasted sourdough.
Price: Mid-range.
4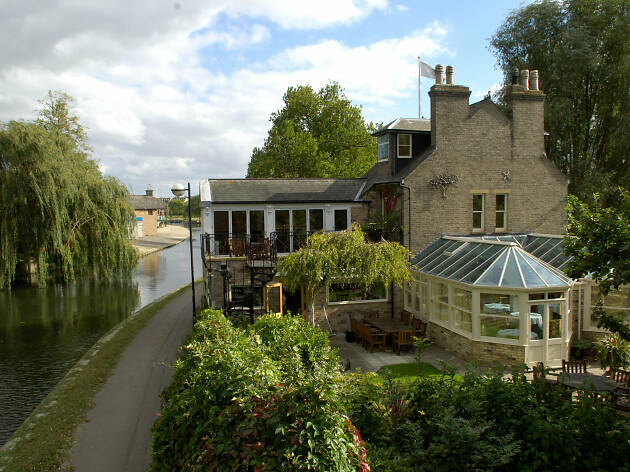 It's the fanciest restaurant in Cambridge, you have something big to celebrate, and someone else is paying. Midsummer House is a twice Michelin-starred restaurant right by the river Cam. It's famous enough to have its own wiki page, and its head chef is Daniel Clifford. If you can afford to go, it's serves insanely pretty portions of French-inspired food. Midsummer House is where you go when nothing but pure decadence will do (and if you get an invite, all the better).
Price: Blowout.
5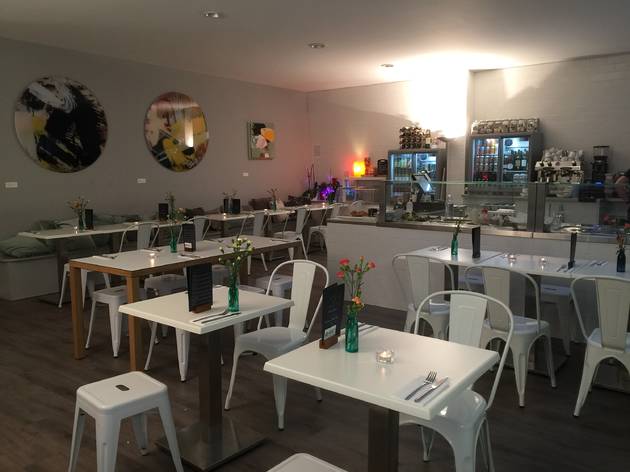 Stem + Glory is the kind of place where turning plants into food is something of an artform. These vegan-friendly folk have two premises in Cambridge. Their new King St venue is the place to head when you're in a rush but mustn't miss your five-a-day. It's healthy fast food where coffee and cake meets quinoa and carrots. Alternately, book a table at Chesterton Road and take your time sipping vegan wine over food that's nothing but good for you.
Price: Mid-range.
6
The Oak Bistro ticks two boxes: it's in central Cambridge and it offers outdoor seating. And not just any outdoor seating. One of the perks of eating here is enjoying its lovely walled garden. The menu is full of 'big' flavours (trout, beef and duck) and is perfect for people who like classic dishes done well.
Price: High-end.
7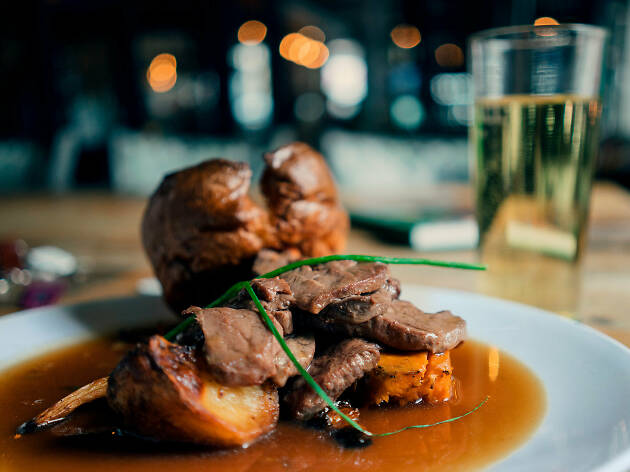 Photograph: Shutterstock
This is a hefty walk along the river (close to an hour) from the centre of town, but trust us, it's worth it. The walk alone is worth it in fact, with beautiful views of the River Cam, old architecture and quaint countryside. The pub itself is an old thatched-roof cottage, with a tastefully renovated rustic interior. There's plenty of seating inside and out, where you can enjoy good ol' British pub grub: the roast chicken comes from Suffolk, the tomatoes froom Sussex, pork belly from Hampshire, lamb from Norfolk…
Price: Mid-range
8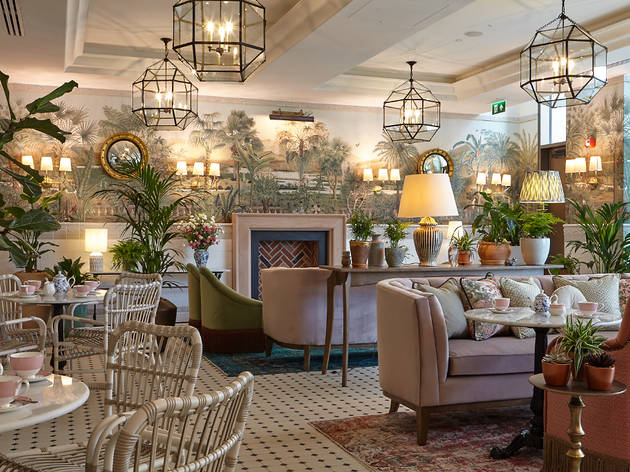 The Garden Room at The Tamburlaine Hotel
Enjoy classic afternoon tea in a room that looks as good as the scones taste. The Tamburlaine Hotel is a hop-skip-and-a-jump from Cambridge's main station. Hidden inside its modern exterior is the seriously pretty Garden Room. Prop yourself up on a velvet sofa and indulge in traditional afternoon tea whilst admiring the Victorian wallpaper.
Price: Mid-range/High end.
9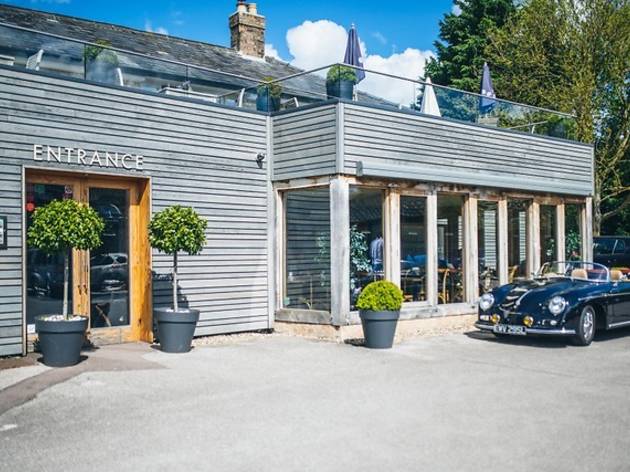 Another Grantchester haunt (yes, it's time to dust off those walking boots), The Rupert Brooke is the place to go if you want the leafy surrounds of Grantchester but something a little more upmarket than the Red Lion. You can get everything here, from breakfast, lunch and dinner, to Sunday roasts and afternoon tea.
Price: High-end.
10
This is the perfect punt-spotting pub for casual afternoon drinking. No one spends any serious time in Cambridge without venturing down to the sinuous river Cam, either for a walk or a boat ride. Book a table at one of the most popular pubs in town for comfort food done the English pub way. Or, sit outside and share a jug of their extra-fruity Pimm's with friends.
Price: Mid-range.
11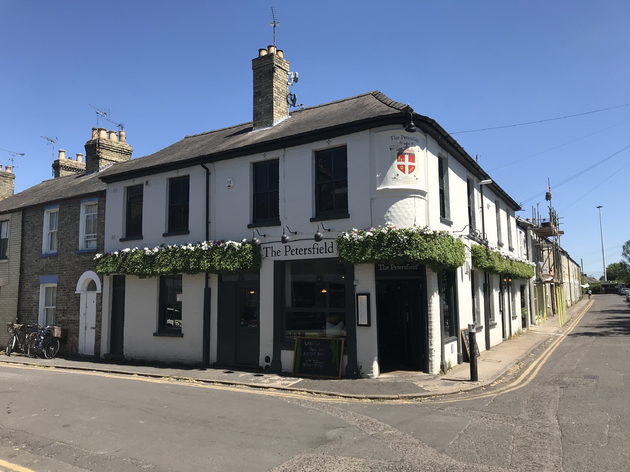 Cosy, stylish and does a top Sunday roast – what's not to like? The Petersfield serves food throughout the week, but it scores particularly highly as a Cambridge restaurant for Sunday lunch. There's not a soggy spud in sight here, and the sticky toffee pudding could feed three (or, you know, just one). Wash it all down with a pint of still cider.
Price: Mid-range/high-end.
12
A lovely Mediterranean-influenced brunch and lunch spot in the tourist heartland. Just across the road from King's College Chapel is The Senate, an unpretentious restaurant offering everything from morning eggs through to evening steaks. It's especially good as a lunch spot, with antipasti sharing boards and khobez flatbreads taking a 'quick bite' to the next level. Treat yourself to a gin & Earl Grey martini.
Price: Mid-range.
13
© R Streeter
Just outside of the city centre, you'll find this Victorian hotel with an orangery. If you fancy escaping the busiest tourist spots of Cambridge, take a short drive to the Hotel Felix. Its restaurant, Graffiti, is an award-winning fine-dining venue that prides itself on using local ingredients. Alternatively, dollop on the clotted cream with afternoon tea in its delightful Orangery.
Price: High-end.
14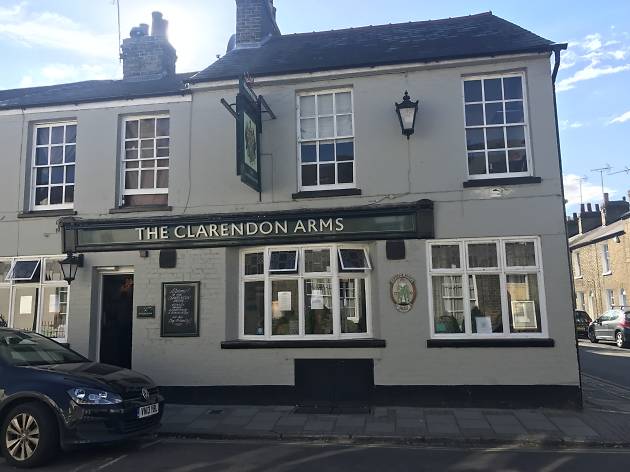 Another superb Cambridge pub, this one doing a posho Sunday lunch. The Claredon Arms' Sunday lunch is the daddy of roasts. Succulent beef, lamb and veggie options are paired with creamy swede, broad beans, sweet shallots… and that's before you get to the rhubarb crème brûlée.
Price: Mid-range/high-end.
15
Southern Italian food is king here, created by two chefs who are also big fans of wine. Because if there's one thing better than pasta, it's pasta with wine. And if there's one thing better than gnocchi, it's gnocchi with wine. And if there's one thing better than tiramisu… OK, you get the idea. This hotel-based Italian restaurant is the place to take you mama for montepulciano.
Price: Mid-range/high-end (has a cheap set-menu for lunch).
16
A very nice restaurant in a very old building with some very nice ales. Need we say more? You can't swing a cat in Cambridge without it hitting its furry head against another great inn serving quality food. The selling point of St John's Chop House is real ale decanted straight from the cask. Soak it up with – what else – a locally-sourced chop and seasonal veg.
Price: Mid-range/high-end (affordable set lunch menu).
17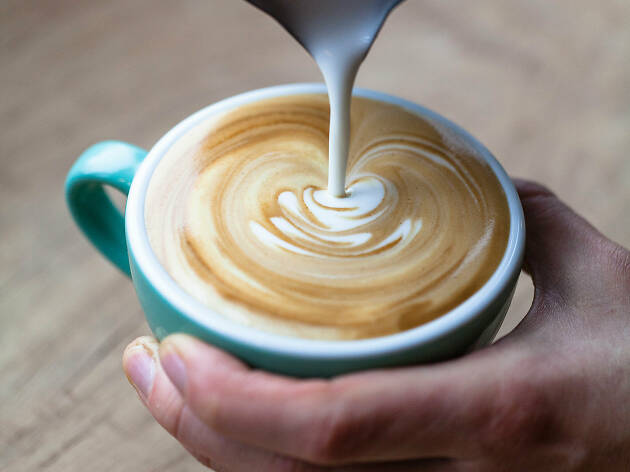 Get your daily caffeine fix at this café dedicated to the cycling-mad, i.e. everyone in Cambridge. But even in a city of cyclists, there are some who like it more than most. The Espresso Library is a warm and friendly café that's a home-from-home for cycling fiends. Hang out with like-minded pedlars whilst downing a speciality coffee and indulging in a hipster and healthy brunch.
Price: Mid-range.
18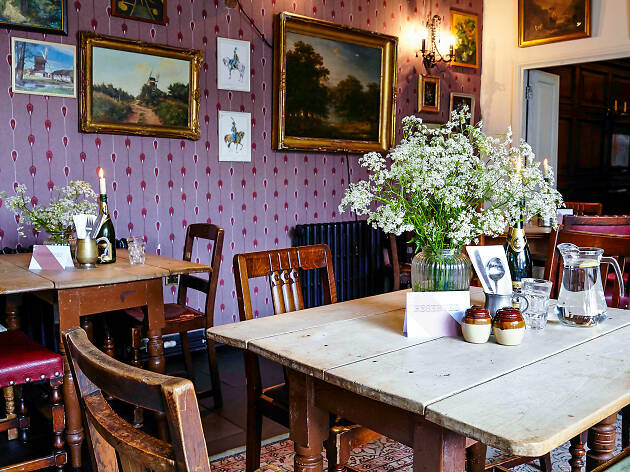 Well-loved shabby chic gastro pub named after Cambridge's favourite hobby. Any stay in Cambridge (even just one afternoon) will see you punting down river before you know it. So it's no surprise they chose to name a pub after this honourable pastime, and it's a good pub at that. The tasty food menu has some pleasingly cheap bready options for cash-poor students, along with a few fancy steaks and other trad classics.
Price: Mid-range.
19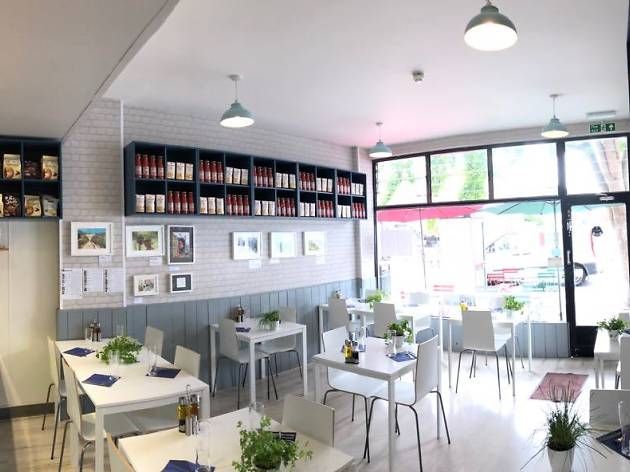 Get tasty Italian food here that's way better than its casual environment and bargain prices suggest. Tradizioni might not look like the most high quality restaurant, but any snobs are missing out big time. They don't have a licence, so you need to BYOB, but these guys are the masters of dough. Square-shaped pizzas are crammed with classic toppings, and the desserts are never-fails like tiramisu.
Price: Bargain to mid-range.
20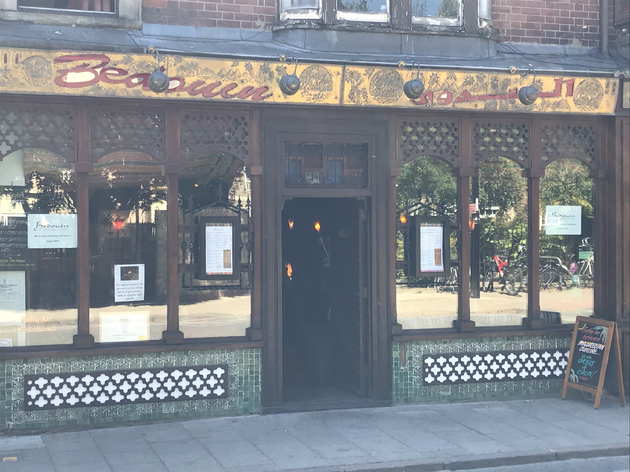 This fun North African restaurant is loved by local students. If you've got creaky hips, this might not be the best restaurant in Cambridge for you. A visual feast of bright fabrics, Bedouin seats its diners down low on cushion-covered carved wooden furniture. Its affordable menu features well-seasoned, succulent tagines for you to top off with Algerian desserts.
Price: Mid-range with some cheap set-menu options for groups.
21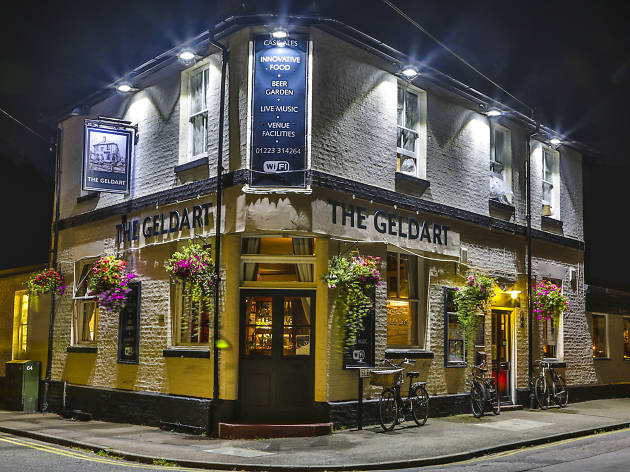 If you've got a train to catch, The Geldart is a perfect place to eat, as it's only a 15-minute walk away (and that's if you're taking your time). It's a small unassuming pub nestled amongst rows of cute Victorian terrace houses. The pub suits the size of its neighbours, but it has seating both indoors and out. They often have live bands playing in the corner, but the biggest draw has to be the hot stones. These will set you back the best part of a £20 note, but they come with two filling sides and exotic meats like zebra, ostrich and crocodile.
Price: Mid-range.
22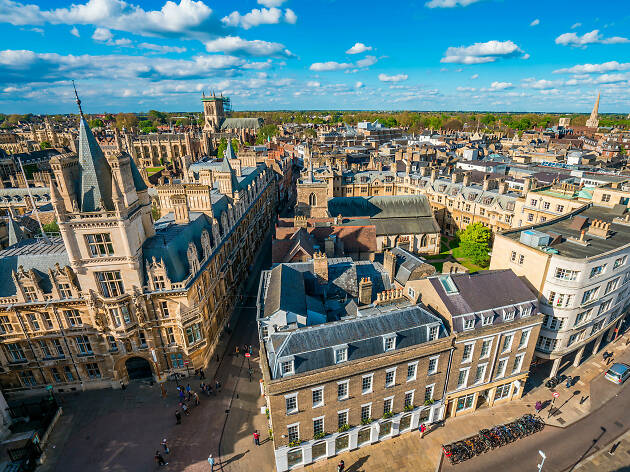 Photograph: Shutterstock
Authentic Chinese food that Cambridge insiders really rate. The outside of Shanghai Family might not look like it's up to much, but as with Tradizioni you'd be a fool to walk on by. The family-run business cooks traditional Chinese dishes that will take you outside your chicken chow mein comfort zone. The spicy aubergine is a winner.
Price: Bargain to mid-range.
Discover Time Out Market: the best of the city under one roof
Now time to explore the city
Cambridge remains as iconic and bucolic as ever – and it's one of the only cities with a herd of happily grazing cows in the middle of it. Find all the very best things to do in Cambridge.
More to explore