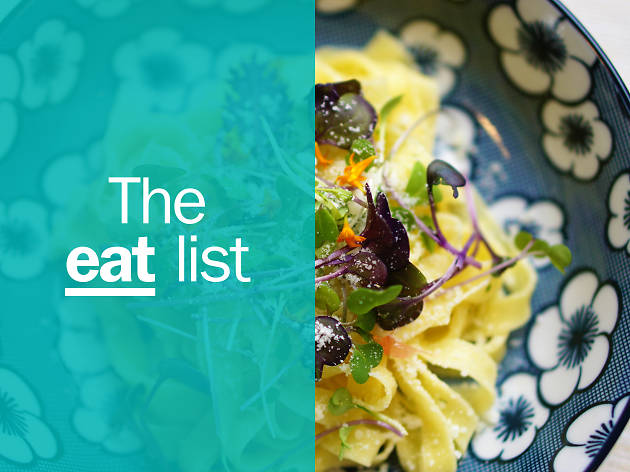 The 10 best restaurants in Charlotte
The best restaurants in Charlotte reflect the city's fast-growing dining scene, filled with Southern-style food and more
As one of the fastest growing cities in the Southeast—offering a ton of fun things to do and amazing hotels to show for it—Charlotte has been garnering plenty of positive attention lately, partly because of its thriving food scene. Home to a refreshing mixture of new, up-and-coming eateries and trusty old favorites that always knock it out of the park, the Queen City is coming out from behind the shadows of other major Southern food cities and becoming a culinary hotspot in its own right. Our list of best restaurants in Charlotte includes everything from down-home chicken joints and upscale steakhouses to rare finds, like a sushi burger bar (you read that right).
Best restaurants in Charlotte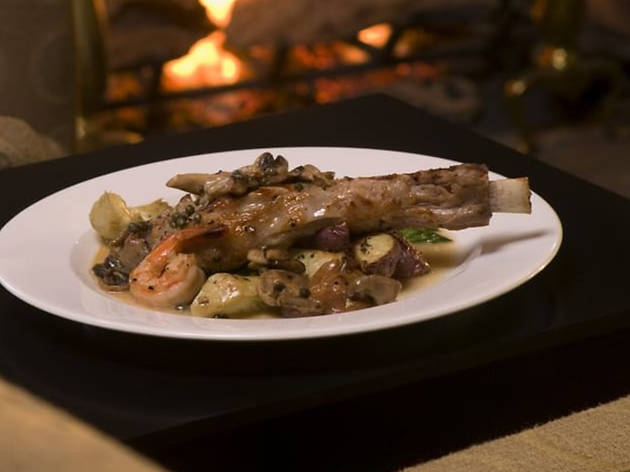 Photograph: Courtesy The Fig Tree Restaurant
1. The Fig Tree Restaurant
What is it: Located in Charlotte's historic Lucas House, The Fig Tree Restaurant offers everything you could want from a high-end restaurant with an impressive menu that features the perfect blend of French and Italian cuisines, a comprehensive wine list designed to complement each dish and a sophisticated yet unpretentious setting. Inside, the charming bungalow boasts five stunning dining rooms with grand fireplaces to set the mood and a sweeping veranda outside that's absolutely enchanting on a balmy night. You'll typically find couples enjoying a romantic candle-lit dinner, families celebrating important milestones and may even witness a proposal or two at the restaurant. Noteworthy dishes include pan seared foie gras, a house-made pappardelle pasta with butternut squash and almond romesco and grilled lamb tenderloin.
Why go: From the delectable food to the almost magical atmosphere, you won't find a more memorable or distinguished restaurant in Charlotte than The Fig Tree. If you're looking for somewhere to commemorate a special occasion, this spot should be at the top of your list.
Price: Pricey
Photograph: Courtesy Yelp/Kevin M.
What is it: This charming house turned restaurant has been serving Charlotte residents for over 30 years and doesn't seem to be slowing down any time soon. It is always packed. Inside 300 East, you'll find a cozy ambiance that's nothing short of warm and inviting and, while the restaurant is always buzzing with background music, it's quiet enough to actually have a conversation over a delicious meal. Entrées include dishes like lemon garlic roasted North Carolina shrimp, gorgonzola-stuffed filet mignon and Chesapeake-style lump crab cakes.
Why go: While the menu at 300 East isn't over-the-top with flamboyant dishes or trendy ingredients, each plate is perfectly executed every time and you can always expect to have a phenomenal meal. Grab a seat on the restaurant's charming little patio that's flanked by shade trees and order a Matilda Wong, the spot's signature cocktail that tastes like an alcoholic version of SweeTarts candy and is served in a pitcher. Perfect for sharing—only if you want to!
Price: Average
Photograph: Courtesy Yelp/Robert D.
What is it: Consistently recognized as one of the best restaurants in the city, Good Food on Montford truly lives up to all the hype and accolades it has received over the years. This James Beard award semi-finalist only serves a tapas-style menu centered around locally sourced, organic ingredients, so expect the offerings to change seasonally. Five spice rubbed pork belly on a steamed bun and Moroccan spiced chicken sausage are just a sampling of what guests will find on the menu. The restaurant is rather small and cozy with exposed brick walls, soft lighting which provides a warm golden glow, and simple, yet elegant decor.
Why go: Dining at Good Food is an experience meant to be savored and enjoyed. There's no formal order in which dishes come out. They are brought out as they're prepared, which makes for a fun evening of constantly revolving food on the table. The tapas-style plates are perfect for a small group that wants to try a bunch of different items, an intimate date night or special occasion. Good Food does not take reservations and there's always a wait, but it's well worth it.
Price: Pricey
Photograph: Courtesy Yelp/Nikki W.
What is it: While Beef 'N Bottle's facade isn't much to look at—it basically looks like a hole-in-the-wall—looks, as you know, can be deceiving. Walk in and be pleasantly surprised to find an upscale steakhouse with white-linen service. While appetizers range from escargot and oysters Rockefeller to shrimp scampi and frog legs, the main menu is straight to the point with high-quality cuts of meat that are cooked to perfection. This is a place where you'll want to go if you're planning to celebrate a birthday or anniversary, or taking clients out for an important business meeting that will surely impress.
Why go: Beef 'N Bottle has been known for serving the best steaks in town since it opened in 1958 and its reputation is still going strong. It's truly a Charlotte staple and is a must-visit at least once, just to say you've been. Almost everyone who's ever eaten here has said it's been the best meal they've had in the city—and that's not a statement to be taken lightly. While the steaks are dynamite all on their own, you can ask to top any one of them with king crab meat and a wine butter sauce, an option that we highly recommend.
Price: Pricey
Photograph: Courtesy Yelp/Sarah S.
5. Lincoln's Haberdashery
What is it: As one of Charlotte's newest additions, Lincoln's Haberdashery is a welcome breath of fresh air on the city's restaurant circuit, bringing character and charm to the Queen City with cozy corner couches, exposed brick walls and homey vibes that make you want to stay all day. Lincoln's menu is small but mighty, including gourmet sandwiches made with the freshest house-made ingredients. Plus, you can't miss the drool-worthy dessert case that's packed with decadent treats and pastries like fruit tarts, creme brûlée and parfaits. The best part? The meal prices are shockingly affordable. The most expensive item on the menu costs a mere $11.
Why go: The unique combination of a coffee joint, mercantile-like market and deli is a rarity in Charlotte. It's not overly crowded like a lot of places around town, the staff is extremely friendly and upbeat, and the little gourmet market is perfect for picking up a bottle of wine and baguette. They also have mimosa kits, greeting cards, old-fashioned candies and local goods like homemade jams and honey on hand if you're ever in need of a thoughtful gift. This is where you should go to catch up with an old friend or take a someone who's visiting from out of town to show them just how cool the city is.
Price: Bargain
Photograph: Courtesy Yelp/Ralph W.
6. Pinky's Westside Grill
What is it: Long before the auto-shop-turned-restaurant was featured on the Food Network's popular Diners, Drive-Ins and Dives, Pinky's Westside Grill was a favorite among Charlotteans. It's the ultimate neighborhood burger joint that's known as much for its eclectic decor (check out the Volkswagen Beetle that sits on its roof) as it is for its comfortable and laid-back atmosphere, which keeps diners coming back over and over again. The menu is made up of a mix of traditional American food and Southern staples like pimento cheese burgers, fried pickles and the crowd pleasing "kinda fried turkey sandwich." They also serve a few items that you won't find elsewhere easily, like corn dog shrimp, crab puppies and the city's only vegetarian hot dog. The newly expanded patio is the perfect spot to watch the day go by while reveling in the views of the city in the background.
Why go: Pinky's is known around town for the hot dogs—especially the Pinky Dog, which is smothered in pimento cheese and chili. You'll also really want to save room for the famous banana pudding or a slice of the locally made pound cakes, which are off the charts and made with popular North Carolina sodas, Cheerwine and Sun Drop.
Price: Average
Photograph: Courtesy Yelp/Gabriel H.
What is it: This Charlotte staple is where locals have been going to get their fried chicken fix for decades. It's a bare bones joint—there are no tables or chairs in the small space—that just focuses on serving the best food possible without any fuss. The menu is simple and consists of different types of chicken, BBQ, burgers, shrimp and a long list of side items that includes hushpuppies, French fries, cole slaw and potato salad. You'll always find a line around the corner at lunch time and people enjoying their meals while sitting outside on the sidewalk.
Why go: The signature fried-chicken is perfectly crispy, flavorful and absolutely worth every calorie. Price's is ideal for a quick take-out meal when you're craving something Southern-fried. Make sure you have cash on hand, because that is the only form of payment accepted here.
Price: Bargain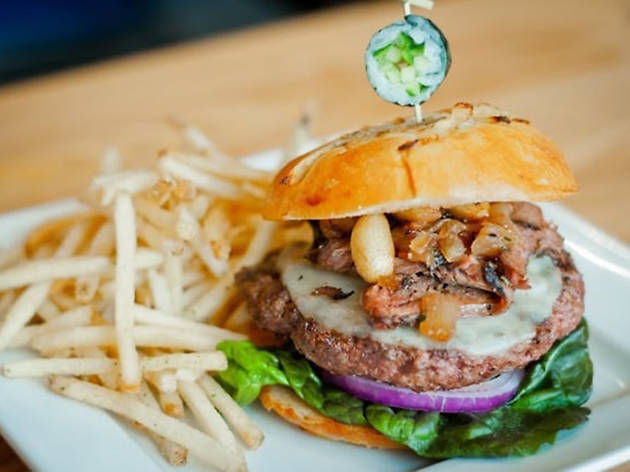 Photograph: Courtesy Cowfish
What is it: Marketed as a sushi burger bar, Cowfish is arguably one of the city's most unique restaurants—even its name is an enigma. The menu is anything but traditional, including what they call "burgushi," sushi rolls that are made with a mixture of both sushi and hamburger meat. The combo is strikingly delicious and might just blow your mind but don't worry, the eatery also serves regular sushi and burgers as well as plenty of other options if you aren't quite ready to revamp your tastebuds with new flavors.
Why go: Cowfish is a contender as one of the best restaurants in the Queen City for its blatant uniqueness. You're not going to find "burgushi" just anywhere. A spot at the restaurant's wraparound sushi bar is the best seat in the house to watch the talented chefs create magic. Most patrons like to order one of the bento boxes, a combo meal that features a sampling of several different burger and sushi selections. The hand-spun milkshakes are also sensational—that is, if your stomach has room for one after dinner.
Price: Average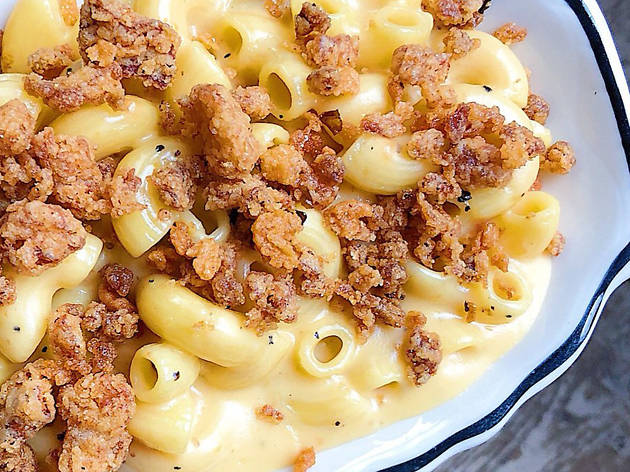 Photograph: Courtesy Haberdish
What is it: Located in the eclectic NoDA neighborhood, Haberdish came onto the Charlotte food scene with a bang and has continued to impress with a menu that's packed with hearty Southern favorites like fried chicken, BBQ ribs, corn bread pudding and dumplings. The restaurant's side dishes are so fulfilling that they deserve their own spotlight—we're talking heaping helpings of corn bread pudding, slow-cooked kale grits and charred okra in bacon jam. While Haberdish's decor is farmhouse-esque and casual, don't be surprised to see people dressed up for a night out on the town, too. The eatery is trendy enough to draw in all sorts of crowds.
Why go: The weekday brunch (yep, you read that correctly—weekday brunch) is a fan favorite that has all the fixings like biscuits and gravy, chicken and waffles, and a country ham biscuit sandwich. The restaurant is also known for its craft cocktail menu, which is exceptional. As an extra special touch, each drink typically includes an ice sphere that's full of edible flowers.
Price: Average
Photograph: Courtesy Yelp/Tonya P.
What is it: On the outside, the joint looks like a plain old bowling alley. On the inside, 10 Park Lanes offers much more than just a place to have a little friendly competition. Marvel over the simple yet expansive menu that ranges from flatbreads and sliders to tacos and po'boys sandwiches. You can go just to grab a meal or order from the kitchen while knocking down some pins.
Why go: This may be a surprising callout but 10 Park Lanes holds its own by providing a fun and unique atmosphere complete with Southern comfort foods that you won't find at another restaurant in the Queen City. Known for the hearty stacked mason jars, which are basically just mason jars with layers of BBQ and two sides of your choice (think mac and cheese and mashed potatoes), this is clearly a must-visit. The spot has also been featured on the Food Network thanks to the decadent lane buster brownie sundae—a double chocolate brownie layered with ice cream, chocolate sauce and whipped cream served in a fudge and roasted peanut covered mason jar. Double yum.
Price: Average
Discover Time Out Market: the best of the city under one roof
More of the best in Charlotte
Given its status as North Carolina's largest city, it is no surprise that Charlotte has plenty to offer locals and visitors alike