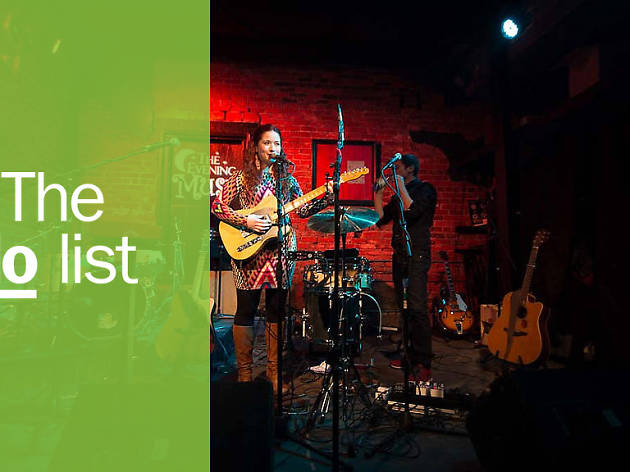 10 very exciting things to do in Charlotte
A proper exploration of best things to do in Charlotte requires visits to history museums and many outdoor adventures
Given its status as North Carolina's largest city, it is no surprise that Charlotte has plenty to offer locals and visitors alike. From its emerging restaurant scene and thriving craft brewing industry to history museums, thrilling outdoor adventures and top-notch hotels, there is certainly no shortage of interesting things to do and see while exploring the Queen City. Want to get the full Charlotte experience? Just work through our list below.
Done something on this list and loved it? Share it with the hashtag #TimeOutDoList and tag @TimeOutEverywhere.
Find out more about how Time Out selects the very best things to do all over the world.
10 best things to do in Charlotte
Photograph: Courtesy Yelp/Vee H.
What it is: Situated directly on the North Carolina and South Carolina state line, Carowinds amusement park has been a favorite destination for Charlotte families for decades. The park is full of heart-racing, adrenaline-pumping rides, like the world's tallest and fastest giga coaster, Fury 325. There's also a massive waterpark full of waterslides and winding lazy rivers, plus a number of theaters hosting daily performances.
Why go: If you're looking to get your adrenaline pumping, this is the place to visit. After experiencing more thrilling rides than you can count, indulge in the park's seriously good food offerings, which include Carolina favorites (fresh seafood and BBQ abound). Open during the spring and summer, the park also offers the ultimate Halloween experience ("Scarowinds") in October, when it turns into a horror movie set full of zombies and monsters.
Photograph: Courtesy Yelp/Dot Dot Dot
What is it: This members-only speakeasy brings the roaring '20s to Charlotte in a cozy, dimly-lit, jazz-filled kind of way. Named after the Greek symbol for an ellipsis, Dot Dot Dot has quickly become a local haunt for its classic Prohibition era-like drinks—think Manhattans and French 75s—and its mysterious ambiance. Patrons are also served gourmet small plates like foie gras with bourbon and BLiS maple syrup and a braised short rib steamed bun. The best part? Membership only costs $10.
Why go: There are plenty of trendy watering holes in the city, but none quite like Dot Dot Dot. This is where you should go to get an authentic taste of the Queen City's vibrant nightlife. The speakeasy's intricate cocktail menu, expansive whiskey list and indulgent charcuterie boards are enough reason to go, but its old-school vibes and feeling of exclusivity make it all the more appealing. Keep in mind there is a dress code that prohibits flip flops, T-shirts, athletic wear and baseball caps.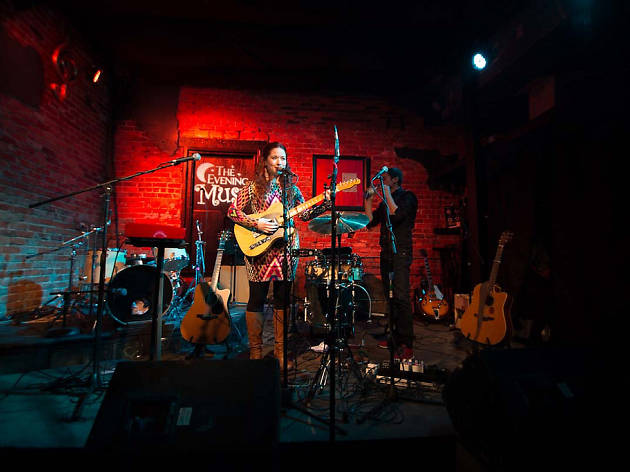 Photograph: Courtesy CC/Flickr/Alexander Cason
What it is: Located in Charlotte's artsy NoDa neighborhood, the Evening Muse is a staple when it comes to the city's music scene. It's known for its small intimate setting, incredible acoustics and laid-back atmosphere. You'll find live music almost every night of the week, played by a mixture of local and national acts, as well as open mic nights during which local singers and songwriters can face their stage fright. Bluegrass, folk, jazz and rock music all get a turn.

Why go: Unlike bigger venues in town, Evening Muse is locally owned and operated—a fact that keeps things from feeling too commercialized and mainstream. Given the small setting, don't be surprised when the band casually sticks around after a set to mingle with fans.
Photograph: Courtesy Yelp/Feast Food Tours
What is it: Explore some of the city's best restaurants on a Feast Food Tour—a three-hour walking tour that stops at local tried-and-true staples, trendy hot spots and holes-in-the-wall. At each eatery, participants will get to dig into one of the restaurant's signature dishes, which is typically paired with an alcoholic beverage, before moving to the next stop. Between each restaurant, the tour guides will talk about Charlotte's rich mill town history, its architecture and more. There are several tours available that explore some of the city's most popular neighborhoods, including NoDa, Uptown, Plaza Midwood and South End.

Why go: Feast Food Tours are a fun and unique way to explore and learn more about the city while indulging in cuisine by several different restaurants at the same time. It's a great opportunity to discover somewhere new and learn more about Charlotte's culinary scene as well as its history. Tours do sell out quickly, so it's best to purchase tickets in advance.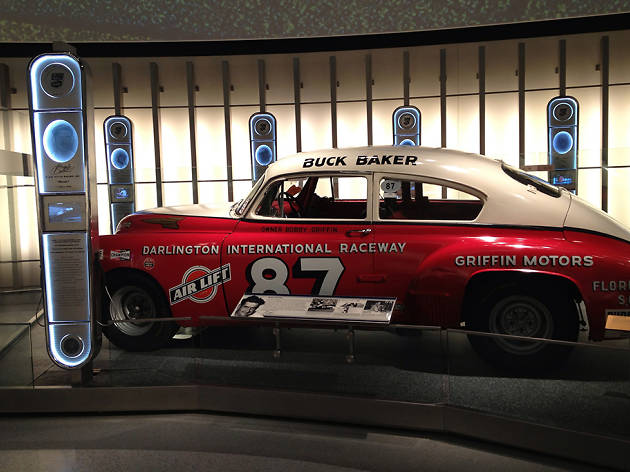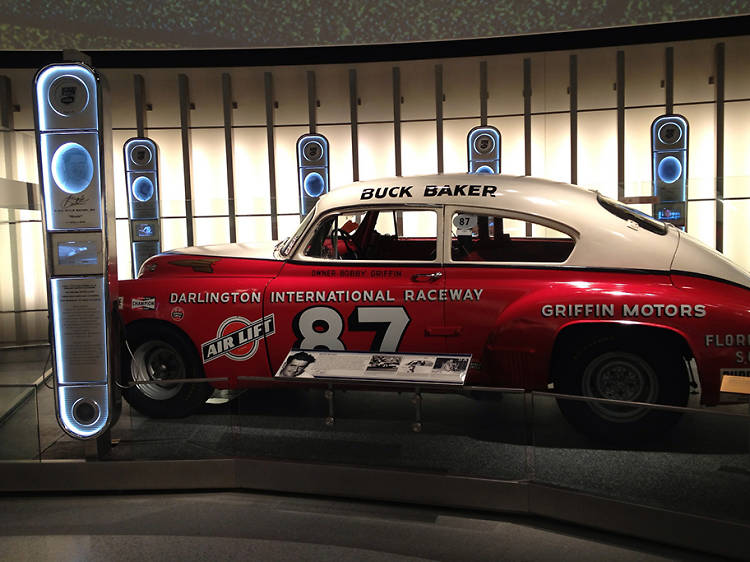 Photograph: Courtesy CC/Flickr/ErictheKing7
What it is: NASCAR plays a huge part in the city's history. One of the sport's most popular tracks, Charlotte Motor Speedway, is located only a few miles away from the city. The NASCAR Hall of Fame takes a look at the sport from its inception all through today's industry, highlighting some of the most famous drivers. The two-story museum boasts 40,000 square feet of exhibit space that's made up of a combination of historic racing artifacts and exciting interactive displays giving visitors a behind-the-scenes look at racing.

Why go: You don't have to be a huge NASCAR fan to appreciate the Hall of Fame because there are so many hands-on exhibits to experience regardless of your level of devotion to the sport. You might also run into a driver who is in town visiting or being inducted into the Hall of Fame.
Photograph: Courtesy Yelp/Kris U.
6. Olde Mecklenburg Brewing Company
What is it: To truly experience the Queen City, you have to at least check out the craft brewing scene, which has quickly become one of Charlotte's biggest industries. Designed to mimic a traditional German Brauhaus, the Olde Meck Brewery makes you feel as though you've hopped over to Germany without ever boarding a plane. The staff makes a wide variety of brews that include several different types of lagers, porters, bocks and a pilsner. The brewery's food menu also sticks to the German theme by featuring soft pretzels, Currywurst and sausages. Free behind-the-scenes tours of the place are offered on Saturdays and Sundays.

Why go: As Charlotte's first major craft brewery, Olde Mecklenburg Brewing Company set the bar high for the city's exceedingly popular craft brewing scene. In addition to the authentic drink and food offerings, the extremely laid-back atmosphere and the expansive outdoor patio with plenty of seating make this an absolute must-visit.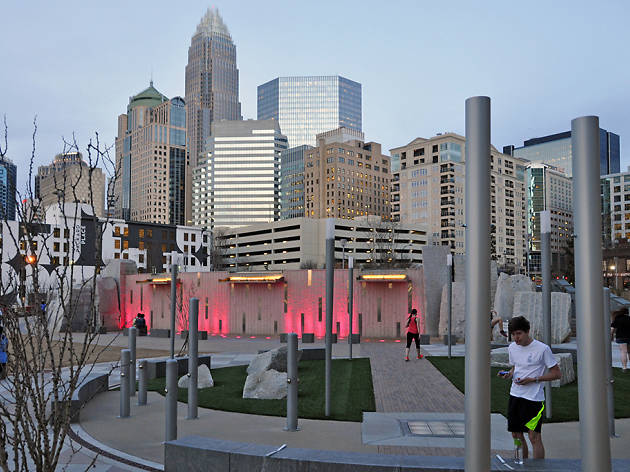 Photograph: Courtesy CC/Flickr/James Wilamor
What is it: Nestled in the heart of Uptown between stadiums and skyscrapers is Romare Bearden Park, a sprawling 5.4-acre park that boasts two flower gardens, colorful fountains and waterfalls, and views of the city you won't find anywhere else. On any given day, you'll be surrounded by people exercising around the park or families leisurely picnicking.

Why go: Romare Bearden Park offers a sense of peace and tranquility even in the middle of the city's hustle and bustle. The green space is a highly refreshing sight amongst all the concrete and tall buildings in Uptown. While the park is beautiful during the day, it's even more magnificent at night when the waterfalls and fountains are completely lit up with the city skyline as a backdrop. It's also conveniently located near BB&T Ballpark, Bank of America Stadium and several popular restaurants and bars if you want to grab a quick bite to eat or catch a game.
Photograph: Courtesy Yelp/Lana L.
8. Levine Museum of the New South
What it is: Home to a combination of permanent and rotating exhibits, the Levine Museum of the New South takes guests on a lengthy and detailed journey through the South's—and Charlotte's—tumultuous history beginning after the Civil War and spanning all the way through today.

Why go: While Charlotte is an old city, it can be hard to find a ton of history among all the new skyscrapers and apartment buildings. The Levine Museum of the New South delivers a great deal of culture in one fell swoop by taking an in-depth look at the city and the entire South post-Reconstruction.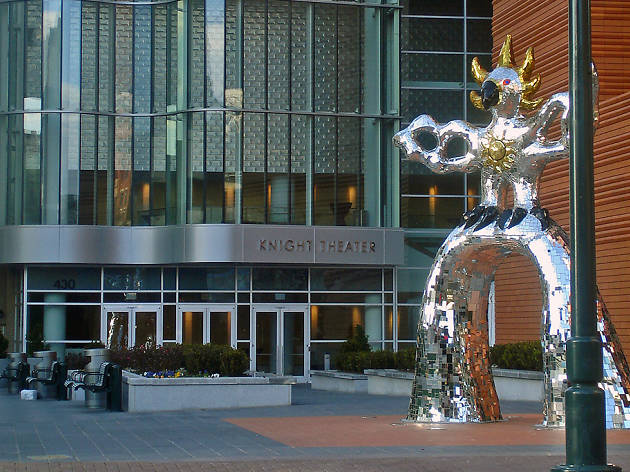 Photograph: Courtesy CC/Flickr/Akhenaton06
What is it: Simply put, the Firebird is a 17-foot-tall bedazzled sculpture that stands on the corner of Uptown's main street, Tryon Street, in front of the Bechtler Museum of Modern Art. It was installed in 2009 and has become somewhat of a landmark around town. You'll always find people on the sidewalks gawking and trying to figure out exactly what they are looking at while taking photos. Locals jokingly refer to it as the "Disco Chicken."

Why go: Think of this as one of those tacky-but-fun roadside attractions that you just have to see. It's not like you'll find a 17-foot-tall shiny chicken statue just anywhere.
Photograph: Courtesy Yelp/Bill F.
10. U.S. National Whitewater Center
What it is: Just a short 20-minute drive from Uptown is the U.S. National Whitewater Center, a sprawling 1,300-acre complex that offers over 30 land and water activities including whitewater rafting, rock climbing, zip lining and stand-up paddle boarding. Also find several rope courses and more than 30 miles of mountain biking trails to take advantage of. For those who want to keep their feet flat on the ground, there are plenty of options to choose from with several free concert series, movie screenings and a full-service restaurant on site that serves delicious food and an extensive craft beer list.

Why go: This is the ultimate playground for outdoor lovers who want to test their limits, whether they prefer land or water activities. It's also a great place for families to visit as there's something for all ages to enjoy, just make sure to spend at least half a day at the complex to experience it in its entirety. The weekly summer River Jam concert series is always a big hit and draws impressive crowds from all around town.
More of the best in Charlotte
Home to a refreshing mixture of new, up-and-coming eateries and trusty old favorites that always knock it out of the park, Charlotte is coming out from behind the shadows of other major Southern food cities and becoming a culinary hotspot in its own right