It may not be the bohemian enclave that it once was, but Wicker Park is still one of the most recognizable neighborhoods in all of Chicago. A center of activity on the city's Northwest side, the Milwaukee Avenue corridor that runs through the area is a destination for nightlife, dining and shopping that is usually teeming with residents and visitors. Whether you're attending a summer street festival or grabbing a bite to eat, there are always some tell-tale signs that you've found yourself in Wicker Park.
RECOMMENDED: Our complete guide to Wicker Park and Bucktown

1. The confusing intersections. When Milwaukee Avenue meets North Avenue and Damen (just don't call it Six Corners) things get dicey for cars and pedestrians.
2. The Flat Iron Building. The iconic silhouette of this historic building is a neighborhood landmark.
3. Paste-ups on plywood and walls. Street artists like Don't Fret and Ali 6 have turned Wicker Park into an urban art gallery.
4. Flip Bike Travis. The daring, bearded bicyclist can usually be found showing off the same old gravity-defying flip near the Damen Blue Line station.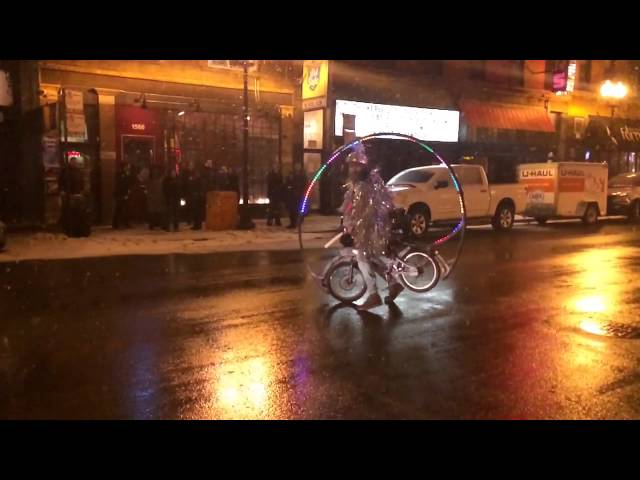 5.
Chain drug stores housed in old banks.
Both Walgreens (and its Vitamin Vault) and CVS have taken up residence in former financial institutions.
6.
Too many shoe stores.
We can't explain the concentration of shops selling footwear near Milwaukee Avenue and Ashland Avenue.
7.
Bars as far as the eye can see.
The Milwaukee Avenue strip has to be one of the longest continuous stretches of bars outside of Wrigleyville.
8.
Crate after crate of records.
Whether you prefer Shuga Records, Reckless Records or Dusty Groove, vinyl is easy to come by in Wicker Park.

9. The low rumble of the Blue Line is never far away.
10. Cavalcades of the hip and fashionable. Residents and visitors in expensive or outlandish threads seem to gravitate to Wicker Park's sidewalks.
11. Plentiful chain restaurants. Whether it's high-end spots like Umami Burger and Jeni's Splendid Ice Creams or national staples like Taco Bell, Burger King and Wendy's, a chain is always within walking distance.
12. A social-media-famous pig in a baby stroller. We wish we were kidding about this one.

13. An unending procession of cars. On the weekend, you can walk down Milwaukee Avenue much faster than you can drive down it.
14. Tacos everywhere. From Antique Taco to Big & Little's, this Mexican dish is seems to be the cuisine of choice.
15. Blue Line confusion. It's not uncommon to encounter someone walking into the Blue Line Lounge and Grill expecting to find a CTA station.
Photograph: Crystal Garcia
16. Disappointed teens. Trying to get into the Double Door with a fake ID never ends well.
17. Patio and cocktail lines. It can be hard to squeeze through the crowds on the sidewalk in front of Big Star and the Violet Hour—people love tacos and fancy cocktails.
18. Misplaced nostalgia. Eventually you'll hear someone in a Liz Phair T-shirt bemoaning how much the neighborhood has changed.