Party till the break of dusk
After the hot-pot spots close for the evening, does Chinatown nightlife cool to a low boil?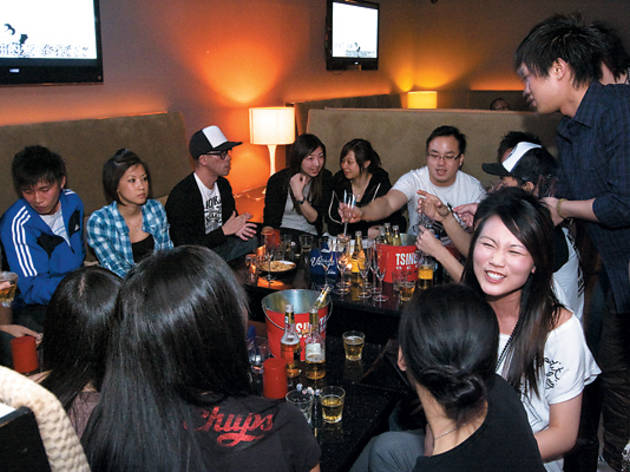 Chinatown's known for many things—dining destination, tourist magnet, source of Chinese-American pride, purveyor of those übercute lucky cat statues. But hoppin' nightlife nabe isn't one of them. Yet I'm determined to find out whether the heart of a party monster beats quietly beneath Chinatown's chest.
At 11:30pm on a recent Friday, I step off the Red Line at Cermak/Chinatown, where moo shu pork–stuffed North Siders are waiting for their train back home. With visions of back-room discotheques and restaurant-cum-karaoke-clubs, I hit Chinatown Square, a two-story outdoor mall. But I'm greeted with mostly darkened storefronts—as dead as Mao himself.
I stroll around, listening closely for party noises—thumping club bass, drunken laughter. The most prevalent sound is that of dishwashers clinking plates and spraying hot water in the backs of closed restaurants, steam escaping out of their open rear doors.
At the far east end of the mall, a brightly lit café called Sweet Station (2101 S China Pl, 312-842-2228) beckons. Through the window, I see the smiling faces of a few couples and larger groups crowding around hot pots. Not quite the rave I had in mind. But with my blood-alcohol content at a pitiful 0.0, beggars can't be choosers. I head inside for a drink. "We don't serve alcohol," my server, a younger guy with anime-worthy spiky hair, tells me. I ask if he knows of any place to get a drink or go dancing in the area. He glances at his watch, holding back a laugh. "Not in Chinatown. Not at this hour."
Not at this hour? It's only 12:15! I shuffle out, feeling defeated and way too sober for a Friday night.
I come across a man having his own little sidewalk shindig, swigging from a bottle in a paper bag and asking for change. For 50 cents, he tells me where he got the beer, pointing down Archer Avenue toward Lina Food & Liquor (2228 S Archer Ave, 312-808-0141). Knowing what its clientele wants, Lina keeps the 40-ouncers in front, and at 12:30, a line of ramblin' men has already formed in the cramped store. I grab a tall Tsingtao and a bottle of Gekkeikan sake. If the night's a total bust, I think, I'll have a party in the abandoned mall.
Now, I'm not one to put stock in the Chinese zodiac, but as I wander past the statues that represent the 12 signs in Chinatown Square with my store-bought booze, I hope I'll finally get lucky. Soon, I see a group on the sidewalk heading toward me, laughing and speaking Chinese. They look to be twentysomething, and they're definitely gussied up for a club. I ask where they're headed. "Sakura," says one of the guys, whose hair is dyed a coppery red. "Open till 2."
I tag along and soon we descend the stairs to Sakura Karaoke (234 W Cermak Rd, 312-326-9168). Packed with young, good-looking Asian-Americans and a few Caucasians, the flamboyant club looks like a cross between 2001: A Space Odyssey and Spencer Gifts: Laser lights dance around the room, which is dotted with white leather couches. My lychee martini is far too sweet, so I order a beer and settle in to listen to the mostly Chinese karaoke. It's heavy on plaintive emo songs—plus U.S. faves like Michael Jackson and Lady Gaga—and unlike karaoke at most North Side bars, the singers are surprisingly competent. Mock-worthy generic reenactments of the lyrics rotate with videos of U.S. chart toppers. At one point, the Black Eyed Peas' "I Gotta Feeling" comes on. "Tonight's gonna be a good, good night," Will.i.am sings. And for the first time all night, I believe him.