Duple Meter website helps classical scene go modern
Rhett Del Campo gave up performing. Now the prodigious percussionist is helping the arts scene with its Web presence at Duple Meter.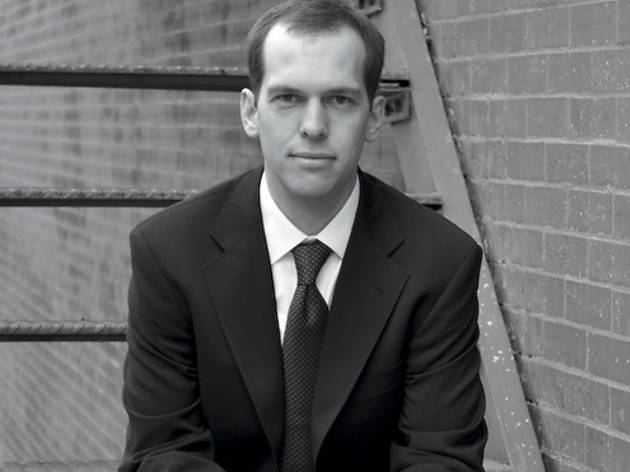 Percussionist Rhett Del Campo can often be heard whistling the trumpet counterpoint from Bartók's Concerto for Orchestra as he navigates the streets of his Lincoln Park neighborhood. Like the Bartók score, Del Campo's musical life features staggering transitions, and this world-class percussionist is in the midst of one right now, setting aside the mallets and picking up the laptop as the newly hired director of arts-organization consulting website Duple Meter.
It's not his first major career shift, just another stop for the Kenilworth native along a life trajectory that began onstage.
"I rarely, if ever, call myself a prodigy. Others would call me that, but I shy away from it," the 33-year-old says. Like many a classical wunderkind, he's not comfortable with the moniker, but it's difficult to shed when one's childhood is more Chopin and scales than playdates and Popsicles. Having taken up the piano at age three, Del Campo soon began studies with illustrious piano pedagogue Emilio del Rosario. By age five, Del Campo was giving recitals across France and Germany.
One Saturday morning during the young pianist's eighth-grade year, a call came from the Music Center of the North Shore asking if Del Campo would like to fill a vacancy in the youth orchestra's percussion section. "I believe the first piece I ever played was Dvorak's 8th Symphony. I was hooked from that point on," he recalls. After finishing a master's degree in percussion performance at DePaul University and a four-year fellowship in the New World Symphony, Del Campo found himself on the audition circuit, including a savings-depleting trip to Sweden. Under the weather and sleepless due to the 3am sunrise, the percussionist muscled through three grueling rounds of auditions for the Royal Swedish Opera, returning home with a job offer and the next of his monumental transitions: "It was at that point it hit me what I had signed up for—leaving the U.S. and moving to a strange, albeit beautiful, land." Five years as the principal percussionist at the Opera in Stockholm offered Rhett and his wife, Alice, an accomplished flutist, the luxuries of a steady income and health insurance. Yet in 2010 the pair decided on a return stateside to freelance and sub in the Chicago and Detroit Symphonies.
Growing dissatisfied with life as a freelancer, Del Campo began fighting a repetitive-stress hand injury. Last year, he made a bold decision—to stop performing. "I felt like I was throwing away all of the work and time spent studying and practicing. But I realize how all of this has shaped me and it's still a part of who I am," he says. The realization took almost a year to process, but a director at Duple Meter LLC learned of the percussionist's availability and recommended him for an interview to company president Kevin LaManna.
Instead of eight hours a day in the practice room, Del Campo now spends his week cultivating relationships with music teachers and music organizations looking to improve their Web presence, social networking, fund-raising and marketing through proprietary software developed by DupleMeter.com. The Del Campos are now in the process of moving to Kansas City, where Alice will be an assistant flute professor at the University of Missouri as Rhett continues with the website. Del Campo reflects sagaciously on his career course: "So many musicians started at such a young age and they never even had to think about what they were going to do. Use it as a chance to look inward, reflect, and relish the opportunity to seek out an entirely new path."
Visit duplemeter.com for more info.