Lyric Opera goes Broadway in Show Boat
The Lyric Opera goes mainstream with Show Boat. But what is more controversial, the racial undertones or the Broadway numbers?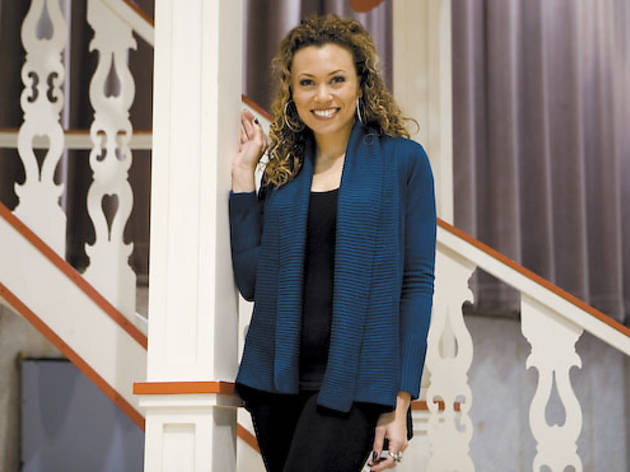 Show Boat has a history of being put through the wringer. It was the first racially integrated musical, but Jerome Kern and Oscar Hammerstein's 1927 Broadway breakthrough was both condemned as a prejudiced show in which black people serve as passive laborers and applauded for bringing themes of miscegenation and injustice into public discourse. In the past, protests have led to cancellations of scheduled performances in the U.S. and U.K. Supporters of the musical, which chronicles the lives of a motley crew of workers aboard a Mississippi River boat, see it as a revolutionary piece that forced America to take a long, hard look at itself. It also packs a punch, song-wise, rolling out enduring gems like "Ol' Man River" and "Can't Help Lovin' Dat Man."
"I don't think Show Boat is racially insensitive," husky-voiced veteran director Francesca Zambello says, wrapping her hands around a steaming mug of tea before starting a rehearsal in the Civic Opera House. "It shows how things really were at that time. This is our history. We can't sugarcoat it. It's our full intention to depict things in a respectful, historically correct way. This is theater, not a PBS historical drama."
Alyson Cambridge, an emerald-eyed soprano who sings the role of Julie, the young, mixed-race entertainer who passes as white in order to keep her job on the boat, agrees with Zambello. "We were talking about whether we should use the N-word in the dialogue, and we do," she explains, as we settle down to chat in an empty dressing room. "This story starts out in the 1890s. Slavery has been abolished, but the races are still very separate and there is real tension, so we have to be historically accurate. I have a personal connection to Julie, because that is my makeup as well. My mother is white, my father is black. So it's been interesting to put myself in her shoes."
Cambridge returns to Lyric for her second performance this season, following her stellar turn as courtesan Giulietta in Offenbach's The Tales of Hoffmann in October. The instantly likable Manhattanite, who always travels with her cocker spaniel–bichon frise mix, Lucy, enjoys working with a varied cast.
"Half of my colleagues in this production are musical theater singers or straight theater actors and they were, like, 'Oh my gosh! We only sing in the shower!' " Cambridge says with a hearty laugh, her huge silver hoop earrings quivering in a mass of curls. "But we opera singers are in awe of them because they can memorize so many pages of dialogue. I love this production because it brings different levels and qualities of expertise to the table. There's been a more relaxed atmosphere than in a regular opera, where everyone is expected to sing perfectly right off the bat."
Lyric's decision to include Show Boat in its current season has ruffled the feathers of some subscribers who see musicals as cash cows munching up space that should be allotted to high art. Others, like opera fanatic Jessie Tompkins, 43, see the work as "an epic treasure of American theater."
"Show Boat has one unbelievable song after another," Zambello gushes. "If only musicals had that many great hits now. The chance to see it on this scale is unique—there's no question. It's the perfect time to come to Lyric." As she sprints upstairs to start rehearsals, she says, "I don't wanna sound like an ad! I'm just speaking the truth."
Lyric Opera's Show Boat runs at Civic Opera House Friday 17, Saturday 18, Wednesday 22, February 25, 28, March 3, 4, 7, 9, 14, 17.