Lyric Opera weapons master Joe Collins | Interview
There's a lot of war and swordfighting in opera. Meet the man who arms the cast.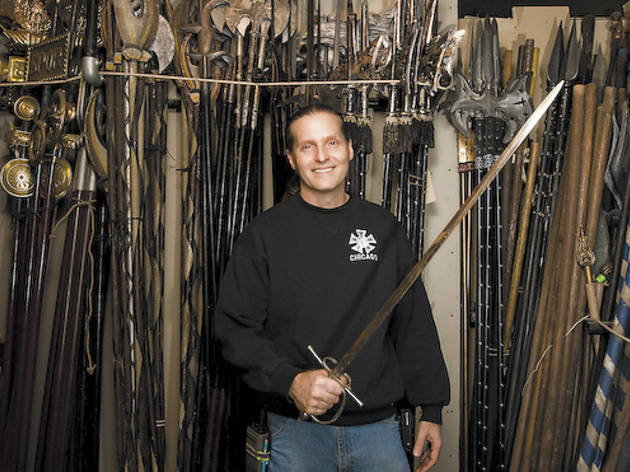 Joe Collins started at the Lyric working as a carpenter and welder. In 1996, he took charge of the opera company's armory. Working with both authentic and costume weapons, his duty is to make sure the gear looks real without being legitimately deadly. The pony-tailed, guitar-playing Lincolnwood resident gave us a tour around his workspace, aptly nicknamed the Dungeon, chockablock with swords, spears, knives, daggers and a hell of a lot of guns.
How did you get into weaponry?
I was one of those typical Dungeons & Dragons kids. I became an art major at college, and I'd go to the Art Institute to study the paintings. One day I found myself in the armory exhibit and ended up spending most of my time there from then on.
How do you go about making weapons safe for the stage?
I always tell my kids that I'm like the guy at the farmers' market who stands there sharpening knives on a grinder with sparks flying—only I do the exact opposite. I'm sure there are people who collect knives who would just cringe if they saw what I do to them.
Some of these helmets look incredibly heavy.
Heads seem to have gotten bigger over time, and many of these are too small for most people. Plus, you don't want to stand around with a piece of metal on your head for three hours. We use these for set decoration. We used two full suits of armor in Rigoletto a few years ago, but they were too heavy to wear so we put them on either side of the fireplace.
Are you on set during performances?
Oh yeah, I'm always there. Did you see Boris Godunov? Did Grigori's gun go off?
It sure did.
In one of the performances, the singer [Erik Nelson Werner] was inadvertently holding back on the rifle's bolt, not allowing it to fire. I always stand in the sidelines, 15 feet offstage, with a backup gun. So I fired as soon as I realized that his gun didn't do off. Boom! I just shot it straight down on the floor. I need to be on standby for emergencies. I even have a backup gun for the backup—one in each hand.
Have there been any accidents?
One of the first operas I worked on was Romeo and Juliet. Everyone was using daggers in a fight scene between the Capulets and Montagues. We were in rehearsal and the director wanted to use lots of fog. We can't use regular dry ice because it dissipates too quickly and the carbon dioxide in it makes it hard to sing, so we use a chemical fogger that's oil-based. It's very safe, but it leaves an oily film when it condenses. The director was asking for more and more fog, and when the guys ran out with knives in their hands they all slipped and went flying. There were knives everywhere. I remember sitting there wondering what I'd got myself into. Thank God it was just a rehearsal. Things have been pretty smooth since then.
Collins's spears take action in The Magic Flute,Wed 4, Fri 6, Wed 11. Upcoming Lyric productions include Aida and Rinaldo.