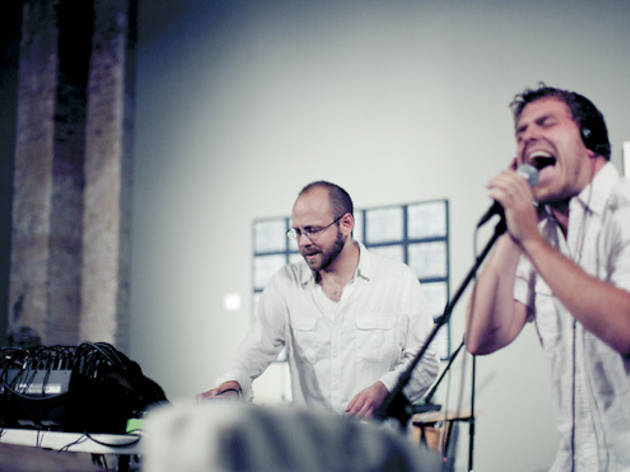 R We Who R We | Album review
Noise artists pervert pop music.
Listening to Ted Hearne and Philip White's R We Who R We is a bit like attempting to force the beaters of an electric hand mixer through one's nostrils and into the brain, then flipping the power on…and this is an unequivocally good thing. Using Top 40 hits like Ke$ha's "We R Who We R" and Madonna's "Material Girl" as a point of departure, vocal hellion Hearne and electronic conjurer White hook listeners with the familiar while hurtling through often confrontational and exceptionally potent sonic deconstructions. Other than the lyric content, almost nothing remains of the source material, offering not pop-tune covers but compositional reinventions.
Hearne, who honed his classical chops at the Manhattan and Yale Schools of Music, drags his vocal cords through their paces. "Hi Is My Name" revs up Eminem's ubiquitous flow to breakneck speed, tearing through syllables and forcing the listener to play catch-up. On "Original Self," an original track, it's as if the Chicago native is attempting to argue with Auto-Tune, railing against its magnetism as he wails atop a chorus of dental drills. Hearne's inventive reimaginings of the lyrics draw you in, while White's self-described "non-linear feedback system" similarly cloaks the deliberately provocative sound world of noise music in the shiny bluster of pop production. The result is something eminently, if weirdly, danceable and utterly gripping.