Foreign Exchange keeps Chicago global
The monthly global beat bash is updating what world music means.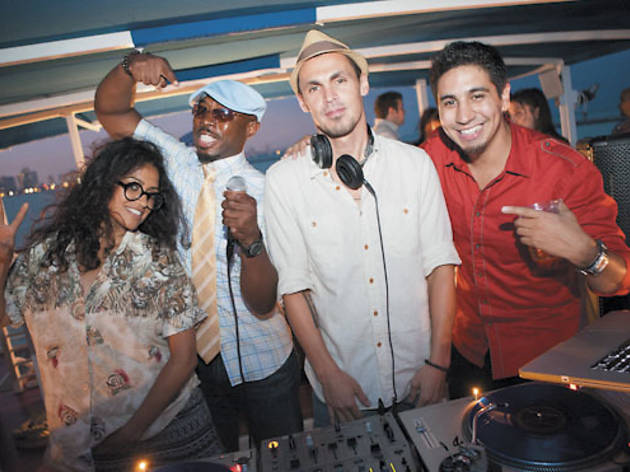 For many, the term world music conjures images of the cartoonish covers for those Putumayo CDs at Pier 1 Imports. Not so for the faithful who flock to Subterranean the first Saturday of every month for Foreign Exchange. Organized by David Lozano, Tyson Sanchez (a.k.a. DJ NewLife), Jose Tapia, DJ Itzi Nallah and Dominique Rowland (a.k.a. MC Zulu), FEx, as it's called for short, represents a whole new world of, well, world music.
For the past seven years, Lozano and Tapia have worked together throwing hip-hop parties at venues like Funky Buddha Lounge and Ohm. "I saw some dirty stuff," Tapia says. "We got to talking about competing with Top 40 parties without having to use Top 40 stuff." When they booked and vibed with NewLife at one of their events, the seeds for Foreign Exchange were sown.
Now a five-person team that ranges in age from midtwenties to midthirties and sees contributions from a handful of other friends and organizers, the group officially founded the party in 2009 to combat a stagnant Chicago nightlife. "House music was diverse, but when that died down and all you had was commercial music being played on the weekend, it got stale," Sanchez says during a sit-down with the crew at his Humboldt Park townhouse. "As a native Chicagoan it made me hang my head a little bit."
Lozano, who acts as the party's chief organizer, secured Butterfly Social Club and brought his loyal crowd with him. "[They] trusted what we did, embraced it and loved the idea as much as we did," he says. "They've been a part of it for three years now, learning with us and dancing with us." With Butterfly's closing last year, the party and its flock migrated to Subterranean, where it continues on Saturday 6.
The soundtrack—which the members have branded as global roots, transnational bass and nu whirled—is an updated take on what world music traditionally stands for. As urban bass music infiltrates scenes internationally, it is spawning a diverse array of heavy-hitting electronic sounds that also incorporate indigenous rhythms. Think Portugal's Buraka Som Sistema, Brazil's Bonde Do Rolê or U.S.-Jamaican duo Major Lazer. For Foreign Exchange, this has translated to guests from such far-flung locales as Brazil (Maga Bo) and Germany (Daniel Haaksman). This week's guest is BBrave, a Parisian DJ living in Ghana.
"I've always incorporated Brazilian and Jamaican since I started deejaying when I was 13," Sanchez, Foreign Exchange's resident DJ, says. "Being drawn to that, we do foreign music that's directly from another place or heavily influenced by another place. That can mean Canada or Mexico, or it can be as far off as Japan."
This studied global awareness is what attracted Rowland, well-known as global bass veteran and dancehall MC Zulu. "Sometimes when people party, they just enjoy themselves," he explains. "They don't care where it came from or what went into it. Instead of intellectualizing things, they tend to just digest it, so it doesn't last long and no appreciation is developed."
Appreciation and consciousness are big words among the FEx crew. A couple of members are social workers by day and that mentality translates. Partygoers are treated with respect the minute they meet the doorman, and Lozano feels a sense of pride in dispelling the aggressive crowd behavior he's seen in his time as a promoter.
"There's no VIP seating, no red ropes; there's just a lounge where you can kick it, dance, socialize, get a cheap drink," he says. This, Tapia points out, doesn't mean mellow. "When people ask me what kind of party it is, I tell them it's a tropical mindfuck."
Foreign Exchange returns to Subterranean on Saturday 6.