Kate Simko goes beyond minimal on her new record.
With Kate Simko's new album, she challenges the prevailing wisdom that her music is strictly minimal.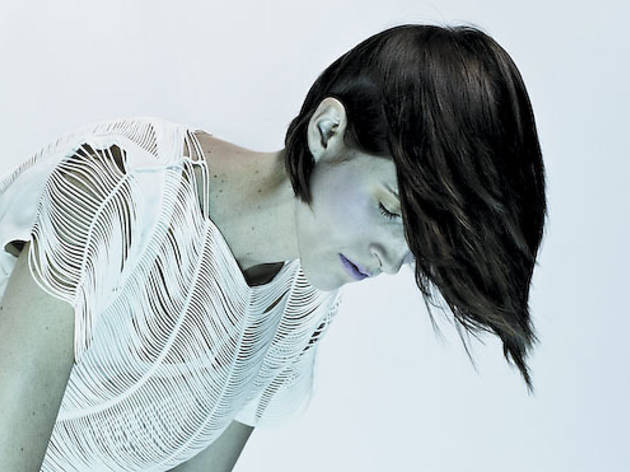 Like so many electronic producers before her, Chicago's Kate Simko has found herself pigeonholed. With a string of early productions—for the respectable Traum, Ghostly International and Spectral Sound labels—that tend toward minimal techno, she can't seem to shake the genre tag.
"I don't mind. I have nothing against minimal music," she tells me when we meet up at Wormhole Coffee to discuss Lights Out, her new record for Hello?Repeat, and her upcoming live PA set at Smart Bar on Friday 3. "But this album is a mixture of minimal techno, house, ambient music and maybe a couple of almost tech-house tracks. I was trying to blur the genre boundaries in a way, and I think I did."
She's right. On Lights Out, her debut artist album, she leads with a familiar and stripped-down thump on the deeply delightful "Beneath." But then the sounds on display expand to include punchy techno with "Mira Vos" and "Bikini Atoll," ethereal soundscapes like "Machine's Mantra," and even her Windy City heritage with lead single "Mind On You," a Chicago house dead ringer.
"It's natural to put people into a box," Simko says. "If people want to call it minimal, okay. It's not, but whatever." Chalk it up to being the way of the industry, and part of the travails of an artist exploring and finding her voice. For Simko, that search started while studying classical piano in college. "I loved playing the piano, but I didn't feel passionate about just doing classical music," she says.
With a grandmother in her 90s who still plays the organ in church and a cousin who studied jazz at Juilliard, Simko's family has music in its veins. Slender, smiling and auburn-haired, the 32-year-old fell in love with dance music early on. Having grown up in the Midwest's rich rave scene, she was instantly drawn to the electronic worlds of labels like Warp and Ninja Tune that she discovered while at the University of Miami in Florida.
It was after a transfer to Northwestern—where she studied music technology, served as music director for WNUR's Streetbeat programming and soaked up South American techno while studying abroad in Buenos Aires—that she began to shake up her classical roots. "I started to connect the dots and be like, okay, this is the music I love, and this is the music that I spend four hours a day playing in a practice room," she says. "Can we work something out here?
"When I was playing piano, it was super-virtuosic stuff," she explains. "I had to unlearn the idea that you have to show off what you can do just because you can do it." That intricate detail can still be found in Simko's work; it's just buried a bit. "There are a couple of tracks on the album, like 'Mind On You' and 'Mira Vos,' where I have layers of harmonies even if they're not obvious," she says. "It's in there in its own subtle way by choice."
During her time in Argentina she met Andres Bucci, a like-minded producer who helped kick-start her career. She also fell in love with traveling, a theme that pervades Lights Out. Tracks like "Bikini Atoll," "Cairo" and "Flight into BA" are inspired by her trips. Touring for the new record, she's even teamed with visual artist Jeffrey Weeter, who combines sweeping landscape shots with colorful textures, all sequenced with the music.
Taking a step back and looking at all that goes into Simko's music—classical theory, trips around the world and years spent raving to house and techno—minimal is not the word to sum things up. When you're trying to tell a story, which Simko certainly is, there's just more to it than that.
Kate Simko brings Lights Out to Smart Bar on Friday 3.