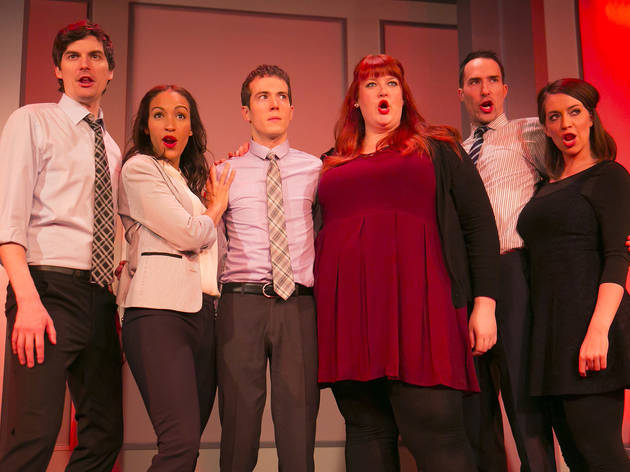 1/12
Photograph: Todd Rosenberg
Steve Waltien, Tawny Newsome, John Hartman, Emily Walker, Mike Kosinski and Chelsea Devantez in Depraved New World at Second City
2/12
Photograph: Todd Rosenberg
John Hartman, Mike Kosinski, Steve Waltien, Tawny Newsome, Chelsea Devantez, and Emily Walker in Depraved New World at Second City
3/12
Photograph: Todd Rosenberg
Tawny Newsome, Chelsea Devantez, and Emily Walker in Depraved New World at Second City
4/12
Photograph: Todd Rosenberg
John Hartman, Mike Kosinski, and Steve Waltien in Depraved New World at Second City
5/12
Photograph: Todd Rosenberg
Tawny Newsome and Mike Kosinski in Depraved New World at Second City
6/12
Photograph: Todd Rosenberg
Tawny Newsome and Mike Kosinski in Depraved New World at Second City
7/12
Photograph: Todd Rosenberg
Tawny Newsome and Steve Waltien in Depraved New World at Second City
8/12
Photograph: Todd Rosenberg
John Hartman, Chelsea Devantez, Emily Walker, Tawny Newsome, and Steve Waltien in Depraved New World at Second City
9/12
Photograph: Todd Rosenberg
Tawny Newsome in Depraved New World at Second City
10/12
Photograph: Todd Rosenberg
John Hartman, Chelsea Devantez, and Emily Walker in Depraved New World at Second City
11/12
Photograph: Todd Rosenberg
Chelsea Devantez in Depraved New World at Second City
12/12
Photograph: Todd Rosenberg
Emily Walker in Depraved New World at Second City
Second City Mainstage. Directed by Mick Napier. With Chelsea Devantez, John Hartman, Mike Kosinski, Tawny Newsome, Emily Walker, Steve Waltien. 1hr 50mins; one intermission.
Comedy review by Kris Vire
The Second City's 102nd mainstage revue is among the jauntiest in recent memory, even as it mines the most pervasive of our modern social anxieties. The show's opening number establishes a recurring theme about the voices in our heads that overanalyze our every interaction, telling us we shouldn't have told that stupid joke or we should have handled an awkward situation with more grace.

Much of the material centers on communication and identity in technology-obsessed times. Chelsea Devantez gets a cute solo song, "I Cry," detailing the ways her tears are motivated by text messages, Facebook likes, Netflix queue suggestions and BuzzFeed quizzes. The cast's three men, Steve Waltien, Mike Kosinski and John Hartman, perform a clever send-up of body-image positivity that focuses on the trio's physical uniformity (skinny, pale, brown-haired).

Waltien plays half of a couple who accuses his girlfriend, played by Tawny Newsome, of "performing our relationship" by incessantly documenting and sharing their intimate moments. A gawky teenager, embodied with delicious specificity by the fantastic John Hartman—one of four Mainstage newcomers, along with Devantez, Kosinski and Emily Walker—gives terrible seduction advice on YouTube.

It's not all tech-focused; Kosinski and Hartman play two guys on a blind date in a well-done sketch that's perhaps most notable for the matter-of-factness with which it approaches gay stuff. (A later quick hit about a sports team preparing themselves for a gay athlete in the locker room very cleverly raises and then subverts our expectation of Hartman's entrance.) Hartman also joins Newsome in a biting early scene as a very light-skinned biracial teen who's uncomfortable proclaiming his blackness as loudly as his mother would like.

There's next to no Chicago-specific material in this set, directed by Mick Napier—which is fine, since such references have often tended toward cliché in past Second City revues. There's also little that's political, and even what there is—Waltien and Kosinski in an infinity loop of a bar argument about what's worse, Obamacare or what we had before it—seems to suggest the pointlessness of such arguments.

Yet my favorite sketch is Depraved New World's most absurd, in which Newsome plays a dressmaker named Uncle Rufus, Kosinski is Rufus's foppish not-actually-nephew Rodney and Walker is an opinionated bird. I thought at first the three were taking a page from the e.t.c.'s A Clown Car Named Desire and aping Tennessee Williams, but it's both simpler and stranger than that, as the trio argue about Rihanna and take lessons in love from Anita Baker. The scene is incredibly silly and impossibly long, paying off in Newsome giving the bird an epic read. This is the kind of depravity I'd love to see more of.
Rating Breakdown
5 star:

0

4 star:

0

3 star:

0

2 star:

0

1 star:

1
If all the shows are this bad, I see why some folks regard this cabaret as a tourist trap.
In general: somebody should have done half of these kids a favor long ago, and told them, "you just aren't that funny."

Your favorite sketch, Kris, is the one where I threw in the towel. What you found fascinating I found exasperating. An entire scene, a very long scene, with no premise and no point and no laughs. And completely without the one member of the company who wasn't apparently bused in from a Six Flags stage show, the one with something special to offer, Hartman.

Also, Chrissakes, Second City, get the faht girl a longer dress. Her legs look like two sacks of potatoes. I shudder to think what they look like from the front row.