Just for Laughs 2013: The Shit Show review
The rowdy monthly variety show played it loose in its Just for Laughs outing.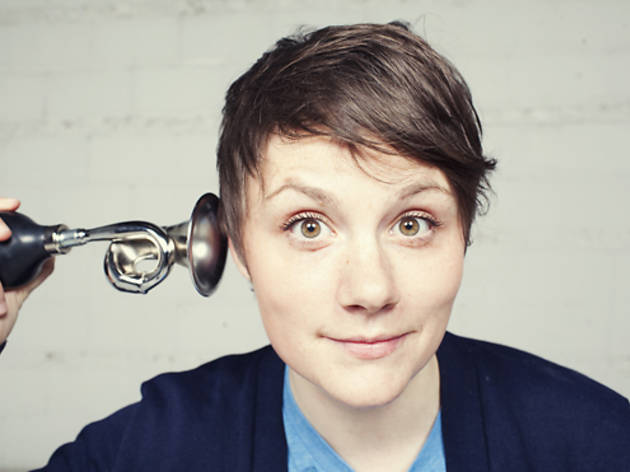 The Shit Show looked like it might live up to its name in the first few minutes of its Just for Laughs edition Tuesday night. There were minor sound issues at the top of the show, but it was straggling audience members that seemed to frustrate co-host Ever Mainard, who took to reverse-heckling the latecomers for forgetting their watches. I briefly wondered if the beer-fueled looseness that marks the regular monthly Shit Show might prove too loose at Stage 773.
But Mainard settled in, winning over the crowd with a tale of visiting her family in rural Texas, where residents prodded her about life in Chicago. "One woman even came up to me and was like, 'So…y'all can't say the N-word up there?' My butt got real tight," Mainard recounted, before introducing the night's guest lineup, which included solids sets from Caitlin Bergh ("I get a new tattoo every two years, because that's how long it takes me to forget what forever means") and recent L.A. transplant Mike Stanley, who riffed on the attractiveness of female bodybuilders: "I like the kind of girl who looks like she could put a kink in your crank with one kegel."
Co-host Rasa Gierstikas told a rambling but charming story about her favorite bartender at a Polish joint in Wicker Park, and Ted Tremper closed the show with a crowdpleasing set as "America's Only Compliment Comic"—I appreciated his casual reference to the 1991 Dan Aykroyd flop Nothing But Trouble. But the heartiest "Best Joke" chants—a Shit Show feature—went to Emily Walker's deliciously committed character scenarios—brief setups like "a lesbian going on The Bachelor" and "girl who thinks she's being sexy at a bar." Walker closed her set with an improvised impression of Randy Newman singing the latest Pixar theme song, based on a title suggestion from the audience—a simple but brilliantly executed bit.