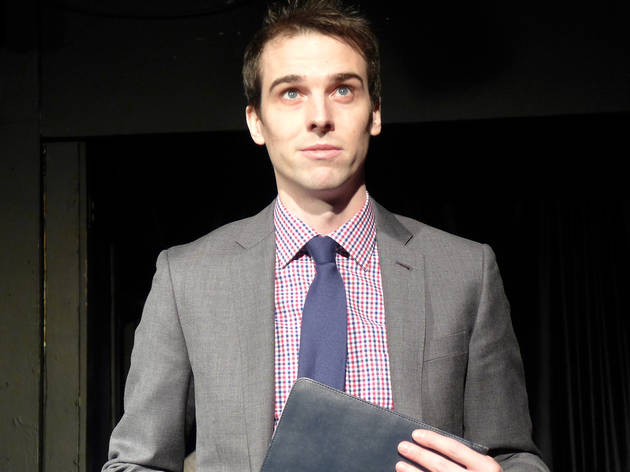 1/5
Photograph: Kiley Peters
Moral Hazard at Chemically Imbalanced Theater
2/5
Photograph: Kiley Peters
Moral Hazard at Chemically Imbalanced Theater
3/5
Photograph: Kiley Peters
Moral Hazard at Chemically Imbalanced Theater
4/5
Photograph: Kiley Peters
Moral Hazard at Chemically Imbalanced Theater
5/5
Photograph: Kiley Peters
Moral Hazard at Chemically Imbalanced Theater
Comedy review by Matt Byrne
This new "two-person one-man show" from local writer-performers Walt Delaney and Chandler Goodman has higher aspirations than most upstart sketch shows: It looks to educate as well as entertain, and succeeds at both. The show takes two different perspectives in looking back at the financial collapse that rocked the global economy in 2007, shifting between scenes from one person's experience working within an industry that contributed to our current fiscal situation and a series of fourth wall breaking, lighthearted looks at the myriad contributing factors to and causes of the recession.

For Moral Hazard, Delaney—fresh off a long-running stint as Tom Cruise in The Tomkat Project, another well-loved genre bender—drew inspiration from his time spent working in an emotionally draining, repetitious job with an auto loan company, contacting clients who were behind on their payments. His eager, fresh-faced charm is almost immediately tested by the endless negotiations with the stressed out, foul-mouthed clients his job requires him to badger. Between "you're hired" and "I quit," Delaney's physical and mental exhaustion with the job becomes overwhelming, leading up to a heartbreaking final conversation with a client that stings even more when you remember the show's autobiographical.

Goodman channels equal parts Good Eats–era Alton Brown and Mad Money's Jim Cramer, spending most of his time breaking down the dense, overwhelmingly jargony world of subprime mortgages and shadow banking into easily digestible but never patronizing parts. Through the use of props (Mr. Potato Heads, baby food, bongos, etc.) and goofy sketches, "Chandler Goodman the Economics Guy" renders something complicated a little less so, adeptly walking the line between dry statistical analysis and oversimplified condescension.

The emotional and informational heft of the duo's respective storylines occasionally intersect, when Goodman comes on board as a supporting player in one of Delaney's biographical scenes as a doofy office mate, or an equally conflicted and out-of-his-depth former classmate with whom he catches up at a class reunion. Goodman's spittle-flecked, manic energy shines through in these small roles, allowing him to step out of his primary position as head lecturer.

The show's director, Mark Logsdon, spent weeks with the performers helping them hone the show, through countless rewrites, into a tight, fast-paced missile of comedic edutainment. It's refreshing to see a sketch comedy show about current events that isn't trafficking in Second City–style topical spoofs or angry, Daily Show–esque finger pointing. Like the collapse itself, Moral Hazard is something more complex and fascinating.