Manic Mondays
An all-inclusive new GLBTI night out offers a Boystown alternative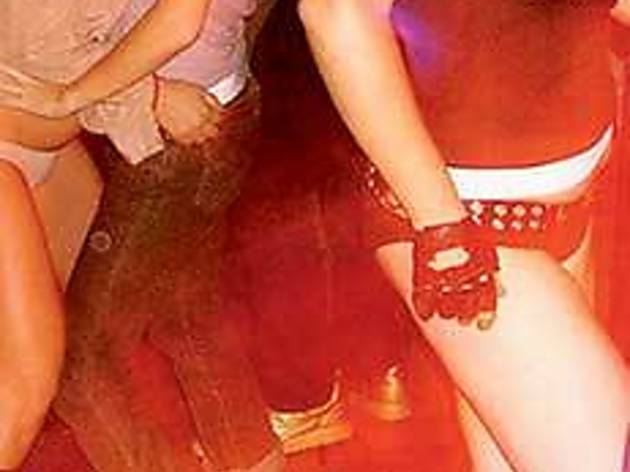 On a recent Monday night, gay partiers across the gender spectrum casually file into a bar's backroom, where a new monthly party is getting started.
The evening's cocreator Bruce Wiest walks among the growing crowd, surveying the throng. The other creator, Latham Zearfoss, takes his turn as DJ and spins Paula Abdul's "Straight Up," an ironic choice given the company. Occasionally he dips down to select another record, allowing his red underwear to show under his jeans. That's okay, because pretty soon many will start taking off their pants just for the hell of it.
This scene may sound familiar, but its location isn't: This is a party called Chances at the Big Horse Lounge in Wicker Park. Zearfoss and Wiest say they've made a conscious effort to move beyond Halsted's strip of bars geared almost exclusively at gay white men.
"I think that Boystown is very homophobic in a lot of ways and very sexist and very racist," Zearfoss says. "It's just so homogenized. It's boring."
Wiest echoes the sentiment. "I wanted something that was, like, a little more raw and diverse and not so concerned with appearance."
After talking with friends, the pair realized others shared their frustrations. "We had been throwing this idea around for...a really long time," Zearfoss says. "Everyone [was] saying, Wouldn't it be great if we did this night at a bar? Finally, after procrastinating for a long time...we just tried it."
The pair first met several years ago at a number of GLBTI events, including Homo Olympics, Blingo, Christmas in July and, most notably, Pilot, a queer transfeminist conference and multimedia event the two helped organize. It attracted people from all over the country to the Texas Ballroom in Bridgeport for a weekend of academic lectures, spontaneous performances andcollaborative brainstorming.
Pilot's success became the inspiration for a new monthly party where all kinds of people would be included. "I want there to be butch-femme fags, butch-femme dykes, trans people, bi people, straight people," Wiest says.
They also wanted something that would take clubgoers off the techno beaten path. "It seems like there's a severe deficit of danceable nights out," Zearfoss says. So Chances' musical lineup mixes rock, experimental, a wide spectrum of pop and a number of rotating DJs. "Just as all sexualities are relevant, all people's musical tastes are relevant," he says.
The name Chances was inspired by the gay bars of small town USA. "We discovered that they all shared, like, five names only. They were all named Chances, Alternatives, Expressions," Wiest says with a laugh. "It's the idea that there are these small-town bars that do include more diversity and do bring a lot of different people together...because that bar is the place that people from five different towns in a semirural area come to be queer."
After choosing a name, the two began brainstorming places where Chances could be held. They imagined an intimate space that was centrally located, close to public transit, had good sound, had no cover and wasn't homophobic. Zearfoss finally came up with an idea. "I thought, Let's go to Big Horse because it's a nice space, it has totally affordable drinks. It's the last remnant of anything reasonable for a bar in Wicker Park. It's the only thing that's not yuppie hell."
After locking in a space, the pair began promoting the party. The two passed around flyers, Friendstered people and made phone calls. On September 19, Chances debuted and was an instant hit. It is now in its third month and growing.
Wiest and Zearfoss have no problem with Chances' success as long as it remains a vital alternative to North Halsted.
"You're not really going [to Boystown] to associate with humans, you're going to look in a mirror and find something to fuck...there's no real richness," Zearfoss says. Adds Wiest, "We want richness and sex."