Valentine's events 2011
Live happily ever after at these hot singles events.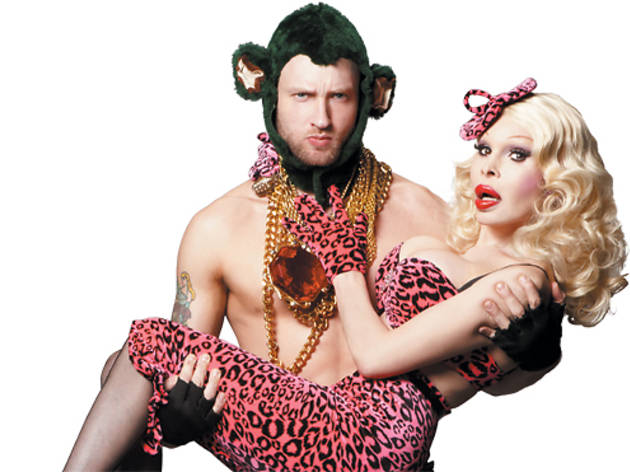 HARD CANDY
Sugary Southport shop Candyality, lifestyle mag Mint Male and K Dock Media team up for Candyland (minibar, Sunday 6, 8pm; $10), a dressy, mingly soiree. Booze, the secret ingredient behind most love connections, will be served in the form of one head-spinning (and free) candy-inspired cocktail courtesy of Ultimat vodka while smooth sounds keep the mood chill.
Heat factor: Count on strong crowds; K Dock throws a good party.

GENDER-ATION X
Stick your gender in a blender and hit puree at Shits & Giggles: Apocalyptic Heartbreak (Parlour, Sunday 6, 9:30pm; free), an LGBTQ (and LMNOP) -affirming queer cabaret hosted by Trandroid and featuring freak-tastic performances from drag kings, boylesque stars and toaster-fucking, stripping robots.
Heat factor: Two-buck PBRs and a packed room full of gender-blurry cuties? You do the math.

WE DO!
Love swirls through the air at Lambda Legal's tenth annual lovey-dovey Freedom to Marry (National Museum of Mexican Art, Tuesday 8, 6:30pm; free) gala, a night of same-sex celebration that attracts queer couples and singles of all races and ages for a night of music, cake cutting, bouquet tosses and civil unions celebrations.
Heat factor: This couples-centric event gets a boost this year with a new Cupid station for horny singles.

REVENGE OF THE NERDS
Now in its fifth year, this fest splits in two to accommodate both brainy boys and geeky girls. Nerds at Heart: Gay Love Fest (Downtown Bar and Lounge, Tuesday 8, 7pm; $30, in advance $25) and Nerds at Heart: Lesbian Love Fest (Downtown Bar and Lounge, Wednesday 9, 7pm; $25, in advance $20) serve up two nights of ice-breaking trivia and hooch for the dork within us all.
Heat factor: Surprisingly high. We've met some queer cuties at these events.

THE KIDS ARE ALRIGHT
Games of a less lascivious kind will be played at Boystown's Family Valentine's Day Party (Center on Halsted, February 12, 2pm; $5 suggested donation), an afternoon of crafts and cookie decorating for LGBT families and their allies including a special screening of shorts from Facets Children's Programs.
Heat factor: Please, consider the children.

LEPORE US ANOTHER
Dirty, sexy, East Village rapper Cazwell once again links up with his muse, transsexual icon Amanda Lepore, for Under the Big Red Top (Hydrate, February 12, 10pm; $15–$25), an eyebrow-raising (seriously, when does Lapore not take off her clothes?) night of back-to-back performances from two Big Apple babes.
Heat factor: It's the Friday before V-Day and it's 2am. Try not getting laid.

THE MORNING AFTER
Martini mecca Kit Kat is never one to sit out a holiday weekend; its Date Night Dinner Menu (Kit Kat, available February 11 through 14) is filled with slurpy and slippery aphrodisiacs like the Horny Lil Devil martini and oysters over baby watercress salad. Rise and shine for Breakfast at Tiffany's (February 13, 11am–3pm; two-course prix fixe with bottomless mimosas $25), where diva Madame X belts out retro love songs as classic Audrey Hepburn films play on Kit Kat's seven screens.
Heat factor: A breakfast brunch sounds more postcoital than anything else. Anybody up for a nooner?

SIDE BY SIDE
Would you believe that a few of the several thousand men who rub elbows each week at B-town's ubiquitous video saloon actually fall in love and live happily ever after? Sidetrack uses Valentine's day to jump start The Day You Said Yes (Sidetrack, February 14, 9pm; free), a new project that aims to celebrate great Sidetrack romances. Tonight's kick-off party features free drinks from Yes vodka (yes, please!) and complimentary roses.
Heat factor: Mondays at Trax are pretty tame, but the fact that it's V-Day should give it a horny boost.