Five restaurants doing cool things with kids' menus
Forget chicken fingers, burgers and noodles with butter. These restaurants encourage kids to order outside their comfort zones.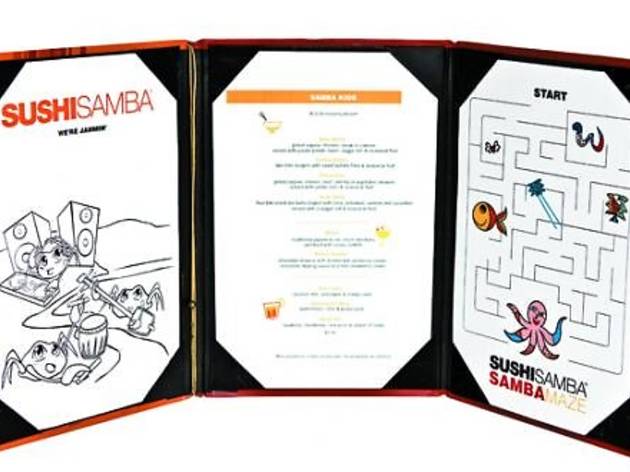 Custom House
500 S Dearborn St, 312-523-0200
Fresh vegetables with house buttermilk ranch 5
Daily soup with grilled cheese 8
Almond butter & homemade jam on brioche 5
Flat-iron steak with roasted butternut squash 18
While kids wait for their food, they can play with puzzles and many Etch A Sketches.
Frontera Grill
445 N Clark St, 312-661-1434
Jicama slices with lime 1.95
Frontera's romaine salad with fresh cheese 2.50
Tortilla soup with chicken, avocado, fresh cheese and sour cream 3.95
Griddle-baked cheese quesadillas, served with black beans or pintos 4.95
Enchiladas de pollo—chicken enchiladas with tomato sauce, melted cheese and Mexican rice 6.95
Our kids' new favorite word to say: jicama. Bonus points to Rick Bayless for getting them to try (and like) it, too.
SushiSamba Rio
504 N Wells St, 312-595-2300
Kids get their own chopsticks, too, attached at the top for easier use.
Big Bowl
6 E Cedar St, 312-640-8888; 60 E Ohio St, 312-951-1888
Chicken noodle soup 3.95
Kid's combo—2 chicken satays, 2 chicken potstickers, plum and spicy peanut dipping sauces,jasmine rice 4.95
Teriyaki ribs with rice—baby back ribs, broccoli,jasmine rice 6.95
Thirsty? Kids can get free refills of milk and juice, but not soda.
Sakura
105 S Main St, Mt. Prospect, 847-577-0444
Okosama Dinner Box—chicken teriyaki, shrimp tempura, jumbo roll, gyoza, fruits in a box served with soup 9.99
Reserve a tatami room for an authentic Japanese experience!