How to turn a tiny space into a nursery
A DIY mom offers tips for creating a comfy nursery in a tiny space.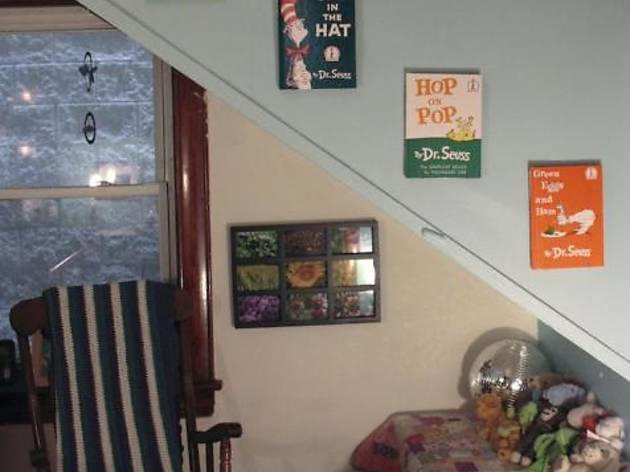 1/4
Andrea Newberry created a nursery in her second "bedroom", a fiftyish-square-foot room with a deeply sloping ceiling (it's under the neighbors' stairwell). Photo: Andrea Newberry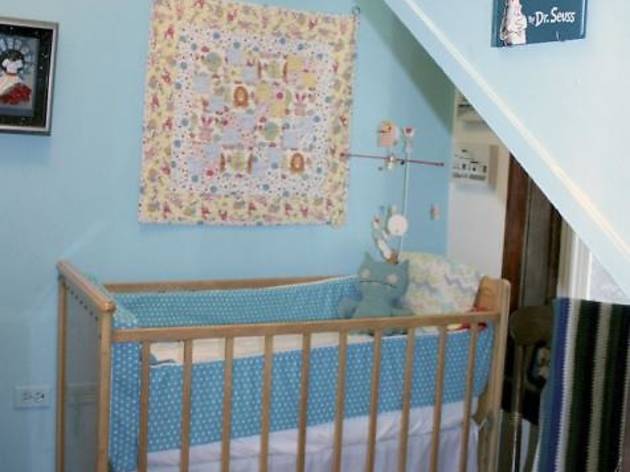 2/4
This small crib is an heirloom: both Newberry and her father slept in it. Photo: Andrea Newberry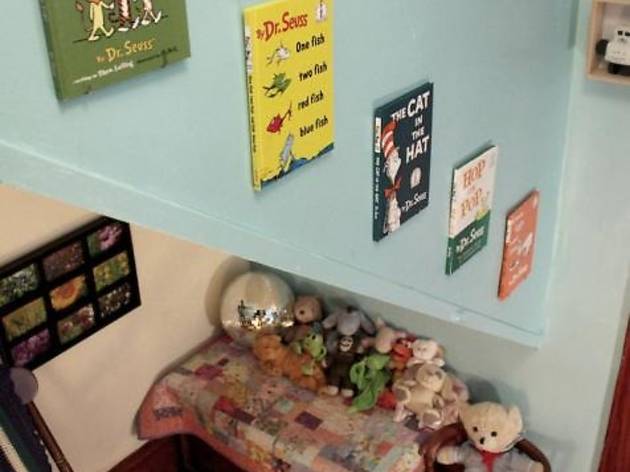 3/4
Reading material double as art. Photo: Andrea Newberry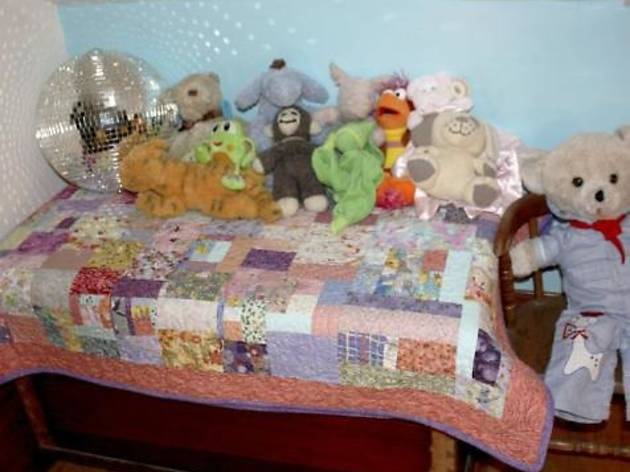 4/4
Reading material double as art. Photo: Andrea Newberry
Families in cramped quarters have to get creative when there's a sudden addition. Andrea Newberry, the voice behind the food and drink blog Forkable, had to get super creative when she learned her family was about to get bigger—not once, but twice. First, it was for her now 20-month-old daughter, Thora, and again, when Thora's younger brother, Otto, was born in February.
Technically, Newberry and her husband, Ira, make their home in a two-bedroom apartment in Ukrainian Village. But the "second bedroom" is a fiftyish-square-foot room with a deeply sloping ceiling (it's under the neighbors' stairwell).
In anticipation of Thora's arrival, Newberry pulled off some genius (read: budget and beautiful) tricks to turn the teeny under-the-stairs space into a proper nursery. She began by color matching the turquoise paint that was already on one wall at Home Depot (a small sample can, $7, covered the walls). The bold hue is upbeat and playful without overwhelming the small space.
"The minicrib is the same one my father and I slept in," Newberry says, adding that her mom sewed custom sheets out of organic flannel to fit the smaller-than-standard size.
The small dresser is another family relic: Newberry cut and customized a standard changing pad to fit on top. "I love the heirloom element of the furniture," says Newberry. She suggests letting relatives know you're on the hunt for certain pieces, while keeping in mind updated safety standards. "Helping people move is also a great way to get hand-me-down furniture," Newberry adds.
For storage, she bought a tall, skinny IKEA shelf to house diaper cream, wipes and other supplies. To multitask, reading materials double as art, with Dr. Seuss books perched on long nails bent into L shapes to act as ledges.
After he bunks with Mom and Dad for a few months, Otto and his crib will go where the toy box, a vintage chest, now sits. Newberry says Thora is looking forward to having a roomie.