Super Bowl 2012 | 120 yards of family fun
Blitz boredom by tackling these football field–themed, DIY projects for the home team.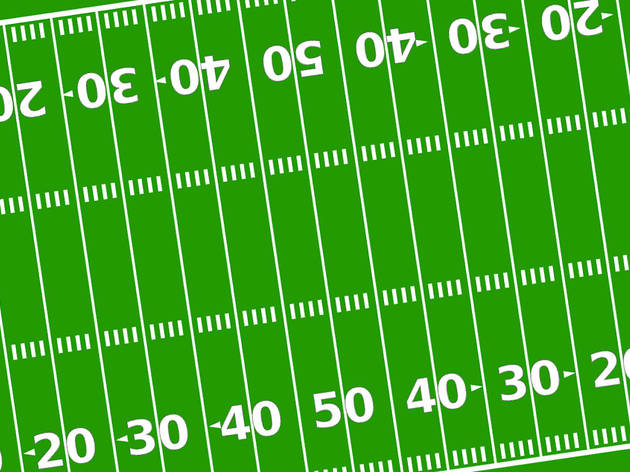 The gridiron: That acre-and-change, striped lawn where offense meets defense. With no Bears in the picture, celebrate the game itself with these family-friendly ideas for field-themed fun.
Hail Mary Martha
Leave it Martha Stewart to go way, way above and beyond the call of duty. We love the look of her Football Field Table Runner, complete with matching football coasters. And we guarantee that it's just as fun, if not more so, to skip the pre-cut, adhesive numbers, drafting tape and suffocating perfectionism and draw them on yourselves with a white paint pen (also useful for your cornhole renovation—see below). Trust us: No one will judge you or your child's backward numerals. Wait—what's this we see in the comments? "I used indoor/outdoor carpet for my table cover and drew on it with chalk. I can hose it off and use it for a garden theme table cover in the summertime." Thanks for the tip, "marrymartha"!
Field of dreams beans
We thought three things we saw this recipe for Touchdown Taco Dip with Football Chips: Yes, yes and yes. Big kids can help pipe on the numbers and yard markings, and cut the chips; younger punters can take turns mashing the guacamole.
Papa's Everyone's got a brand-new bag
We thought one thing when we saw these football field cornhole boards on Etsy: Fifty smackers and a two-week wait? Oh, please. Team TOC Kids and its readers can take matters into their own hands. Step one: Get out your worse-for-wear cornhole boards. Step two: Grab your palm sander or other wood-smoothing device and give each board a quick once-over. Step three: Put the family in grubby clothes and procure one can of green paint and one can of white paint. Step four: Distribute brushes and assignments. Step five: Procure one yard of brown fabric, or an old brown T-shirt, and one skein of white yarn. Step six: Recover your worse-for-wear bags and thread a few white stitches down the center of each. Step seven: Enjoy football cornhole with the kids.
Etsy, shmetsy.