A Christmas music mix that won't drive you insane
Not all Christmas music is overplayed or pure torture. We assembled 20 holiday tunes you'll look forward to in our "Why Can't the Malls Play This?" playlist.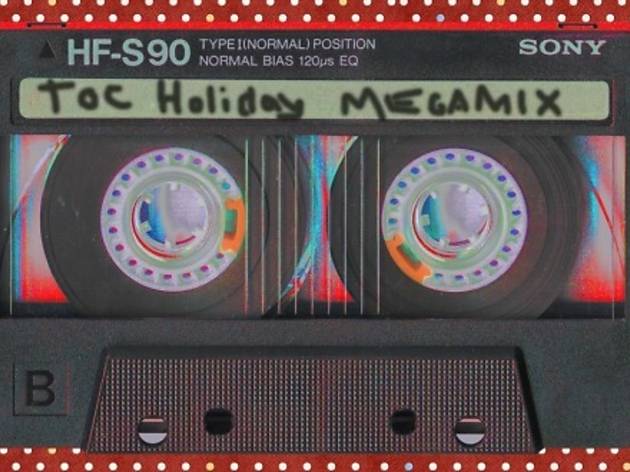 RECOMMENDED: Christmas events in Chicago
"I Wish It Was Christmas Today"
Julian Casablancas
In New York City, Santa Claus looks like Joey Ramone and stuffs your stocking with cigarettes and this song.
"I Was Born on Christmas Day"
Saint Etienne
Britpop's best blond, Sarah Cracknell duets with Tim Burgess (of the Charlatans) in this joyous gem of house rhythms, shimmering synthesizers and horns.
"Ain't No Chimneys in the Projects"
Sharon Jones & The Dap-Kings
No chimneys, perhaps. At least there's killer soul, and no Anne Murray in sight.
"Sleigh Ride"
The Ronettes
Phil Spector: convicted murderer, hair criminal and creator of the greatest holiday album of all time.
"Got Something for You"
Best Coast + Wavves
The beach-loving indie couple seems more apt to smoke trees than decorate them. This brief, adorable stomp is all whistling, whoo-oo-oos and bells.
"Come on Santa"
The Raveonettes
Like a snow globe of Copenhagen, filled with vodka. And get your mind out of the gutter—the dreamy Danish shoegazers just forgot the comma.
"Black Christmas"
Harlem Children's Chorus
Somewhere between the Jackson 5 and the Peanuts kids.
"Carol of the Bells"
Shawn Lee's Ping Pong Orchestra
If Sergio Leone made a spaghetti Western about Santa, it'd sound like this—fuzz guitars, Italian plucking and funky drum breaks.
"Christmas As I Knew It"
Johnny Cash
You want an $800 iPad, you gadget whore? Know what Johnny Cash got his little brother, Jack? A freaking whistle he whittled by hand.
"Little Drummer Boy"
Bing Crosby & David Bowie
It could have been as crushing as Gene Kelly in Xanadu. But the eternally cool aura of the Thin White Duke makes this more of a baton passing.
"Christmas Island"
Lake
A.K.A. the Adventure Time with Finn and Jake credit's music. So heart-meltingly twee and sincerely love-filled it would send Ebenezer Scrooge running to buy the nearest Belle & Sebastian tote bag.
"Just Like Christmas"
Low
Minnesota's gorgeous slowcore darlings pick up the pace with this galloping snuggle.
"Run Rudolph Run"
Keith Richards
I love that the guy who wrote "Little T&A" has an Xmas song and it doesn't sound much different.
"Boogaloo Santa Claus"
J.D. McDonald
The entire In the Christmas Groove compilation from Strut is silver and gold, but this rough and funky James Brown knockoff should get you moving at 6am when the kids wake up.
"A Lonely Little Boy Around One Little Christmas Toy"
James Brown
"Boogaloo" sets the mood for the true Godfather of Soul, who consoles a poor kid who only gets one measly gift. To hear Brown sing the shit out of this, you'll be donating to Toys for Tots before the strings come in.
"Christmas Bop"
T. Rex
"Merry Xmas Everybody"
Slade
Tinsel is awesome, until the cat eats it. Add some white powder and sparkle to the air with these glittering glam stompers.
"The Christmas Party"
The Walkmen
With its vintage organ, snow-still ambience and glowing reverb, each Walkman tune sounds a bit like Christmas. The New Yorkers seemingly knocked out this number at a real party, with friends lending a hand with bells, cocktails and spoken word bits about Santa.
"Snow"
Tracey Thorn
Not to be confused with the bonkers Rosemary Clooney tune in which George's aunt frantically rubs snow into her hair (seriously), this melancholy gem from the Everything but the Girl singer is a comedown for the post-unwrapping frenzy.
"Christmas Time Is Here"
Vince Guaraldi
Perfect. I've listened to this in June, no joke.