Alex Ebert of Edward Sharpe and the Magnetic Zeros | Interview
Alex Ebert chats about gangsta rap, suppressing anger, the afterlife, confusing audiences and collecting fan art.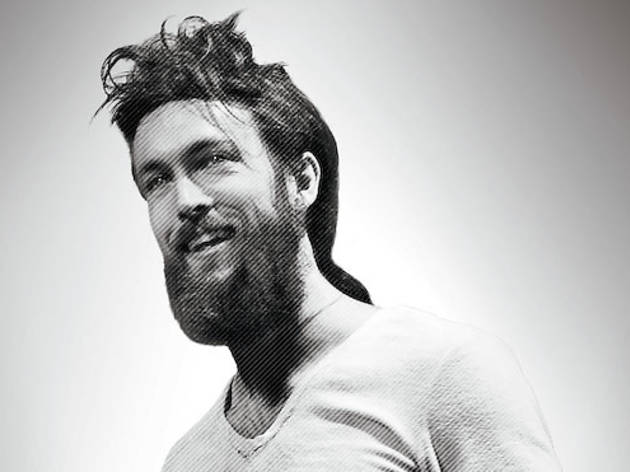 Alex Ebert is sitting in Oakland International Airport, waiting to fly home to L.A. and perform another feel-good hootenanny with his act Edward Sharpe and the Magnetic Zeros. It's unclear whether he's wearing white robes, but this is certainly how we've come to imagine the charismatic leader of the sprawling, cultlike act. Ebert, 34, was raised in Southern California by a psychotherapist and an actress. He burst onto the scene as a wired new-wave singer, fronting the spazzy Ima Robot. He had lightning bolts shaved into the sides of his mullet. These days, Ebert's hair is far shaggier. The Magnetic Zeros' latest, Here, is the polar opposite of Robot—a pretty, meditative folk album. Some suspect this is all an act. When you talk to him, you realize both personas are manifestations of his true self. Thankfully, Ebert is as chill and upbeat as you'd imagine Edward Sharpe to be.
You have hippie parents. Your first band, Ima Robot, was new wave. When you became Edward Sharpe, people saw it as an act. But it's truer to your upbringing, no?
That's right on. If you look at Ima Robot, there's a better case to say that it is much more of a put-on—in the sense that it's more of a reactionary look, a reactionary attitude. You're trying to define yourself by what you don't want to be, instead of who you are. That's what I was going through with Ima Robot.
You are or were a big hip-hop fan, too.
Totally, yeah. The first two albums I had were Huey Lewis and the News and Run-DMC. The Huey Lewis one, though I liked it, was the last rock album I had for years. After that it was just all hip-hop. I got really into gangsta rap. I think that's because I was running track and field, and I was exposed to a lot of gangsta rap by the kids I was running with.
On the new album you sing, "Anger, you're finally my bitch." You must get angry.
I got that line from this story: Alexander the Great is in India, trying to conquer the rest of the East. He says, "I want to meet one of these sadhus, these holy men." They take him to one lying in the sun with just a loincloth. The sadhu waves Alexander away: "Get out of my sun." Alexander says, "Don't you know who I am?" The sadhu goes, "You are the slave of my slave." Alexander gets really upset. "You are anger's slave, and anger is my slave. I get angry when I want to get angry. You have no choice." In that sense, I still do get angry. I feel it's more if I choose to do that. I don't fly into rages.
Your band gets flak for being positive. Isn't it strange that positivity puts people off?
Sure. A lot less than it used to. You remember the '90s. I remember shows, even in the early 2000s, where I was afraid to smile onstage. It was the most un-rock-&-roll thing you could ever do. Unless you were smiling after you got cut and blood was running down your face.
Given your song "I Don't Wanna Pray," what is your spirituality?
I start the song by saying the most dangerous lyric I've ever put down: "I love my God / God made hate." At the same time, on the next album—we have another album in the fall—we have this mantra, "I am God!" Which is a very bizarre thing to chant. It feels heretical, even for someone like me who's not subscribing to Christianity or anything. I had this realization one day: I don't want to pray. I don't want to make an effort to be spiritual. I want to be a prayer, not the pray-er.
Do you believe in the afterlife?
Yeah. I had an experience. A friend of mine died a while ago, and I experienced very distinct revelations and messages that then got verified by other people. I think that will probably last me my entire life, that experience.
You must have fans who come to your music because of an implied spirituality, who detect an element of Christianity that's not there.
Whenever we play that song, it's the most confrontational. You can feel it. It's a little bit quiet. People like more obtuse lyrics in general. When you get too direct, especially about something like that, people are like, "Are they a Christian band all of the sudden? What's going on?"
Some surmise you are Christian, just because of how you look.
I think that's good. Surprise is good. Confusion is good, too. Confusion can be enlightening. If people think we're Christian, then that's all the better. Eventually we'll tell them we're not. And they'll be confused. And we'll be like, "Exactly."
Your fans must send you amazing fan art.
Yeah, I have paintings. There's one great painting I have in my house. It's me sitting on a couch with two girls on either side of me. They're the ones that painted it. I have a Coke/Pepsi Challenge helmet on. Their friend is passed out on the coffee table in front of us. Behind us is a painting of the painting. [Laughs] It's a pretty great painting.
Edward Sharpe and the Magnetic Zeros play the Riviera May 24. Here will be released May 29.