Ba-da-dum, ba-da-da. Ba-da-da ...
After the Stanley Cup, "Chelsea Dagger" is a belated hit. But the band that made it won't be taking a victory lap.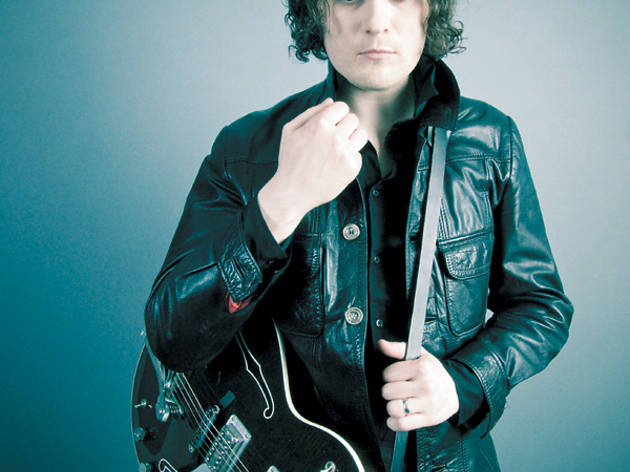 A few days before the Blackhawks won their first Stanley Cup in 49 years, a Scottish songwriter was passing through Chicago with his new band. With hockey mania at feverish heights, and game five of the finals on almost 1 million area televisions, Wrigleyville pubs were packed, so John Lawler and his fellow travelers stepped inside a piano bar for drinks. Nobody recognized him by name or face; only the 31-year-old's thick Glaswegian accent stood out.
A lounge act twinkled away on a baby grand, crooning Billy Joel and other cheese for the wine drinkers.
At the end of his set, the pianist broke into a jazzy version of "Chelsea Dagger," the infectious sing-along played after every Blackhawks goal. "Ba-da-da-da-dum," the singer scatted.
"You can't get any more surreal than that," Lawler, a.k.a. Jon Fratelli, says. He wrote the song five years ago for a band he broke up in 2009.
At the start of the 2008–09 season, the Blackhawks front office was looking for an energetic tune to fire off after the home team scored. After years of cellar dwelling and television blackouts, the franchise was off to a newly energized start in the hands of owner Rocky Wirtz. The Hawks considered Blur's "Song 2," the Hives' "Tick Tick Boom," the Ting Tings' "Keep Your Head" and the Fratellis' "Chelsea Dagger." The little-known neo-Britpop trio won out thanks in part to its rowdy earworm of a chorus, used to great effect in an Amstel Light commercial.
Upon its release in 2007, the Fratellis' debut, Costello Music, made little impact in the U.S. Midway through its first American tour, the band canceled its remaining dates, citing exhaustion. "It was right at the beginning of things going really, really well for us," Lawler says by phone. "You get to the point, it doesn't take long, you go fuck, I've got another year and I don't know if I want to do it anymore. You just want to go home and check your house."
Lawler had recorded the album in Los Angeles. "I had a real poverty-stricken youth. I never set foot in an airplane. This was the first place I went. Must be why I like it so much," he says. "The margarine's strange; the bread's strange. But I really came to love it." (He plans to record an upcoming solo album with the same producer, Tony Hoffer, in L.A.) After a less successful sophomore Fratellis album, Lawler started a lush chamber pop act, Codeine Velvet Club.
We ask if the Fratellis are done, despite the renewed attention. "Not really, no. It's hard to say, but at the same time there's not a plan to do anything," Lawler says. In fact, Codeine seems to be over, too. "It's all my fault. I've got a really short attention span," he says with a laugh.
As his nascent career continued to morph, more and more sports teams started using "Chelsea Dagger." It began in the Scottish Premier League, when Glasgow's Celtic Football Club celebrated a win in late 2006 with the anthem. Now Edinburgh's famed Hibernian Club blasts the tune, as do no fewer than 14 English soccer stadiums—not to mention pro soccer clubs in Belgium and Australia, the Baltimore Orioles, the Tampa Bay Rays and those copycat NHLers, the Washington Capitals.
"It's not our song. It hasn't felt like mine in a long time, and it probably never will," Lawler admits. "Not complaining about it in any way. I get to make music I want to make." The guitarist and singer, who lives with his wife in the quiet town of Cumbernauld, northeast of Glasgow, remains remarkably humble about the entire craze, if not a little naive. "It won't last forever, it won't last forever," he tries to convince himself. He doesn't know enough about American sports to realize that's likely wishful thinking.