Chris Foreman: vital organ
It's easy to overlook Chris Foreman. The B3 organist sits in at Green Mill three days a week. But give the man his due.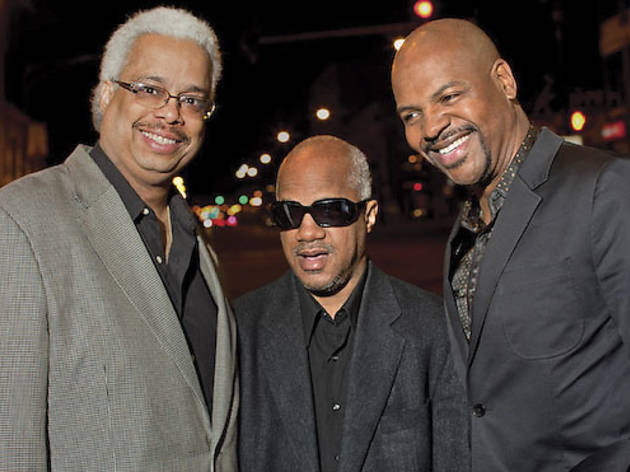 Chris Foreman is as much a fixture of the Green Mill lounge as the jukebox by the side entrance, or the din of drinkers and jazz devotees who have streamed through the Uptown bar's doors since they opened in 1907.
The organist is a short man with nimble hands and broad shoulders—even his frame appears ready to assume the accolades conferred upon him. Foreman is sought after as one of the best B3 organ players alive. His Deep Blue Organ Trio recently toured with Steely Dan and released an album of Stevie Wonder tunes.
However, the South Side jazz scene where he cut his teeth has not fared so well. The 54-year-old Foreman lives in the South Shore neighborhood of his youth, not far from where he played his first jazz gig in 1977, a now-defunct club called the Grass Hut. The Other Place, a 75th Street joint where Foreman met longtime collaborator and Deep Blue drummer Greg Rockingham, is now a dollar store.
Blind since birth, Foreman took up piano at a young age. He reared himself on the records of organ trios led by Jimmy McGriff, Jimmy Smith and Richard "Groove" Holmes. Gradually, he was lured from the classical leanings of his early teachers, two of whom were also blind, to pursue jazz. The sound of the organ, he says, reminds him of glasses clinking at a wedding reception.
At Roosevelt University, Foreman's teachers pushed him to tighten up his technique. He resumed lessons later in life in 1990, in the midst of his jazz career, to recapture the technical discipline of classical music. "There is some grittiness to jazz, but it's still got to be clean," he explains. "I try to play respectfully, effectively and with ability. That's my music theory."
Foreman plays at St. James African Methodist Episcopal on 93rd Street, the church he has attended for more than 35 years. The choir directors coached him on how to adapt to the style. Sometimes that means playing it far straighter, scaling back his soulful flourishes.
Fortunately, Foreman stretches out at the Flipside Show, his weekly solo gig at the Green Mill. The aging organ bench jumps, creaking, as he leaps out of his seat mid-solo to holler. The whole machine buzzes with heavy bass hits. Foreman and Rockingham jam as often as they can. The organist has even made the trip to suburban North Chicago just to spend an hour helping Rockingham work out an idea that has been nagging him. When they can't practice under the same roof, the two rehearse by singing their parts over the phone.
On Sunday nights at the Green Mill for the last eight years, Foreman has played with singer Kimberly Gordon, also a Chicago native, as well. "We just clicked," Gordon says. "We would sing at the bar together." Gordon, known to some scenesters as the Nightingale of the Green Mill, says she and Foreman bonded over a shared love of cartoon music and old game-show themes. Gordon would bring him Disney VHS tapes when they had gigs together at the Wonder Bar in Streeterville.
At a recent Kimberly Gordon Organ Trio show, a splash of bass from Foreman's left hand rattles his cane to the floor during "I Sold My Heart to the Junkman." Nobody misses a beat.
As the set wraps up, Gordon leans over the organ, holding the microphone out to Foreman as the two cackle and hoot rowdily.
"Can we do that again?" he asks.
"Yes-no," she shoots back in a single breath.
"Okay, then, next week!" Foreman answers, diving back into his organ keys.
Chris Foreman plays Green Mill on Tuesdays with Deep Blue Organ Trio, on Fridays in the Flipside Show and on Sundays with the Kimberly Gordon Organ Trio.