Das Racist | Interview
Heems, Dap and Kool A.D. crack serious jokes about telenovelas, the Edge, Odd Future, cats and the trio's upcoming album, Relax.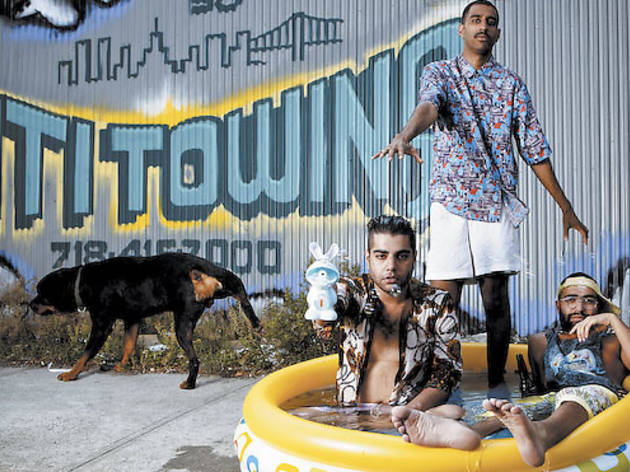 In 2010, Das Racist unleashed a couple of free mix-tapes, Shut Up, Dude and Sit Down, Man. They were two of the year's greatest pieces of comedy—and two of the best hip-hop albums. (These things are not mutually exclusive.) On August 16, the witty New York trio, which hits Pitchfork Music Festival July 15, will release Relax, its first "official" album—whatever that means anymore. "It will cost actual money," Victor "Kool A.D." Vazquez promises. Vazquez, Himanshu "Heems" Suri and Ashok "Dap" Kondabolu chatted with us via e-mail.
Describe your first encounter with hip-hop.
Heems I saw mad Nas stickers in the park and then went and bought It Was Written on cassette. Then my cousin had this subscription to order mad cassette tapes and I stole Ready to Die [the Notorious B.I.G.'s first album] from him.
Kool A.D. I met this girl when I was ten years old. But the girl I'm talking 'bout? Is HIP-HOP.
Dap I tried it once at a party in 1991 and it was my thing.
Dap is your group's hype man. Who was the best hype man of all time? Who do you think missed their calling as a hype man?
Kool A.D. Rasputin was the best hype man.
Dap The answer to both questions is the Edge.
Heems Dap is the best hype man. Without a doubt.
Do you write lyrics together or individually? How much work do you put into crafting them?
Heems Mostly individually. Not very much work at all.
Kool A.D. We write our own raps. Not much work goes into it compared to, say, manual labor.
Dap Or "crafting" a small, pearl-handled handgun. The same handgun that was eventually used to kill Xzibit.
Name one thing you read recently that would surprise people.
Kool A.D. Telenovela ratings have surpassed English-language soap-opera ratings in the U.S. And whites are projected to be a minority in the U.S. by as early as 2046. And babies shown video footage of snakes pay attention for longer when the footage is accompanied by scary music than when it's accompanied by happy music.
Is it frustrating that some people don't think you take hip-hop seriously because you use comedy?
Heems I take rap seriously, not "hip-hop." And it's more frustrating that people don't know the long-standing tradition of humor that exists in rap music.
Kool A.D. No, it's frustrating to live in a basement apartment that has very little sunlight and routinely floods.
Why is humor in hip-hop so divisive now?
Kool A.D. Humor is dumb. Or humor is okay, I guess. Or, yeah, it's pretty fun.
Dap Maybe 15-year-old kids aren't interested in jokes anymore. It's a shame.
Heems Exactly. Humor in hip-hop is a divisive issue now because white people often turn to rap for things they can't find in real life, and there's lots of humor in white people's lives but not a lot of knock[ing] people's teeth out.
You've been critical of racism and prejudice in pop culture. How do you feel about Odd Future coming along and getting so much publicity for being offensive and provocative?
Heems Odd Future is like so hot right now!
Kool A.D. I like most of the Odd Future stuff I've heard.
Have you ever been pressured to change your name?
Heems By who? The label we run or the management we run?
Kool A.D. I think so but I can't really remember when or who. I don't really like the name that much, personally. It's the kind of name that people always feel compelled to make a joke about but none of the jokes are ever funny.
Anagrams of Das Racist: Acid Stars, Car Sadist, Cats Is Rad. Which fits you best?
Kool A.D. Acid Stars.
Dap Acid Stars, no question. WE'RE LOOPY.
Heems Whoa. Cats Is Rad and Acid Stars are both dope.
Das Racist plays Pitchfork July 15 at 6:30pm on the Blue stage.