Die Antwoord
Double Door; Wed 14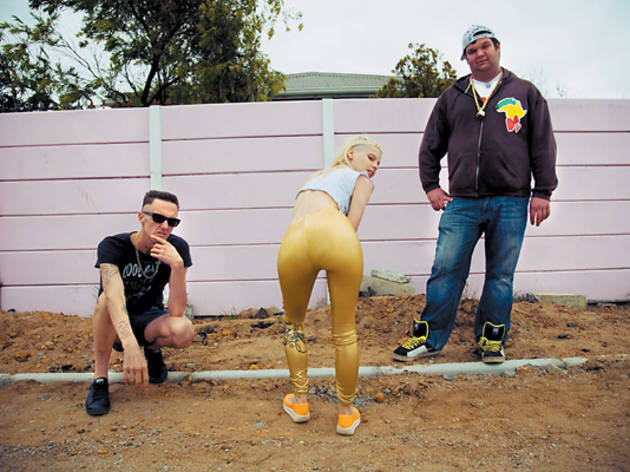 One day you're a viral sensation with a YouTube clip that no one can figure out whether to take seriously or not. The next, you're signed to megalabel Interscope, with a world tour and an album in the pipeline. If nothing else, the overnight success of South African rap—or zef, in its local flavor—group Die Antwoord is a tribute to the power of the Internet to demolish conventional boundaries to music-industry buzzdom.
As one might suspect, Ninja, Yo-Landi Vi$$er and DJ Hi-Tek, the members of the trio, aren't exactly newbies straight outta Soweto. Ninja, a.k.a. Watkin Tudor Jones, is a veteran of the South African pop scene, with TV comedy shows on his résumé. Die Antwoord (translation: "The Answer") is just his latest brainstorm. And it's genius. When it hit last year, the video for "Enter the Ninja" wasn't just bust-a-gut funny, it was like a dispatch from an alien universe. The notion of Afrikaaner rappers, hanging out in mixed-race, lower-income Cape Town neighborhoods, mashing up their own demented hybrid of hip-hop attitude, lo-tech beats and half-comprehensible jargon spat out in a local dialect was mind-boggling. Not to mention the hype man with Hutchinson–Gilford progeria syndrome.
Add in Ninja's mock-gangsta posture and thorax tattoo ("Pretty Wise!"), and Yo-Landi's jailbait-with-a-mullet skank factor, and we had to give it up: There's a new Sacha Baron Cohen in town. Yet, there's something about this that really can't be a joke, or why did we replay that clip 100 times?