James and the giant Pumpkin
His former band will always be the elephant in the room, but James Iha is doing just fine himself, thank you.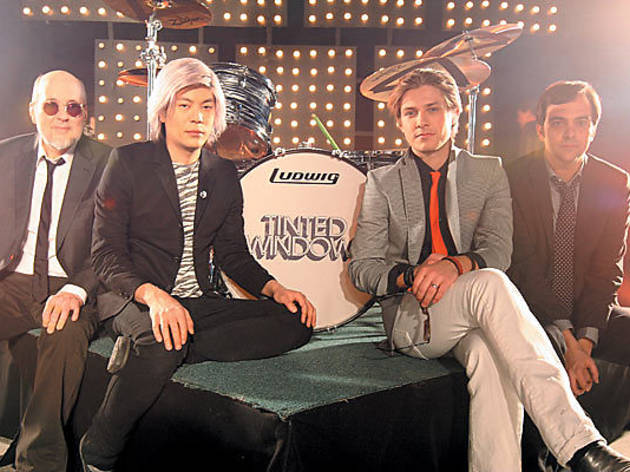 Time Out Chicago: I'm familiar with your relationship with Adam, but how did you rope in Taylor Hanson?
James Iha: Through Adam. I've known Adam since the mid-'90s. We had our record label, and Fountains of Wayne had opened for the Pumpkins. We have a studio in New York City, Stratosphere. We work on a lot of different projects, some producing, random stuff. Adam's known Taylor since their first record came out. He was asked to write with Hanson for their first record. So they've been friends for a while. Over the years we've said, we should work on a project a record together. It'd be fun. A couple years ago Adam asked, what do you think of doing a project, a pop record with Taylor singing. It'll have loud guitars, but it'll be pop.
TOC: With Fountains of Wayne and writing for the Click Five and Jonas Brothers, etc., Adam has a background in power-pop. But was it something that interested you?
James Iha: I like all those [power-pop] bands. I'm known for being in the Pumpkins and A Perfect Circle, much heavier bands. I think, like anybody, I like all kinds of rock. I've liked Jesus and Mary Chain, the Ramones, things like that. I like a lot of the typical power-pop bands like Big Star. There's so much music out there, you learn to appreciate the best things out of all these different genres. It wasn't that big of a leap for me personally. I know it sounds crazy.
TOC: Growing up in Chicago, were you into local power-pop like Shoes and Pezband?
James Iha: Definitely. My older brother always played Live at Budokan. I was always aware of that. That was always one of the references for this project. I had a period in high school when I knew all that stuff. The Records' "Starry Eyes," Eddie and the Hot Rods, "Do Anything You Wanna Do." All that pop-rock from England. Bram Tchaikovsky, "Girl of my Dreams." I know all that stuff.
TOC: And then Tinted Windows actually got the drummer from Live at Budokan.
James Iha: We had all these different idea for drummers, but we said, "We should just call Bun E. Carlos." So we did. And he said, send me the songs. So we sent him the demos.
TOC: At 57, he's still an amazing drummer.
James Iha: It's amazing. He's great. His feel is great. He hits hard. He rocks like nobody's business. We did SXSW, and he's just a super cool guy to be in a band with.
TOC: How does it feel to be in a group with a childhood idol?
James Iha: It's incredible. Every once in a while we're like, "Bun E., We really gotta thank you for doing this." It's kinda crazy—we're driving in a van, busting our ass. But he's into it.
TOC: Is he loading in gear?
James Iha: Ha, no. He's not that deep into it.
TOC: What, no getting back to your roots?
James Iha: We sort of are. It's a real low budget affair, with practices, stuff like that.
TOC: Cheap Trick is touring this summer. What then is plan for Tinted Windows?
James Iha: There's going to be a break. Everyone has commitments to other bands. Hanson is making a record around the same time as Bun E.'s tour. Adam is doing a Fountains record. I'm working on a solo record, hoping I can finish up sometimes this year. But we hope to play as much as we can.
TOC: Is this a one off album, or a long-term project?
James Iha: We're into it. I think it's just been fun. We haven't thought about it much. It's been fun with every aspect. The three of us all wrote songs. Adam wrote more songs. We all contributed. Nothing serious or dramatic.
TOC: When did you move away from Chicago?
James Iha: 2001. I still have a place in Chicago. I do go back once in a while.
TOC: And you went to Loyola. Any fond memories of Rodgers Park?
James Iha: Um… no. [laughs] I like Chicago. But I wanted to move away… I spent my whole life in Chicago. A lot of my music friends were in New York, and I definitely didn't want to move to L.A. I do miss the pizza.
TOC: Really?
James Iha: Not that much, but I do.
TOC: I'm not a fan. It's like shepherd's pizza.
James Iha: It's like a loaf of bread mixed with pizza. I bought Lou Malnetti's as Christmas presents. They were all like, "What is this? This is amazing!"
TOC: Was playing one of your first shows in Chicago a mindful thing?
James Iha: Definitely, because Bun E. and I thought we should play our home town.
TOC: Do you keep up with music blogs?
James Iha: I try not to. I've seen some of the things about this group... The internet is a whole separate article.
TOC: Why do people have such a problem with accepting power-pop?
James Iha: I don't know.
TOC: It's certainly not cool.
James Iha: It's sort of a precursor to indie rock, in that it's sincere and melodic, but it's not mainstream pop. It's always a little below the radar.
TOC: It aspires to be huge, and yet never quite makes it. Not to jinx you.
James Iha: I know what you're saying. There's always somebody who's doing a form of power-pop. Some do it better than others. There's definitely some I don't like. I just like super melodic stuff with guitars with harmonies.
TOC: Everyone in our office was bonding over the Japanese movie Linda Linda Linda, which you scored.
James Iha: I really like that movie. I just scored another indie Japanese movie, two or three months ago. I'm not sure what the title is… Kakera? It roughly translates as Tiny Treasure. I really like the tone of Linda Linda Linda. It was pretty easy to do, in that they liked whatever I gave them.
TOC: How did you get hooked up with the Japanese indie film industry?
James Iha: One of my old roommates from Chicago is from Toyko, in the music and fashion scene over there. I've produced four singers over there. Chara, Shione, Ayano and this dude… I can't think of his name.
TOC: How many generations has your family been in America?
James Iha: My parents were born in Hawaii. So they're Island Americans. Both of their parents are from Japan. I've very all-American suburban guy at heart, much as I don't wanna be.
TOC: There's a distinct "Iha" sound on this record. Do you think you're underrated?
James Iha: I don't know. I think that's for other people to decide, because it sounds so lame. If I were more super awesome, like Hendrix, I would toot my horn. I play a certain way; I have a sound by default. I'm not going to say it, but I play the guitar a couple different ways.
TOC: The soloing at the end of "Doncha Wanna" or the opening riff in "Take Me Back" could have come off a Pumpkins record. It seems like sound you've been avoiding for a while.
James Iha: After being in a band for 12 years, I wanted to do other stuff. I decided not to hang out with alternative hard-rock people.