Jason Stein Quartet - The Story This Time | Album review
Local bass clarinetist nods to jazz heroes on his new band's Delmark debut.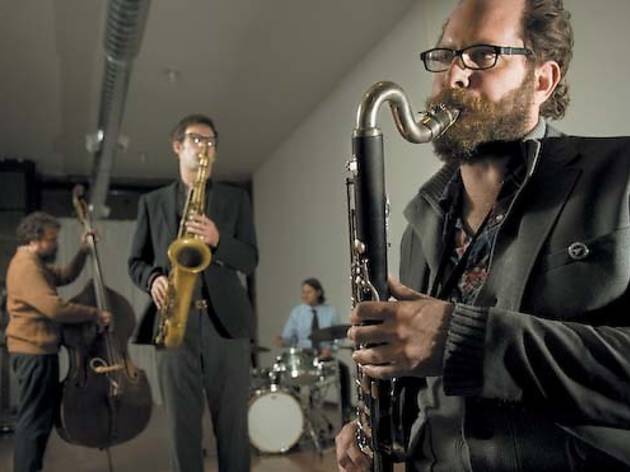 Chicago's swimming in multi-instrument reedists; it's refreshing to see someone commit to just one. Jason Stein has chosen to stake his reputation on the bass clarinet. After working the underground scene with several groups—Locksmith Isidore, My Silence and Wrack among them—he unveils a new quartet on The Story This Time, committing to disc a collection that weds Stein's wide-open improvisations to more traditional postbop fare.
Sharing the front line with Stein is one of those aforementioned woodwind versatilists, Keefe Jackson, who swaps tenor saxophone for the unwieldy contrabass clarinet. Together, they craft some lovely duetting lines over several probing cuts by Stein—including "Badlands" and "Hoke's Dream"—showcasing their symbiotic give and take. Jackson mostly sticks to sax, but busts out his contrabass beast for a thrilling growl effect on "Work," one of three Thelonious Monk tunes covered.
As a bandleader, Stein proudly wears his influences on his sleeve, dipping into Lennie Tristano's songbook as well as the pianist's disciples Warne Marsh and Lee Konitz. Like the latter, Stein isn't exactly a barn-burner, but that's evident from the fact that he's working on an instrument more commonly deployed in chamber ensembles than in jazz. That's not to say there's no bustle. Marsh's "Background Music" and Tristano's "Lennie Bird," which bookend the album, thrive on the lockstep rhythm team of bassist Joshua Abrams and drummer Frank Rosaly. The Story risks being bogged down with tributes to Stein's jazz heroes. But that's another way of saying his originals are strong enough to carry this group forward.
The JSQ plays the Hideout Wed 14.