Kanye West - Yeezus: Album review
Kanye West pretends to go punk. But in the end Yeezus is an empty gesture around one famous dick.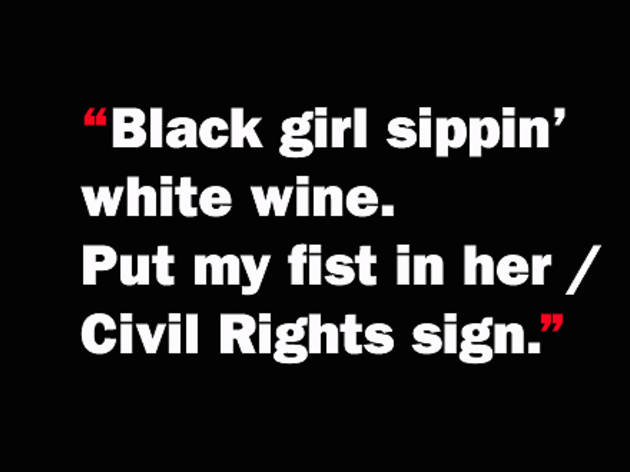 1/15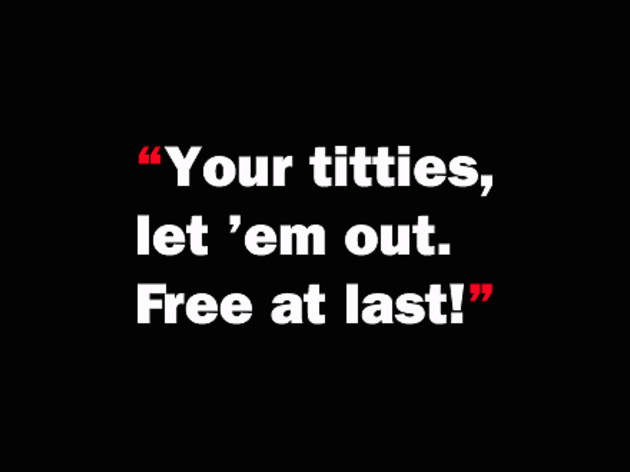 2/15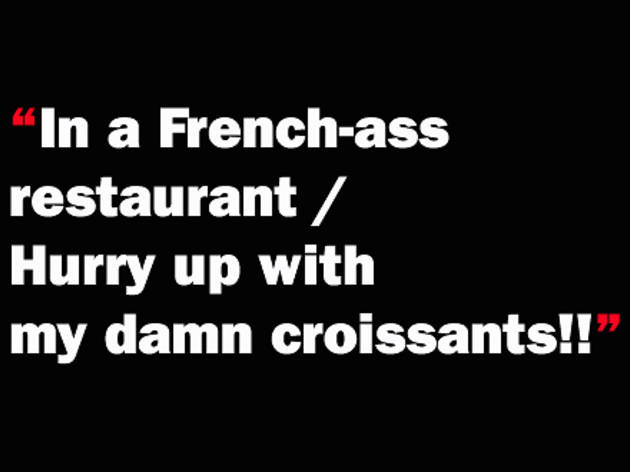 3/15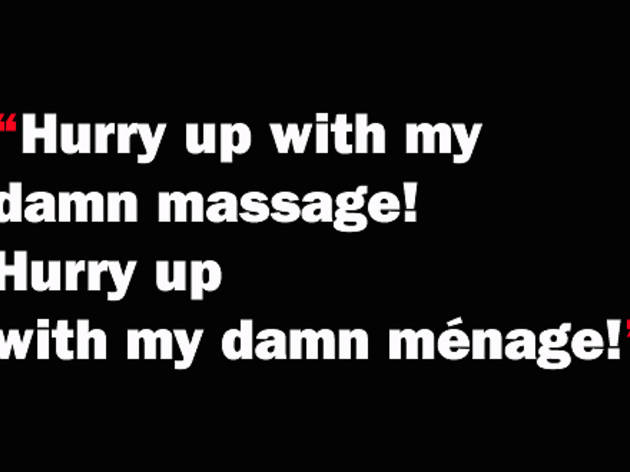 4/15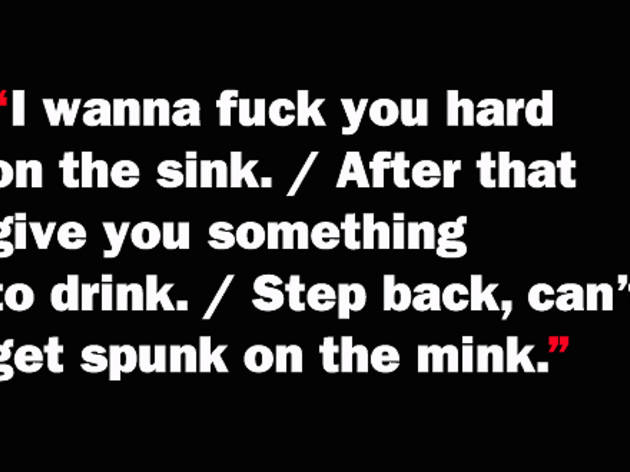 5/15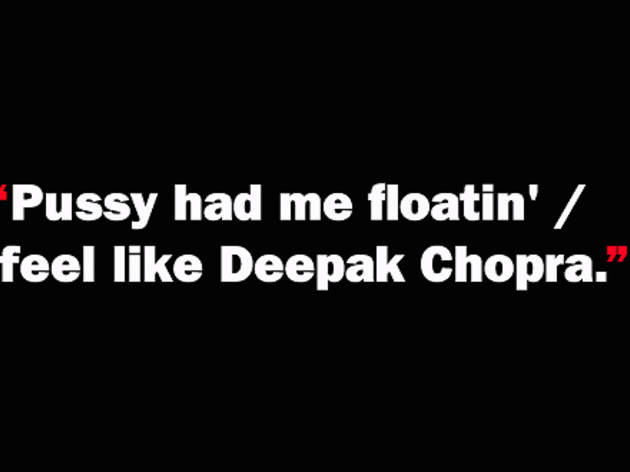 6/15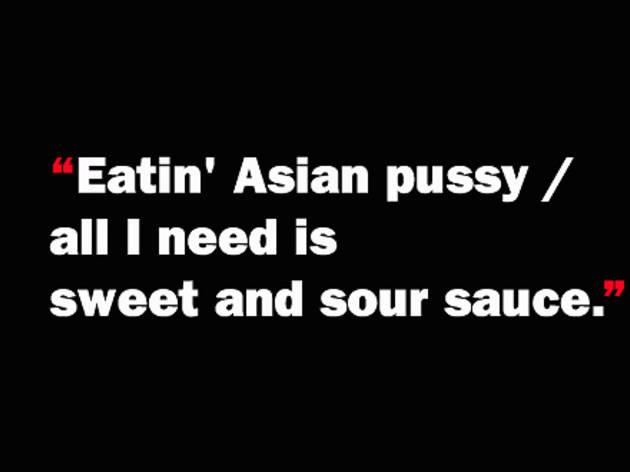 7/15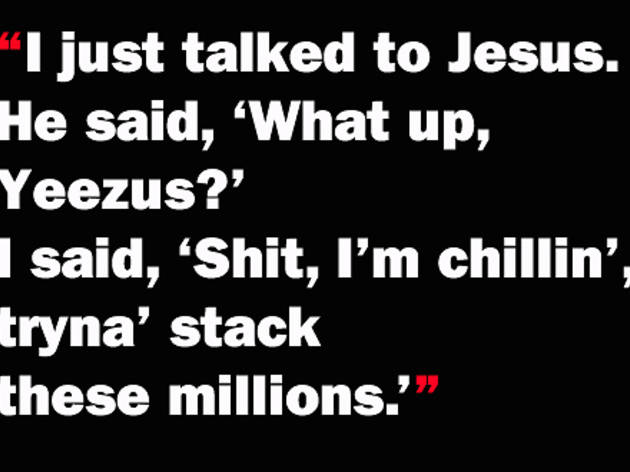 8/15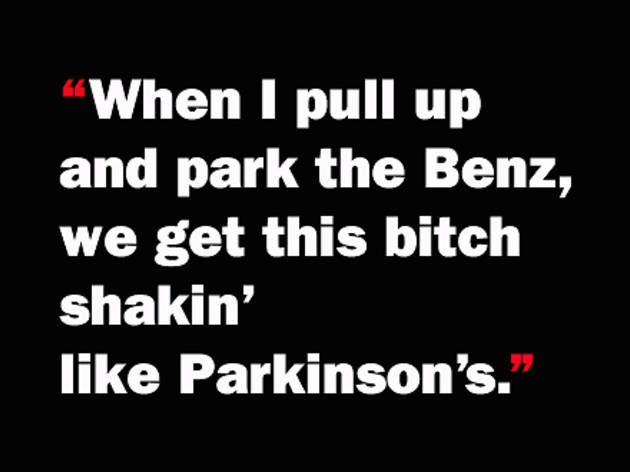 9/15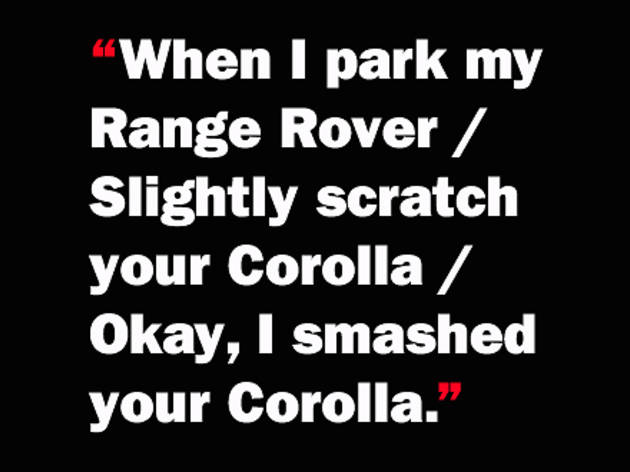 10/15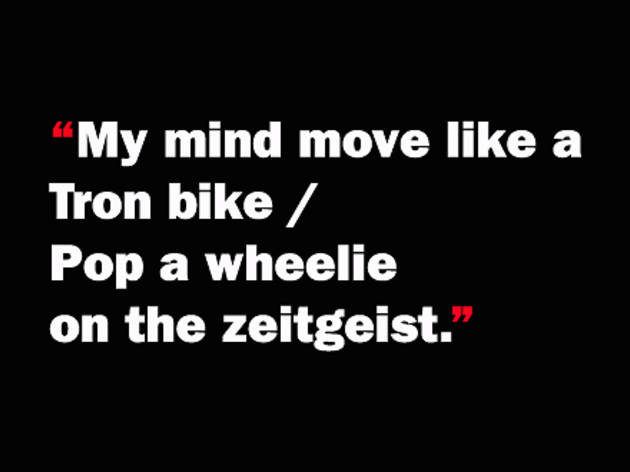 11/15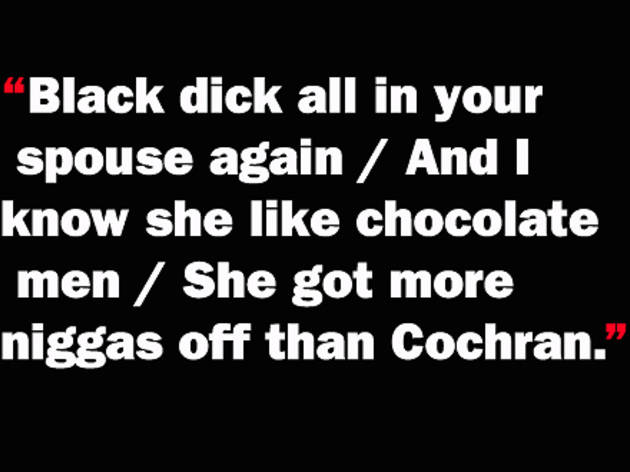 12/15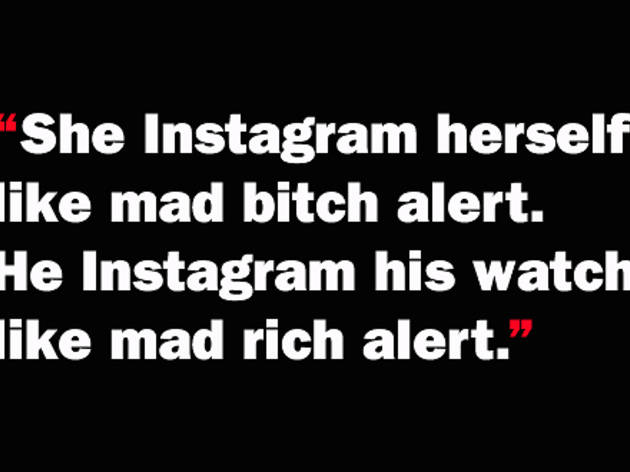 13/15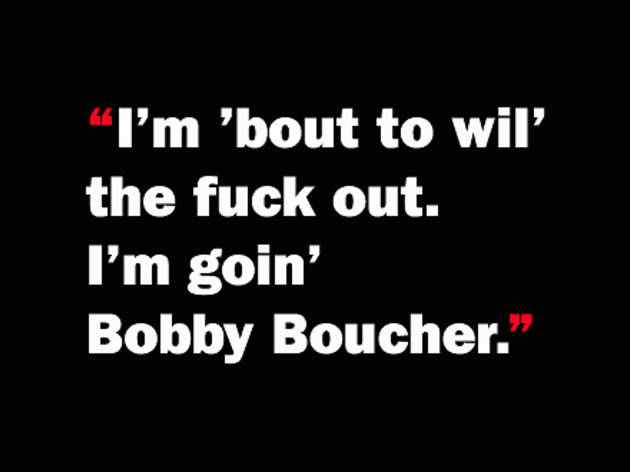 14/15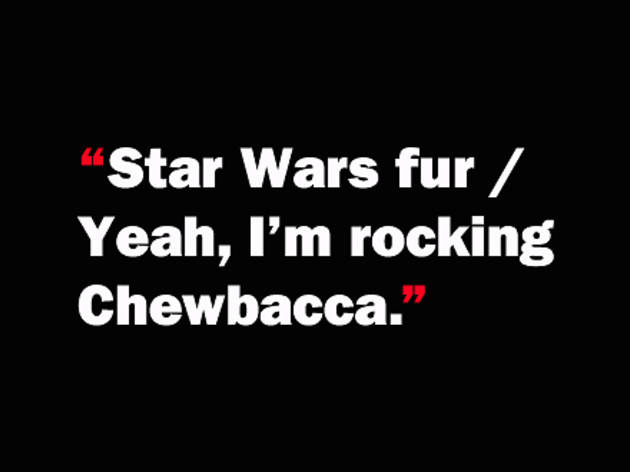 15/15
"What happened to the voices of dissent? Getting rich, I guess"—Primal Scream, "2013" on More Light, out today.
It begins in college. He is naive, idealistic and a preternaturally talented orator. Next he is in New York, working at a paint factory that has perfected the formula for high gloss. Then he is wounded, hooked to a machine in a glass box. Later, he is brought into the world of the elite, where he is seduced by white women. He is asked by his bosses to deliver a speech, to start a movement, but he goes a little too far, gets a little too up his own ass and over people's heads. Finally, he is disillusioned and becomes militant. He goes underground, living in a room filled with nothing but light fixtures, playing an old soul record over and over.
That is (very) roughly the plot of Ralph Ellison's Invisible Man. Spot any parallels with Kanye West's career? His picaresque discography runs from The College Dropout to the slick and colorful Graduation to the damaged and mechanical 808s & Heartbreak to this brash and angry latest. Ellison's unnamed protagonist ends up hiding in a bunker of light bulbs; Kanye claims his new LP was inspired by a lamp.
Yeezus H. Christ, I know, it's pretty unbearable when a critic compares a record to a classic novel. It is tenuous; Yeezus does not equate to one of the great works of American literature. (Just in case Kanye is reading this and looking for a pull quote to boost his ego.) But the pop persona of Kanye West strikes me as a character Ellison would invent had he lived today. West is intoxicated by the power of his voice, but increasingly unsure of how to wield it, and unsure for what greater good it serves. There is one key difference between the Invisible Man and Yeezy. Ellison's title character claims he is invisible because "people refuse to see me"; Kanye has been fading to invisibility because he refuses to let us see him.
Most of the conversations I've had about Kanye West in the past week have been debates about the level of his sincerity. I suspect and hope that much of his boisterous asshole personality is a put on, a marketing ploy. When he compares himself to Steve Jobs in a New York Times interview, inside he is giggling, right? "The only rapper who's compared to Michael," he boasts on Yeezus' "I Am a God." Whether he's referring to Jordan or Jackson is unclear, but he's made both claims in the past. Here's what he doesn't get: Nobody compares him to Michael Jackson because My Beautiful Dark Twisted Fantasy is this generation's Thriller. No, people compare kooky Kanye to the cuckoo Michael Jackson that lived in a theme park, befriended a chimpanzee and dressed it in an embellished 18th-century military jacket.
But is Kanye really so batshit? It's difficult to believe that a megalomaniac would hang in a studio so frequently with a down-to-earth indie dude like Justin Vernon of Bon Iver (who lends his hands to two cuts here), or allow his work to be redacted and tweaked by a Svengali like Rick Rubin at the 11th hour, or keep his ear to the underground to cherry pick collaborators like Evian Christ ("I'm In It") and TNGHT ("Blood on the Leaves"). Vainglorious idiots do not typically surround themselves with this much brainpower. Kanye is a savvy appropriator. His greatest talent is in melding, in the way he can pull together disparate elements like Daft Punk, Vernon, Chief Keef, Nina Simone, TNGHT and his trademark soul samples into a cohesive vision. In that manner, the '80s pop icon Kanye most recalls is Madonna. Unfortunately, Yeezus is his American Life.
If you want to observe a demonstration of Kanye's keen marketing skills, look at how successful he's been at convincing writers that Yeezus is some kind of punk statement. Executive producer Rubin has been spewing this tagline to the media. A Chicago Reader conversation calls the record "off the cuff." I call bullshit. I'd rather be a dick than a swallower. Sure, the record certainly begins in a bracing, belligerent manner. The shrill alarm of the opening "On Sight" pushes levels into the red with electroshock bleeps. "Black Skinhead," far and away the best track, turns a Gary Glitter glam stomp into a goose-stepping protest march. There's a playful obnoxiousness to the deep bass and cheap haunted house jolts of "I Am a God." This strong opening suite, all produced by Daft Punk to the punishing fuck-you standards of Human After All, leads into "New Slaves," a cut which begins brilliantly before collapsing into the disappointing, dick-obsessed stupidity of the back stretch.
Though the spirit hangs over the entire record, the new angry and political Kanye only truly appears on two songs, "Skinhead" and "New Slaves." He spits, "If I knew what I knew in the past, I would have been blacked out on your ass." What a refreshing thrill in the face of luxury-cars-strippers-and-vodka rap. Hip-hop needs more Boogie Down Productions and Public Enemies. Jay-Z is offering his album via a giant Samsung promotion; his wife's life is one long Pepsi ad. Problem is, those two superstars are Kanye's besties. He made a record with one of them wrapped in a gilt Givenchy cover. Charging $11.99 on iTunes to download a record with no packaging isn't exactly a Fugazi move. Kanye is wearing a balaclava in what little promotional images he's done for Yeezus. I'm guessing he copped the ski mask idea after seeing something online about Pussy Riot. "What do you want, a Bentley, a fur coat, a diamond ring? All you blacks want all the same thing…. I throw these Maybach keys!" he barks on "New Slaves." In one of the album's many jarring cuts, the minimalism of that cut instantaneously melts into a puddle of Auto-Tune crooning. Soon, Kanye is back bragging about parking his Range Rover and BMW, over a more industrial version of 808s & Heartbreak—NIИ & Heartbeak.
So he's a hypocrite. That's bearable. That's what makes the guy compelling. Being one-dimensional can make an artist transparent, it can make one into a tool, easily attachable to a product. Kanye's unpredictability and contradictions are what make him poison to Pepsi. Ellison's Invisible Man was revolutionary because he was complicated—he felt for his communist Brothers and his fallen friend shilling Sambo dolls. The thing is, Kanye is provocative, but rarely insightful or meaningful. "Blood on the Leaves" samples "Strange Fruit," evoking images of lynching, but to what point? In the same song he mentions "molly" (ugh), he says, "I ride or die for my niggas" (really?), and finally emo-moans into his computer for a minute-plus.
Kanye used to weave captivating narratives of his life and struggles. Today, Kanye talks about his dick. A lot. The major letdown of Yeezus is that for those few vital rants on the corporate prison system and consumerism, the record is largely about a certain penis. Kanye puts his dick in a lot of holes. He cums in mouths, on furs, with two woman at the same time. A celebrity cock hasn't received such a spotlight on an album since Lil Wayne's recent nadir.
Ghostwriters litter the production credits to Yeezus in a blockbuster-like litany that shatters any notion of this record being raw or spontaneous. Check the fine print. Those Rage Against the Machine polemics on "Black Skinhead?" Lupe Fiasco is credited. Rhymefest gets noted for "On Sight" and "New Slaves." Invisible men penning lyrics for an invisible man. This CD comes encased in nothingness, in clear plastic. It is an invisible album.