Kelly Hogan | Interview
Neko Case collaborator and former Hideout bartender lines up an A-list of songwriters for her comeback.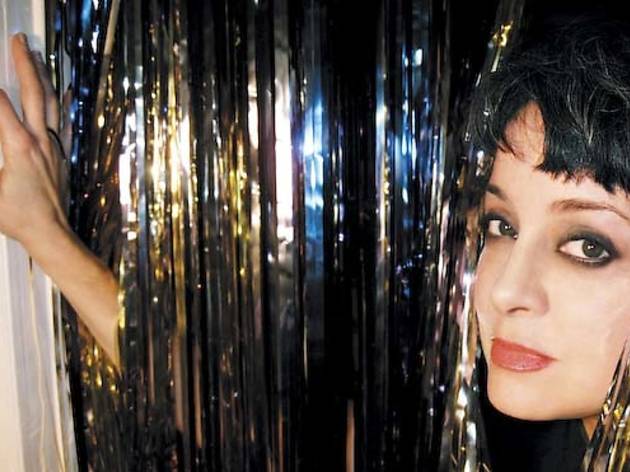 It's Friday around sundown at the Gold Star and Kelly Hogan is staring at obscene images. So am I. It's hard not to. They wrap around the Division Street bar's yellow walls. Absurd, oversized line drawings of sharks tangling with human genitals. Mostly penises, or "wieners" as Hogan refers to them, though the female anatomy is adequately represented as well. We gaze and giggle before moving on to more pressing matters. Namely, her new album, I Like to Keep Myself in Pain, which marks a comeback for the 47-year-old Atlanta native, her first solo endeavor in more than ten years, though she's hardly been idle in the meantime.
Hogan's Chicago roots run deep. Before decamping for nearby Evansville, Wisconsin, a few years ago, she was a longtime fixture of the Bloodshot Records family as well as the Hideout, where she worked behind the bar. A steadfast gig as Neko Case's backup singer has kept her on the road for years, and in between she's lent her syrupy voice to any number of projects, including Mavis Staples's Grammy-winning You Are Not Alone. That album (and several of Case's) were issued on the eclectic imprint Anti-, and it wasn't long before label honcho Andy Kaulkin suggested Hogan do her own record. Her initial reaction: "Am I being punked?" It was Kaulkin who suggested that Hogan "call in some favors" and compile a wish list of songwriters based on her side work over the past two decades. "The list was really long. I was like, damn, I've been alive a long time. I've done a lot of singing. I've been quite a slut."
Not only is the list impressive, but it speaks to the high regard in which Hogan is held around the music world. She was able to pull in contributions from Robyn Hitchcock, M. Ward, Andrew Bird and Stephin Merritt, some discarded demos and some written especially for her, including one of the album's most stirring cuts, "Ways of This World," a dark, grooving number about a knowing young woman written by an old friend of Hogan's, the late Vic Chesnutt. "Vic was one of the first people that sent me a song, and it really is like my life story," she explains over the din of a happy-hour crowd. "I was sort of an old little kid, you know? I used to freak out my dad by reading all these cop novels. He was like, 'You're like an 80-year-old man. You're eight. Go outside and play.' "
Armed with a cache of tunes, Hogan set out for the West Coast a year ago to record with Kaulkin coproducing and a dream team of session musicians: Booker T. Jones on Hammond organ, Dap-Kings bassist Gabriel Roth, drummer James Gadson (Bill Withers, Beck) and jack-of-all-trades Scott Ligon, Hogan's bandmate in Hideout fave the Flat Five. "Andy likes to put disparate things together and see what happens. He's the guy who put Mavis with Jeff Tweedy." The rich results fall somewhere between Memphis and Nashville, polished yet homespun, smothered in bright harmonies, a Hogan specialty. "I'm always hearing melodies in my head," she says. "I harmonize to the vacuum cleaner."
Hogan lights up when describing her Hollywood studio, the same used by the Beach Boys, Phil Spector and the Mamas & The Papas. "Every day, [Ligon] and I shared a hotel room, and we'd drive back and forth to the studio, we'd hear at least one, sometimes three songs, on the oldies radio that were made in the room."
Hogan's already thinking about a follow-up. Leftovers include a tune from Tweedy that wound up on Wilco's last record, in addition to an unheard cut written by the enigmatic Edith Frost. "A lot of people sent me multiple songs and I wanna record 'em at some point." But will we have to wait another ten years for the next album? "No," she replies with trademark self-deprecation, "because I'm old and I gotta hurry up."
Hogan plays Millennium Park Monday 28, SPACE June 8 and FitzGerald's June 9. I Like to Keep Myself in Pain is out June 5.