Six things you didn't know about Yeasayer
Anand Wilder gives the scoop on melting faces, brass ensembles, miner musicals and acid trips.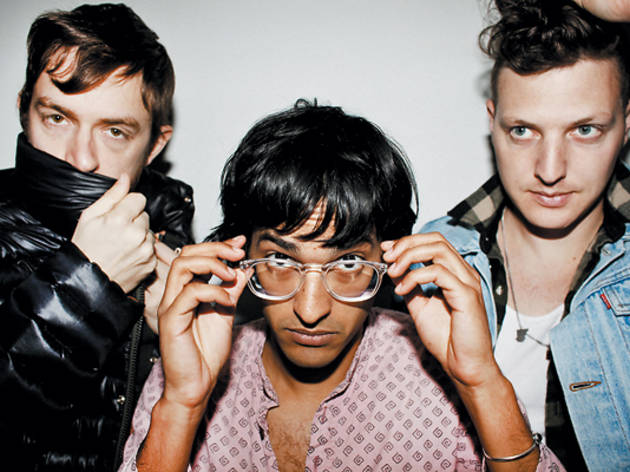 When Anand Wilder answers the phone, a car stereo blasts some pop hit as laughter erupts. The Yeasayer multi-instrumentalist and singer isn't on tour with a rowdy group of boys. He's driving his girlfriend and her great aunt and uncle to a family seder (his third-ever Passover). He politely excuses himself and returns our call a short while later, once he can hide away in a quiet bedroom.
When not professing his love for Tears for Fears ("the Beatles of the '80s!") or hatred for celebrity DJ David Guetta ("that guy is just the worst"), the 27-year-old, who began playing violin as a toddler, excitedly discusses at length his band's bright and bold new album, Odd Blood, with equal parts jocularity and profundity. He's a smart and funny guy. It's no wonder brilliant new tunes like "O.N.E." work so well on both hips and brains.
First we had to find out, What's up with the melting faces in the video and album artwork?
The answer to that is pretty geeky.
"We'd been talking a lot about this idea of nanorobots going into the human body and man becoming one with machine. We imagined someone who used this technology and lived for a really long time, but his skin is falling off. It's an aesthetic that carried into the music—having a cold, synthetic bed of sound, all synths and samplers, with a human element floating on top."
The band was deathly afraid of being labeled hippies. Hence all the haircuts.
"We were definitely trying to get as far away as possible from a hippie vibe. We asked, okay, what's the total polar opposite of that? Industrial music! Synth-pop!"
Wilder had actually witnessed fans in the crowd scratching their chins.
"I don't know what these people are thinking. I don't want to see that at a show—some old guy pondering how my vocals sound like a tremolo. 'Hmm, what is this effect on the vocals?'"
The band did indeed take a collective acid trip that Rolling Stone went on and on about.
"The importance of that experience was maybe overblown a bit, but it is an easy tag line for a magazine to run with. I'd rather have that be the description of us than, 'Hey, they're just a bunch of normal guys.' Which is what most other features have been like. That article led to some difficult family conversations. My mom said, 'I think it's something your grandmother will just have to ignore when she reads it.' But to my friends, I came off like a real rookie: 'It was Anand's first time.'"
Wilder is writing his first musical.
"I've been working on it for five years. My focus is to put it out as an album first, like Jesus Christ Superstar. It takes place in the first half of the 20th century in a Pennsylvania coal-mining town, an interracial love story amidst a workers' strike. I was an American history major. But when I only have a week off between Yeasayer tours, doing overdubs for a musical is not exactly the first thing on my mind."
Yeasayer foolishly believed that Chicago sang "Summer Breeze."
"[Bassist] Ira [Wolf Tuton] kept on singing, 'Oh-oh! Yeah! Oh-oh, yeah!' It was driving us nuts. We were like, 'What is that?' For a while we thought it was Seals and Croft's 'Summer Breeze.' It's really hard to look up a song on Google when the only lyrics you know are 'oh' and 'yeah.' I tried singing it into an iPhone song-recognition app, but that didn't work. Finally, we found a video of Chicago recording 'Feelin' Stronger Every Day.' Aha. That explains why that YouTube clip is on our website."
Yeasayer fights chin scratching at Metro Thursday 29 and returns in August for Lollapalooza.