Sufjan Stevens - Silver & Gold | Album review
58 ditties to get you through the holidays.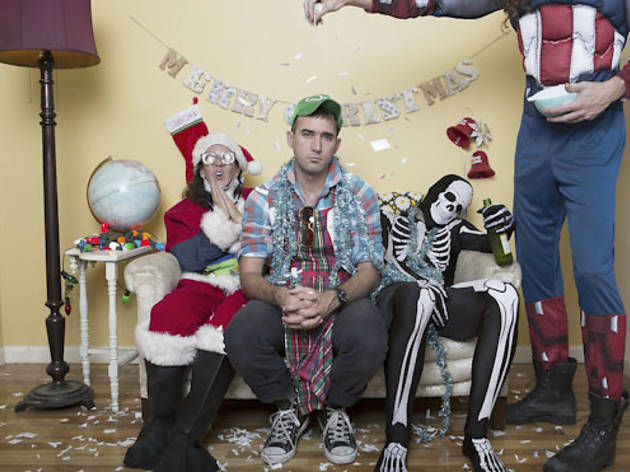 Pop stars and geezers seeking a ride on the comeback train tend to use this time of year as an excuse to cobble together an uninspired album of standards for the express purpose of licensing it to denim retailers and Lite FM radio stations. It's enough for even the Christmas-cheeriest to summon the words of Charlie Brown: Oh, brother.
And then there's Sufjan Stevens, whose offering to the Christmas-music canon is nothing if not a boldly creative labor of love. His latest box set, Silver & Gold, released in November, speaks to that spirit in spades. If the ELO-inspired cover art doesn't tip you off, the collection is a play on holiday prog-rock, in the best way possible. Serving as a follow-up to 2006 release Songs for Christmas, the five EPs take listeners on a nearly three-hour romp through originals and wildly reimagined classics. This set's 58 tracks add to its predecessor's 42 for a total of 100 holiday ditties, all written and/or arranged by the singer-songwriter and friends from 2001–2012. Now, that's dedication.
Given Stevens's eccentric proclivities, there are a few totally wacko cuts. But there are far more songs that showcase the Michigan native's ear for whimsical time signatures, goose bump–inducing harmonies and opulent, baroque arrangements. "Christmas in the Room" evokes the delicate crescendo of "Chicago," the song from his breakout LP, Illinois, which unearthed Stevens from the indie underground and put his music into the ears of the masses. If you're desperately seeking a dose of imagination this Christmas, the collection's a must. Silver & Gold may err on the side of indulgence, but the joy of the giving season is certainly not rooted in restraint, now is it?
Sufjan Stevens brings his Surfjohn Stevens Christmas Sing-A-Long: Seasonal Affective Disorder Yuletide Disaster Pageant on Ice to the Metro Saturday 15.