Zero Boys and Volcano Suns
Two cult acts with regional links finally get their due on CD.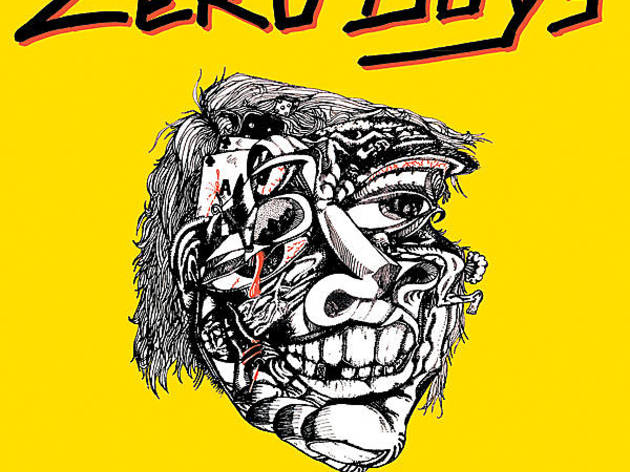 Zero Boys


Vicious Circle (Secretly Canadian)


History Of (Secretly Canadian)
During its brief early-'80s heyday, American hardcore was not an album genre. Singles, seven-inches, compilations and EPs with as many songs as the White Album ruled the day. Only a handful of bands recorded genuinely classic LPs. As far as tallying masterpieces released between the coasts, a careless machinist could do it on one hand. Combining the exhausting speed of the most pummeling hardcore, truly impressive pop sensibilities and roaring, spare production, 1982's Vicious Circle, by Indianapolis's Zero Boys, was one such album.
Unlike so many followers, nimble-tongued Paul "Z" Mahern's badass adenoidal vocals never drifted high into a nasal-cavity whine. The most nimble bassist in hardcore, David "Tufty" Clough, runs circles around Terry "Hollywood" Howe's sawing guitar. Most importantly, the Hoosiers delivered incredibly hooky choruses over tunes that make the Ramones sound as if they're on sleeping pills, including the fist-pumping, connect-the-bullets shout-along in "Civilization's Dying" about "the pope, the President and the big rock star who made a lot of money" (that's John Paul II, Reagan and Lennon). Decades on, the slower, snotty shuffle of "Livin' in the '80s" sounds not quaint but era-defining—like the Who's "My Generation" for teenagers tired of hearing their parents carry on about the Who.
Unlike a 1988 rerelease that muddied the seminal album's sanctity with too many bonus tracks, Secretly Canadian's new reissue includes only two stellar tracks originally intended for the record. They were left off because Dead Kennedys frontman Jello Biafra convinced the band members they were "too pop." Fortunately, he has no say in the matter now.
The additional ZB detritus comes culled on the separate History Of, which features the impossibly rare cassette-only sophomore album plus a 1980 pre-Tufty EP. A strong effort with good songs, History Of could have been the next step in a solid career if Zero Boys had a supportive scene, more money and any sort of stability. Then again, a typical band probably wouldn't have made an album so sui generis that it became a beacon for a quarter century of Midwest punk rockers.— Jake Austen
Volcano Suns


The Bright Orange Years (Merge)


All-Night Lotus Party (Merge)
By the time Boston's Mission of Burma split in 1983, the postpunk pioneer had only a modest discography to its credit but had already made an enormous contribution to an ambitious new strain of American rock combining a DIY ethos with more tuneful and cognitive arrangements. Though he sang a fraction of Burma's catalog, drummer Peter Prescott surprised many fans when he emerged as the only Burma member to continue in a similar vein, starting with Volcano Suns.
Following Merge Records' anthologizing of fellow Bostonites Big Dipper last March, a Volcano Suns retrospective seems appropriate enough. The trio's first two LPs, The Bright Orange Years and All-Night Lotus Party—originally released in '85 and '86, respectively, on Homestead Records—capture the band at its peak. Together, they're an indicative slab of 1980s guitar-driven college rock that could inconspicuously slip onto a playlist between Hüsker Dü's New Day Rising and R.E.M.'s Murmur.
Chicago's Bob Weston, the now-Shellac bassist who eventually replaced the Suns' Jeff Weigand, remastered both albums, which notably appear in CD format for the first time (and probably the last). The crisp, raw production proves Weston to be Steve Albini's overlooked equal, not a mere disciple. However, there are some curious inclusions among the assorted B-sides and live extras, including a cover of Prince's "1999" as well as "The Ballad of Bilbo Baggins," made (in)famous by Leonard Nimoy in '68. The band came up with some head-scratchers of its own, such as the single "Greasy Spine," a cringe-worthy sexual treatise offering carnal wisdom like "Never trust a girl with a greasy spine?/?When she says she wants to be your Valentine."
Of the two, The Bright Orange Years stands out for its immediacy and lean, melodic edge, as on Burma-esque cuts like "Jak" and breakneck hardcore like "Cover." Despite memorable takes such as the introspective "Room with a View," All-Night Lotus Party is weighed down by Prescott's goofy sense of humor and frequent yelping (see "Walk Around" and "Village Idiot"). The Suns' free-wheeling approach is far more dated than Burma's (and hardly as original). At the time, it seemed like the next best thing. Considering Burma reunited in 2002, it definitely is. —Areif Sless-Kitain