Arami - Time Out Market Chicago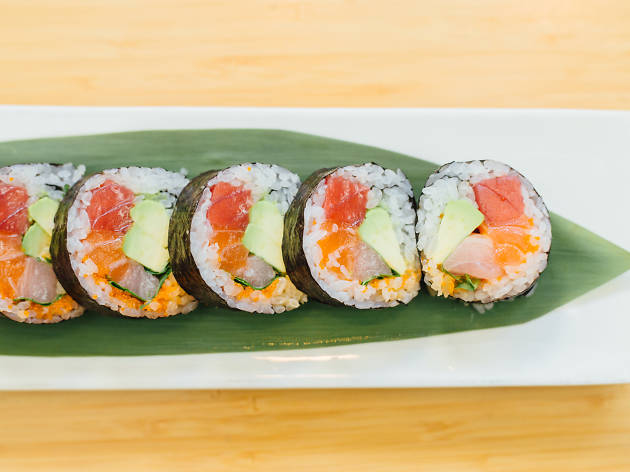 Time Out says
There are few things on this planet that are more satisfying than pristine raw fish. We're talking about the kind of stuff that practically melts on your tongue and tastes like fresh, open waters. At Ty Fujimura's sushi palace in West Town, the menu revolves around that level of quality. The seafood here is wrapped in warm, toothsome rice and crunchy, toasted nori—creating the perfect mélange of texture and temperature. For Time Out Market, Fujimura pored over Arami's past and present menus to create an all-star lineup of fish-filled rolls to cure all your sushi cravings.
MENU:
Specialty maki
Trio maki
Tuna, hamachi, salmon, masago, avocado, cilantro, chili oil, lime
Oki mac
Tempura shrimp, unagi, cucumber, masago, takuan, shiso, spicy mayo, sweet soy reduction
Spicy tako & spicy tuna
Spicy octopus topped with spicy tuna, sweet soy reduction, scallion
Karito maki
Salmon skin, grilled red bell pepper, avocado, takuan, spicy mayo, lime, furikake
Oni maki (veg)
Roasted red pepper, tempura scallion, shiitake mushroom, shiso, asparagus, sherry sweet soy, fried shallot
Satsumaimo tempura (veg)
Tempura Japanese sweet potato, shiso, shiitake mushroom, umeboshi sesame sauce

Amazake
Unagi, grilled pineapple, cucumber, avocado, scallion, cilantro topped with torched salmon, pickled red chili, caramelized raw sugar
Ebi mango
Poached shrimp, tamago topped with fresh mango, mango puree, shiso leaf
Makimono
Akami & hamachi tartare
Akami, hamachi, kizami wasabi, nagaimo, tobiko dressing, black sesame chip
Kare korokke
Japanese yellow curry croquette, satsumaimo, maitake mushroom, chili-soy dipping sauce

Zuke maguro kani
Spicy king crab over sushi rice with soy-brushed tuna

Chirashi
Sushi rice with choice of tuna, salmon, unagi, spicy or chef's selection
Tuna or spicy tuna
Tuna or tuna with chili-infused sesame oil, Sriracha, masago
Sake or spicy sake
Salmon or salmon with chili-infused sesame oil, Sriracha
Negi hamachi
Japanese yellowtail, scallion
Shrimp tempura
Tempura shrimp, avocado, spicy mayo
Unagi & avocado
Japanese freshwater BBQ eel, avocado, shiso leaf, sweet soy reduction
Cucumber
Cucumber, toasted sesame seeds

Avocado
Avocado, sweet soy reduction, toasted sesame seeds
Small plates
Wakame salad
Seaweed salad with mixed greens, cherry tomato, cucumber, Arami vinaigrette
Greens salad
Mixed greens, cherry tomato, cucumber, Arami vinaigrette
Edamame
Japanese soybeans with choice of sea salt, soy-ginger or togarashi dressing
Miso soup
Traditional preparation with silken tofu, scallions
Details
Address:
Time Out Market Chicago
916 W Fulton Market
Chicago
60607

Contact:
Do you own this business?
Users say