Body treatments | The Spas Issue 2010
H Duo Water Experience at Kohler Waters Spa—Burr RidgeTo truly enjoy this treatment, you have to really, really love water; and you have to be...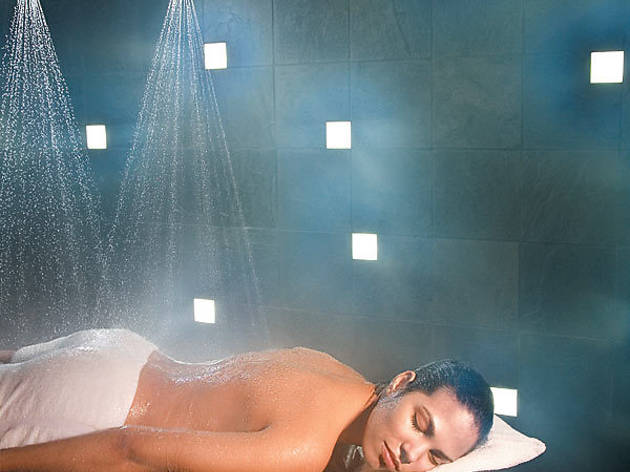 H Duo Water Experience at Kohler Waters Spa—Burr Ridge
To truly enjoy this treatment, you have to really, really love water; and you have to be comfortable taking what amounts to a glorified shower, naked, with two strangers. Fortunately, the latter was made easier by the two highly professional aestheticians who held towels in front of me like a curtain and turned discreetly to the wall in the darkened tile room when it came time for me to shift positions on the treatment table. The duo guided a five-headed Vichy shower from my neck to my toes, sending massaging jets of warm water across my back and, later, my front. Meanwhile, they rubbed an exfoliating scrub on my hands, feet, legs and back, and massaged my scalp and neck. The treatment was topped off with a moisturizer, leaving my formerly flaky winter skin feeling smooth and rejuvenated. As an added perk, spa guests are invited to use the steam room, sauna and Circle of Tranquility, a pool-size hot tub complete with waterfall. 25 minutes, $115.—Martina Sheehan
TOC DISCOUNT Take 20 percent off this treatment or any 50-minute service through February 28.
Ultimate Urban Body Mask at the Spa at Trump
Every Trump Hotel spa offers treatments designed to address the unique needs of a particular city. Waikiki residents, for example, suffer from too much sun. Us? "The harsh effects of pollutants and stress." Ouch. After massaging a salt scrub into my "harsh effects," my technician covered me in algae, wrapped me in a cocoon and let me bake for 20 minutes while she tackled the stress with a soothing scalp and foot massage. Next came the best shower of my life, as nine body jets and an overhead rain shower washed away the mask and cleared the way for a detoxifying aromatherapy oil massage. Take that, sun gods. 90 minutes, $235.—Amy Carr
TOC DISCOUNT Take 20 percent off through February 28.
Herbal wrap at Thousand Waves Spa for Women
As temps dipped into single digits, a warming herbal wrap was exactly what I needed. I barely noticed the cramped room because I was so focused on the wonderful aroma wafting from the sheets—a cocktail of herbs, including eucalyptus, peppermint, rosemary and sage. As the heated sheets were wrapped around me, I immediately relaxed. The heat and swaddling are intended to make you sweat a little, helping your body detox. About 20 minutes into the 30-minute treatment, my aesthetician slipped in to offer me water, adjust my cocoon and give me a brief—but heavenly—scalp massage. Although the warmth and the tingling sensation disappeared as soon as I stepped into the negative-15 windchill, my Zen-like calm lasted all day. 30 minutes, $60.—Stephanie Gladney
TOC DISCOUNT Get 10 percent off the herbal wrap or the herbal wrap, and one-hour massage combo, Thursday 4–Wednesday 10.
Rub & Scrub combo treatment at Sir Spa
I'm not going to lie to you: The 45-minute full-body scrub at this Andersonville men's spa is not the most relaxing service. But the results are worth it. Plus, when you book a 30-minute massage with the treatment, you get a blissful rubdown before the hyper-exfoliating begins. After the aforementioned massage, I chose a themed sea salt ("detox" seemed appropriate), and my therapist Lukasz advised me to let him know if the scrub-down was too rough. ("But the deeper I rub the sea salt, the better the results will be," he added.) At times it did feel as if he were rubbing sandpaper all over my body, but it was nothing I couldn't handle. After I took a five-minute rain shower to wash away the salt and hopped back on the table, Lukasz applied moisturizer to my body. Afterward, I noticed my skin was the softest it's ever been (one week later, it still is). 75 minutes, $130.—Kevin Aeh
TOC DISCOUNT Pay just $100 through February 28.
Asha Himalayan Rejuvenation Treatment at Spa by Asha at the James Hotel
The spa's service menu warns this wrap is "not a traditional 'relaxing' spa service but one meant…to 'detoxify' the body." But the treatment proved to be pretty darn calming (the only distraction besides the slightly chilly room was my own snoring). The wind down started with a pretreatment hand massage in the waiting area, followed by a warm foot soak and aromatherapy scents inside the room. The next two hours brought a mélange of pressure-point manipulation, exfoliation and ayurveda-style massage to loosen up toxins. Finally, the aesthetician pulled a canvas tent over the length of my body and eucalyptus-scented steam wafted in to bring about a light, impurity-purging sweat. This was the warm, heavenly encasement I'd been waiting for; I was out like a light, but this portion of the treatment—the most relaxing of all—didn't last nearly long enough. Two hours, $175.—MS
TOC DISCOUNT Get $25 off any Himalayan service by mentioning code 1111, through March 1. See ashasalonspa.com for other locations