Christopher Heitger and Joe Clauser's Rogers Park apartment | House call
Chicago couple Christopher Heitger and Joe Clauser never deliberately change their home decor; they let it evolve.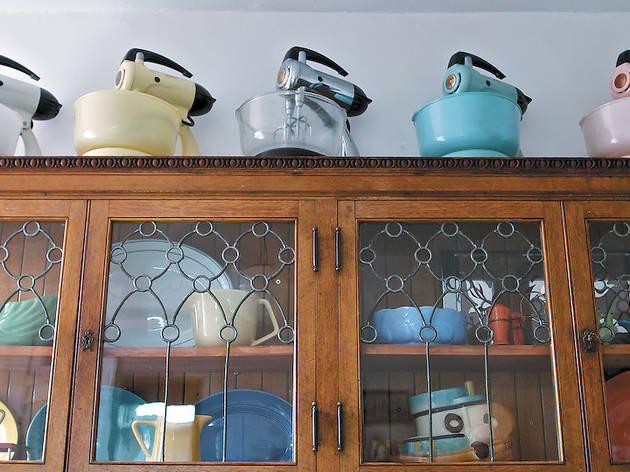 1/14
While helping a friend work an estate sale, Heitger couldn't keep his eyes off a cabinet that appeared to be the right size for an empty kitchen wall. A quick call to Clauser confirmed his suspicion, and when it didn't sell, he nabbed it.
2/14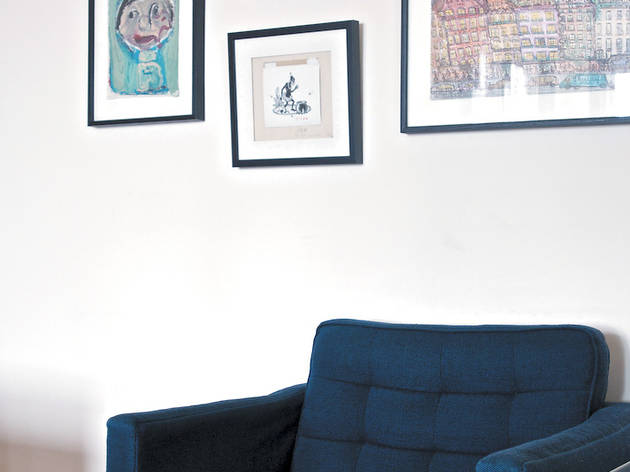 3/14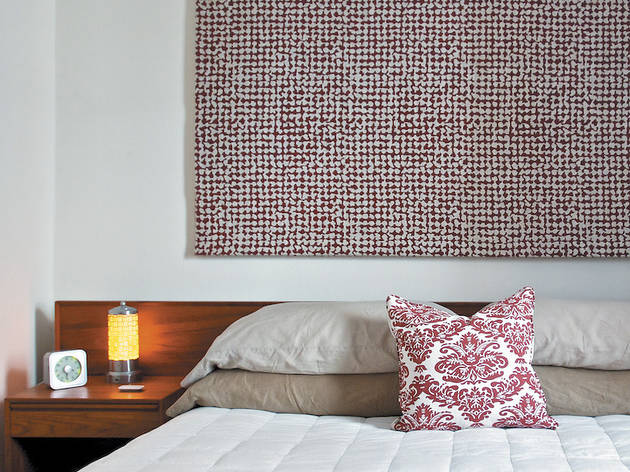 4/14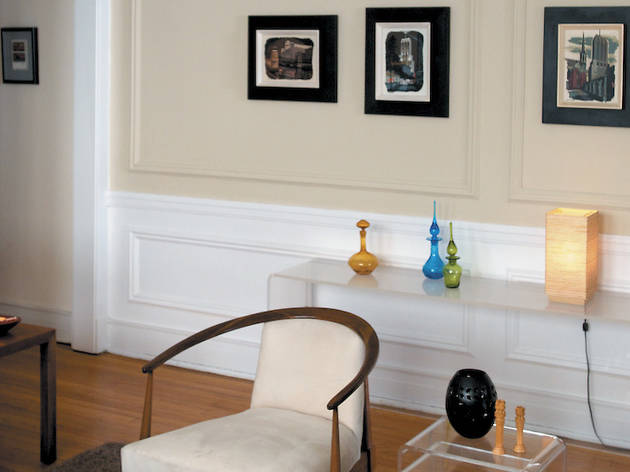 5/14
Changing the light fixtures is one way Heitger and Clauser personalize their home. This Italian ceramic pendant has hung in many of their apartments. "It's one of my favorite things in the whole world," Heitger says. "It makes the most incredible light patterns on the wall and the ceiling."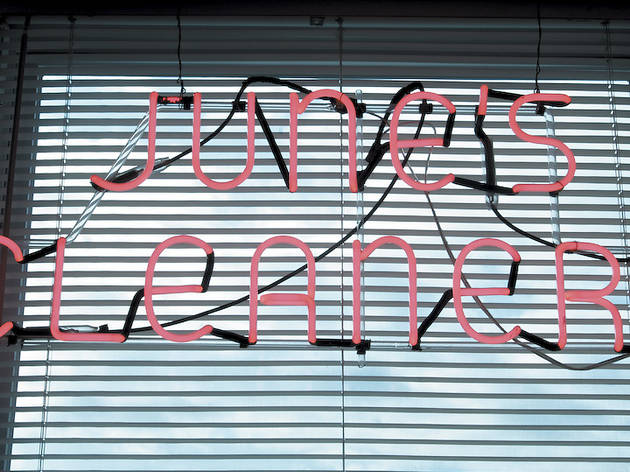 6/14
Heitger's cooking skills and collection of 100-plus mixing bowls long ago earned him the nickname June Cleaver, so when a local dry cleaner named June's Cleaners went out of business, he bought the sign.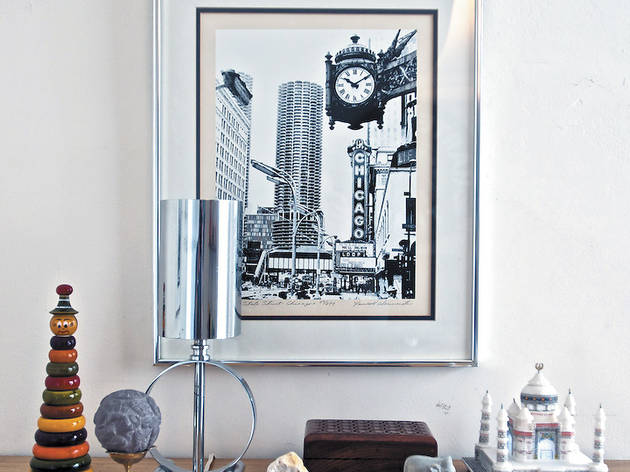 7/14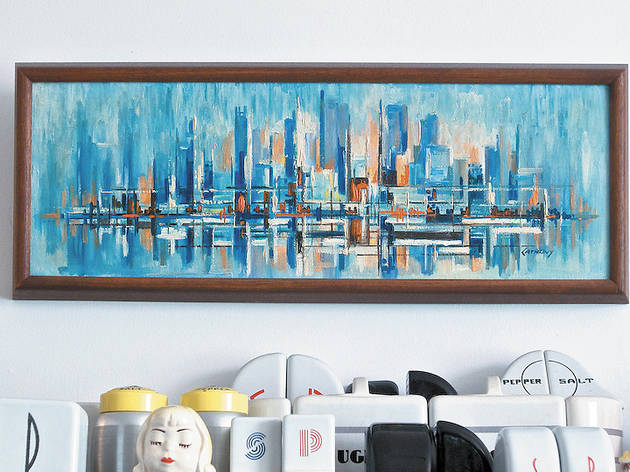 8/14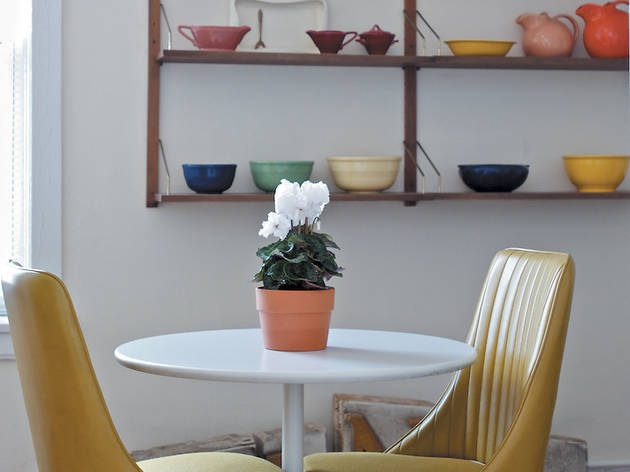 9/14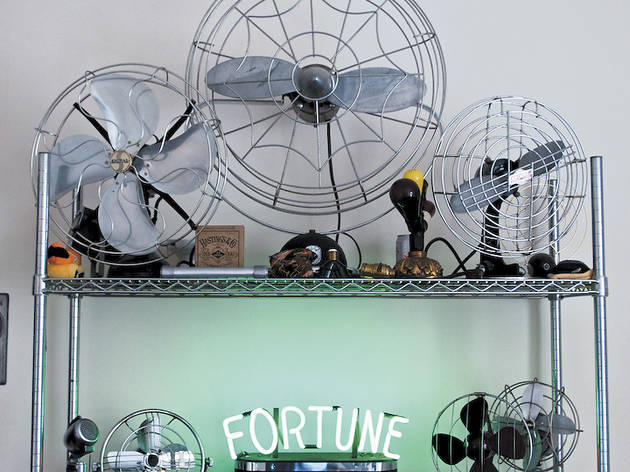 10/14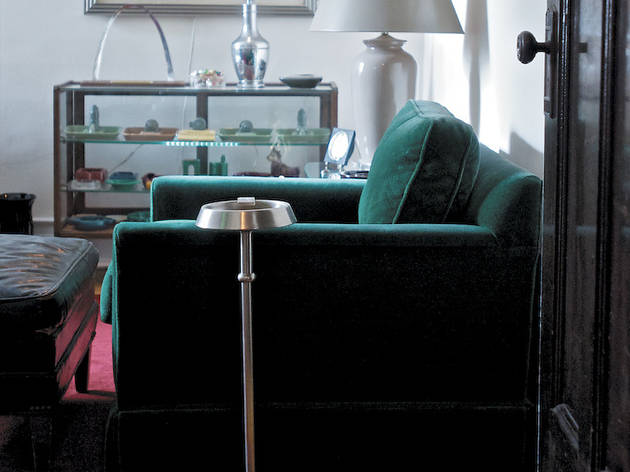 11/14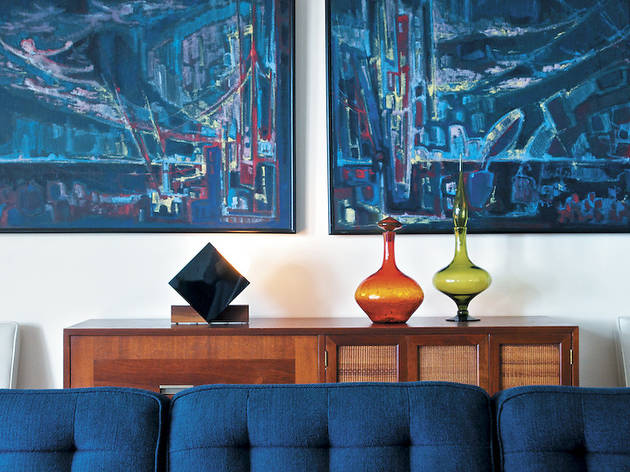 12/14
The guys assembled their collection of moody serigraphs by Mark Coomer the old-fashioned way: here and there, one at a time. "They sold them at Marshall Field's in the 1950s," Heitger says.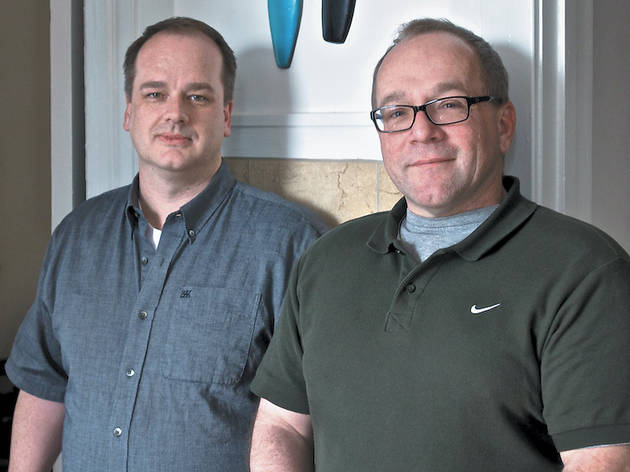 13/14
14/14
Heitger's father was a gun collector who wanted to give each of his six sons a piece from his collection. "I didn't want one, but he told me that he had a special gun for me, and I love it," Heitger says.
In the early 2000s, Christopher Heitger (pictured, left) and Joe Clauser bought a 1980 Mercedes 280 on eBay, flew to New York City to pick it up and drove the classic car back to Chicago through the snowy Pennsylvania mountains. "We did it for the adventure," Clauser says. But the move was atypical of the vintage enthusiasts, who insist the majority of the midcentury furnishings in their three-bedroom Rogers Park apartment just sort of fell into place. "We almost never go out looking for a certain item," Heitger says. "It's more right place, right time."
For years, Clauser, a manager at a medical diagnostics lab, and Heitger, who owns an estate-sale company, have enjoyed browsing thrift stores, estate sales and antique shops—usually just for the fun of it. Although not every day is fruitful, the hobby has yielded some of their most treasured pieces, including the couple's living-room furniture, a matching tufted Knoll sofa and chair in near mint condition. "I'm hoping to keep the Knoll furniture until I'm gone and somebody's having a sale at my house," Heitger jokes.
Right place, right time also sums up the way they found their 1,800-square-foot apartment, which is located on a sleepy street right next to the beach. "There aren't too many places in the city where you can get an apartment with lakefront access," Clauser says. "It's a little slice of paradise." They have an expansive lake view from their third-floor sun porch, which they use as a dining area with a glass and chrome table and a set of vintage tulip chairs. "When the windows are open, you can hear the waves, and it's almost like we're sitting on the beach," Heitger says.
Since Heitger and Clauser moved in together in 1983, the pair estimates they've lived in at least a dozen apartments, and they chose their current place for both its prime location and original vintage details. "[We didn't want] granite countertops, no stainless-steel appliances," Clauser says. "It still has the original woodwork and character."
Although the galley kitchen is small, it has an original storage pantry and also a butler's pantry between it and the dining room, which they have converted into a comfortable family room with a frieze rug and a plush 1970s rust-colored velvet sofa. A small third bedroom off the kitchen gives them even more storage. "The maid's room is truly a multitasker," Heitger says. "We actually eat breakfast in there quite a bit, and it doubles as Joe's dressing room." In the living room, a pair of built-in bookcases that flank the fireplace holds their respective collections: Heitger has a fondness for pedigreed arts-and-crafts pottery such as McCoy and Fulper, Clauser for vintage radios and TVs. "It's like archaeology at home," Clauser says. "There's at least one item representing each of us in every room."