New age
Chakrassage at Ruby Room "Are you open to this treatment?" That was the key question from my healer–massage therapist, Gladys, as we...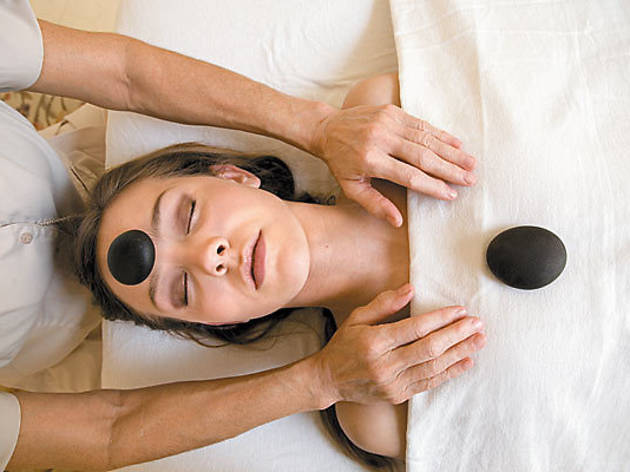 Chakrassage at Ruby Room
"Are you open to this treatment?" That was the key question from my healer–massage therapist, Gladys, as we chatted about my life (stress level, exercise and eating habits) at the beginning of the Chakrassage. A blend of gentle massage and readjustment of my chakras (seven so-called centers of spiritual energy in the human body), the massage is designed to provide a more positive, healthy energy flow. I'd been feeling stressed, so I was very open, indeed. Gladys used long, sweeping motions and placed hot stones up and down my body to melt away my yucky karma. She spent extra time on my neck, which was especially tight. At various points, she hovered her hands above my chest, stomach and forehead, inspiring a feeling of heat in the corresponding body part while my thoughts morphed from random annoyances (work, errands) to blissful…nothingness. The experience was so moving that I hugged (yes hugged!) her goodbye. 90 minutes, $150.—Liz Plosser
TOC DISCOUNT Your choice of a 90-minute signature Crystalssage or Chakrassage for $135. Valid Tuesday–Friday through February 28.
Thai Yoga Therapy at Soulistic Studio and Spa
My therapist had me lie faceup on a cozy layer of blankets on the floor, fully dressed except for bare feet. The treatment began with a moment of silence while the therapist aligned her body's energy with her healing intentions. Starting with my feet and working upward, she applied firm touch to acupressure points, following what she called "energy meridians" or "sun lines" along my body. Moving my limbs for me, she stretched muscles I didn't know I had, having me sit up at times and eventually flip over onto my stomach. Sometimes I felt as if I were losing the slowest wrestling match ever, such as when she placed a foot firmly on my butt and pulled my leg up behind me to loosen my hip joints. Other moves, such as when she knelt on my back, felt like the deepest massage of my life. I walked out feeling loose and rejuvenated—which may be why my therapist called this "lazy person's yoga." 60 minutes, $100; 90 minutes, $150.—Ruth Welte
TOC DISCOUNT Get 25 percent off Thai Yoga and Thai Herbal Compress treatments through February 28.
Acupuncture at Shen Shen Health and Harmony
I'm not needle-phobic, but I wondered if I'd flinch at my first acupuncture session. My assuasive acupuncturist, Michelle, listened carefully as I described issues I might like to address (the cold I was getting over, ongoing fatigue) and checked out my tongue and pulse before I lay down on the table and she set to careful work, giving me a thorough beginner's lesson in Chinese medicine as she went along. Michelle also suggested cupping to clear my lungs and relax my shoulder tension (another problem I'd mentioned). And the needles? Didn't even feel 'em go in. Another thing I didn't feel: any immediate changes. But acupuncture's meant to be an ongoing treatment; I'd be confident in continuing with Michelle as my guide. 60 minutes, $90.—Kris Vire
TOC DISCOUNT Pay just $50 through March 31.
Infrared sauna at Allyu Spa
I arrived for my infrared sauna session with a nagging cough and congestion, and blissful memories of visiting traditional saunas in Finland. The folks at Allyu seemed almost excited that I was a bit sick, as the infrared treatment is said to help prevent colds, enhance the immune system and even help asthma sufferers—plus (reportedly) burn as many calories as a run, reduce inflammation and detox the bod at lower temps than hot-rock saunas. I was given a semiprivate area and a shower and changing room in which to prep for the sauna (which itself holds up to four adults). Wrapped in my towel, I eased up the temperature to about 140 and mellowed out in the dry warmth. My stress and cough were soon righted, but the cold stuck around a few more days. As a stand-alone treatment, the infrared sauna isn't dramatically transformative, but it's a perfect pre- or postmassage ritual. 30 minutes, $25; $20 when added to another service.—John Dugan
TOC DISCOUNT Free with any 60–90 minute service Thursday 4–Wednesday 10.
Asian ear candling with 30-minute massage at Tiffani Kim Institute
Thinking of switching up my hippie hygiene practice (colonics are so ten years ago), I decided to try out ear candling. The technique (although derided by some as ineffective) is touted as a practice that can rid your ears of wax using heat-induced suction. I hit up Tiffani Kim spa for a professional version of the treatment: Masseuse Katie led me to my heated bed, placed a hollow, paraffin-coated paper tube in my ear and lit the tube on the other end. A pain-free, relaxing, crackling sensation ensued for about seven minutes per ear. Hypothetically, the heat sucks in wax, as evidenced at the treatment's end—Katie cut the tube open and showed me balls of nasty orange wax. Curiosity sated, my favorite part came next: the best 30-minute massage I've ever had. 45 minutes, $90.—Madeline Nusser
TOC DISCOUNT Get 20 percent off this or any other spa service Thursday 4–Wednesday 10.