Weapons of mass reduction
Don't let those computer nerds have all the fun. Health geeks can be techy, too. Strap on, hook up and take off.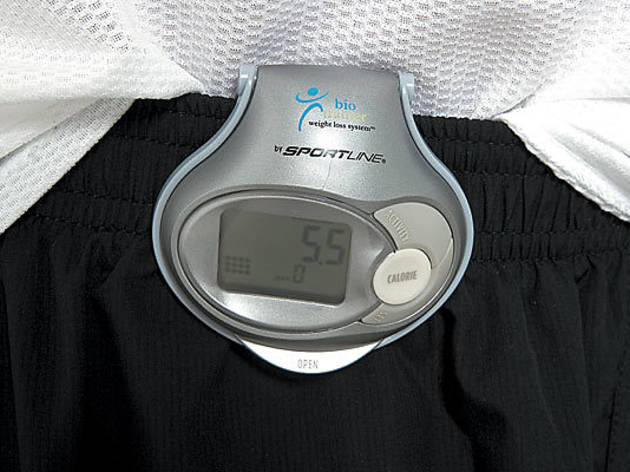 Office space
Attach the Accelerometer to your pants and it will use NASA technology to calculate how many calories you're burning—even when you're on planet Earth. We love watching the calories add up when we take a bathroom break at work. Available at hammacher.com (800-321-1484). $49.95.
Underwear
Weight lifting gets a little more comfy thanks to Anatomical Leg Weights, which are invisible to the eye when you put them under your pants (unless you're wearing skinny jeans, of course). Each of your legs will carry nearly three pounds, giving you a light workout all day long. Within 30 days, you'll notice that your muscles are more toned, according to Clint Phillips, a personal trainer at FitChicago.com. Available at gaiam.com (877-989-6321). $80 for each set.
Bottoms up
Water enters the tech world with Sharper Image's battery-operated Sportline HydraCoach Intelligent Water Bottle. After inputting your height and weight, the bottle determines how many ounces of water you need each day—plus it detects each sip you take, tallies how much water you drink and calculates what percentage of your daily goal you swallow. It instructed our 5'3" body to guzzle 60 ounces of H20 daily. Sharper Image, Water Tower Place, 835 N Michigan Ave (312-335-1600, sharperimage.com). $29.95.
Race tech
Strap the Forerunner 50 on your wrist, attach the foot pod, hook up the heart-rate monitor and turn your brain off. The watch tracks your workout pace, distance and time, in addition to your calories burned and heart-rate. When you're finished exercising, simply stand near your computer and all the info will transfer from your watch to your screen, so you can keep track of your progress online without touching a key. Garmin, 663 N Michigan Ave (312-787-3221, garmin.com). $199.99.
Shock therapy
You used to have to make an appointment with your doctor or trainer to find out your percentage of body fat and bone mass. Now, simply hop aboard Tanita's InnerScan Body Composition Monitor, which sends small electrical currents through your body to gauge your health stats. It quickly determines the number of calories you need to maintain your weight (just don't step on if you're preggers—the currents aren't good for the little bean). Then, it saves the data so you can look back and laugh at the days when your "metabolic age" was twice your real age. Bed, Bath & Beyond, 530 N State St (312-755-9890, bedbathandbeyond.com). $99.99.
Watch out
The Polar F11 watch determines your fitness level using electrodes, which track your heart rate and calories burned. Then it lets you know how much, how hard and how long to exercise to meet your predetermined goals. Oh, and it also tells the time. Fleet Feet Sports, 210 W North Ave (312-587-3338, polarusa.com). $160.
Measuring grape
We have a better name for the Salter Nutri-Weigh Dietary Scale: "Dieting for Dummies." Simply plop your food onto the scale, input the name of the object and the scale displays the amount of protein, calories, carbs, sugar, fat, sodium and cholesterol that's in the food. We shudder to think what numbers are lurking in our daily serving of chocolate-chocolate-chip ice cream—perhaps we'll leave that one off the scale. Available at lnt.com (866-568-7378). $99.99.