Win more than $2,400 worth of goodies from Renegade Craft Fair
We're giving away a prize pack filled with hand-made gifts from vendors who will appear at the market this weekend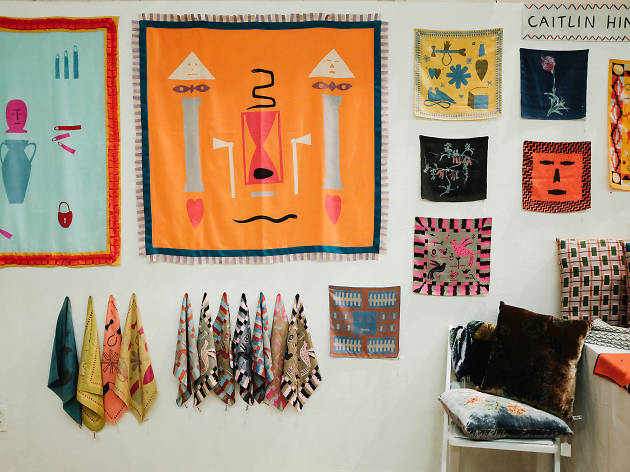 We're not going to sugarcoat it—holiday shopping can be downright stressful. Step away from the computer and check out the season's most festive holiday shopping experience: Renegade Craft Fair. The market sets up shop in Bridgeport this weekend for two days of holiday cheer. Attendees can browse jewelry, clothing, home decor, scents, soaps, candy and more—all perfect for those hard-to-shop for people on your list. But first, here's a little something for you: We're giving away a goody bag packed with items from makers who will appear at the event. One lucky winner will receive $2,422 worth of awesomeness. Check out what's inside below.
Visit Renegade Craft Fair at Bridgeport Art Center December 2 and 3, from 11am to 6pm daily. Check out the full lineup of makers and more information on the craft fair here.
You could win all of this
What started as a sticker-driven campaign to spread positive vibes around Chicago has grown into a full-blown business. Bring the message home with these funky wood pieces. Value: $300
The hand-crafted sweets company provided an assortment of its current candies. Munch on vanilla bean-sea salt caramels, apple cider caramels, caramelized white chocolate chews, "Malört"-ish chews and more. Value: $174
Not gonna lie: We're insanely jealous of the person who wins this beautiful diamond cuff, which is made with a .07-carat white diamond and a 14-karat gold-filled base to ensure it won't tarnish. Value: $150
These hand-made, small-batch soaps smell as great as they feel. Enjoy the "Ultimate All Natural Spa Package," which includes soaps, face masks, body scrubs, bath soak, lip balm, cuticle cream, beeswax candle, body oil and linen spray. Value: $150
These hand-made soy candles are packaged inside colorful recycled containers. You'll receive six inspired-by-nature scents including cedar campfire, white ginger with amber and wild honey. Value: $120
This design duo focuses on geometric goods, including these two one-of-a-kind pieces: the Moon Phase collar necklace and Tri-Point ear jacket two-part earrings. Value: $110
Kristin Oldach, the knitwear designer behind this brand, created the Burlington Pompom hat and Harvard warmer versatile cowl, both made with a soft lamb's wool blend. Value: $100
Using only cotton canvas, paint and locally sourced beeswax, these colorful backpacks are ready for any season. Value: $145
This bright red American Tourister Traincase was converted into a speaker capable of streaming music via Bluetooth for up to 15 hours on a single charge. Value: $395
Courtesy Rebecca Mir Grady
Rebecca Mir Grady McLeod bangle
This refined McLeod bangle is made of sterling silver that's lightly hammered and brushed. Value: $145
Stock up on hand-drawn holiday greeting cards with this 10-pack assortment. They tossed in a sweet "How to be good" canvas tote for good measure. Value: $80
Blast off to another planet with three best-selling prints: the Rogue Nasa signed and numbered limited-edition screen print, the Isaac Newton laws of gravity print and the Millennium Falcon Volkswagen ad print. Value: $115
'Tis the season for handmade greeting cards. Make your list and check it twice, because your family and friends will love receiving one of these pure cotton, environmentally friendly holiday cards. Value: $75
Rock this unisex flannel, baseball cap and reusable water bottle from a brand that lessens the use of virgin materials and features upcycled fabrics. Value: $120
Love plants but lack a green thumb? These two festive Welltended plants are perfect for you. You'll get a Norfolk Pine and a ZZ, two low-maintenance plants that will bring some holiday cheer to your living space and can flourish all year long. Value: $118
Niloofar's Persian Trail Mix ("Ajil") is likely the rarest snack you'll ever munch on. You'll receive seven one-pound bags each containing a unique blend of globally sourced nuts and dried fruit, crafted in small batches for freshness. Put this treat out for guests or save the sumptuous snack for yourself. Value: $125
Time Out Renegade Craft Fair Maker Giveaway Official Rules
CONTEST RULES: One entry per person. These competitions are open to any U.S. resident (unless otherwise stated) except employees of Time Out and sponsoring organizations, their agents or anyone directly connected to these promotions. No purchase required for this promotion. Contest valid 11/24/17 through 12/5/17 at 9:00AM CST. Winners must be 21 years of age or older unless otherwise stated. Prizes are as described above; no cash alternatives will be given. Prizes may not be sold, traded, transferred or refunded. Any and all federal, state and local taxes are the responsibility of the winner. If for any reason winners are unable to use prizes within the time specified, the participating organizations are not responsible for providing replacement prizes. No make goods will be given in the event of a canceled or rescheduled event. Total prize valued at $2,422.
DISCLAIMER AND WAIVER: Time Out does not endorse or make any representation about the prize or quality of the services that are part of the prize. By participating in this contest, entrants agree to receive promotional emails from Time Out and waive any claims against Time Out arising out of use of the prize and related services. The odds of winning are relative to the number of correct, eligible entries received; winners will be drawn at random from this pool.