Chicago Marathon spectator guide
Where to watch the 2009 Bank of America Chicago Marathon-and why.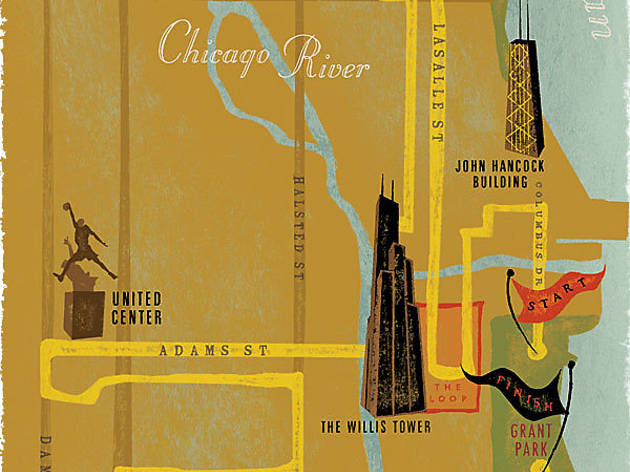 Imagine there are 45,000 madmen and women in Chicago. For the past four months, they've endured physical torture, choked down liquid food and suffered extreme sleep deprivation. Now imagine that at 7:30am on Sunday 11, these 45,000 raving lunatics will be set loose in the city's streets. Would you show up to see them? Set your alarm and pick your mile marker—the Chicago Marathon is a spectacle you don't want to miss.
WATCH THE LEADERS
1. MILE 4 (LaSalle and Division Sts)
This straightaway is an exciting spot to watch the elite athletes break open the race with their blistering, 5-minute-mile pace. The tidal wave of everyday runners will come into view a little before 8am—and it's an awesome sight.
JOIN A PAL
2. MILE 7.5 (Addison St and Broadway)
Yes, it's against race rules to run on the course if you're not registered, but in-shape fans who covertly jump in here and hop back out in Greektown can bank a nice little 10K. Your marathoner buddy will get a boost from your fresh legs and upbeat chatter.
GRAB A SNACK
3. MILE 9 (Clark St and Fullerton Ave)
Even though the streets will be overflowing with hungry people, Algerian crêpe spot Icosium Kafé (2433 N Clark St, 773-404-1300) will remain a relatively empty hidden gem.
HANG OUT IN A 'HOOD
4. MILE 9.5 (Sedgwick St and Lincoln Ave)
Neighborhoody sections of the course tend to attract block party–style carousing. If you like to cheer with a mimosa or Bloody Mary in hand, station yourself here.
FIRE UP THE DEAD ZONE
5. MILE 14.5 (Adams St and Ashland Ave)
Being a good spectator means staying alert: Keep your blood sugar up with cookies and individual tres leches cakes from cute Mexican patisserie Bombon Café (36 S Ashland Ave, 312-733-8717). Now that runners have passed the halfway point, their adrenaline begins to wane. Fired-up fans yelling "You can do it!" pump up fatiguing racers.
LIE YOUR ASS OFF
6. MILE 17.5 (Taylor St and Racine Ave)
"Looking good!" and "Great form!" and "Way to dig deep!" are fibs, but the good kind.
GET PUMPED IN PILSEN
7. MILE 19 (18th St at Racine Ave)
As runners near the dreaded "Wall," they travel through a party in Pilsen as salsa music blares from speakers along 18th Street. Many runners have put their names on their shirts to get personalized cheers—yell loudly ("Go, Sam, go!") and they'll be totally grateful. Even if they have no idea what their name is at this point.
JOIN THE PARADE IN CHINATOWN
8. MILE 21 (Cermak and Wentworth Aves)
It's a cinch to reach this spot via the Red Line's Cermak-Chinatown stop, so watch drummers and dancers dressed in traditional Chinese lion and dragon costumes come out in full force on Sunday.
TAKE A TEA BREAK
9. MILE 21.5 (23rd Street and Wentworth Ave)
Bubble tea is the smart, portable option for the spectator on the run, but Saint's Alp Teahouse (2131 S Archer Ave, 312-842-1886) works for eating in as well: The big windows in front will let you keep an eye on (at least some of) the action.
POPULATE A GHOST TOWN
10. MILE 23 (35th St between State St and Michigan Ave)
Because most fans position themselves to see their peeps cross the finish line, the final miles are leaner than a Kenyan runner when it comes to spectator support. And that's a shame, because zonked marathoners need encouragement now more than ever. What not to say: "You're almost there!" (it's not really true until they can see the finish line). A cheerful "Stay strong!" works wonders.
GET READY TO CRY
11. MILE 26.2 (Columbus Dr near 11th Street Bridge)
Watching runners struggle to finish, with "Eye of the Tiger"–esque songs roaring in the background, you will get emotional. Watching uniformed servicemen and athletes with disabilities cross the finish line, you will weep. You'll maybe even be inspired to go home and sign up for the 2010 marathon.
DEVOUR A VICTORY MEAL
12. Spanish small-plates spot Mercat a la Planxa (638 S Michigan Ave, 312-765-0524) is a perfect spot for pre- or post-marathon meals. And because it's used to getting hotel guests in and out of the dining room quickly, the wait for a table shouldn't be too bad.

View Chicago Marathon spectator guide in a larger map