On Your Mark's Ass & Abs class
It's not your average bikini bod workout, but it'll tone your tummy and backside all the same.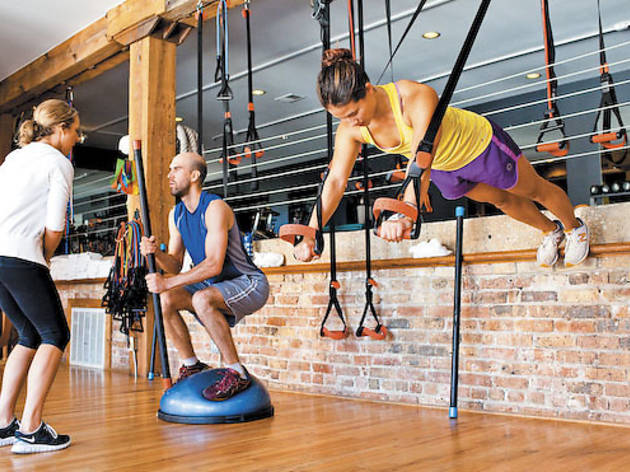 The class Ass & Abs
The details Let's be clear on one issue: I pretty much never set foot in the stretching area of the gym where more disciplined gym-goers put in time toning their midsections. So, I'm naturally nervous this class will have me on the floor counting 200 sit-ups. But instructor Annette Fiscelli brushes aside my preconceived notion of the stereotypical ass and abs workout (i.e., get your best bikini bod in three weeks) and explains the 45-minute routine focuses on getting the rear end and core to work together practicing everyday moves (read: no bridges or crunches). The class takes us through a couple of sets of reps utilizing the two core muscle groups with moves like twisting planks and lateral steps with a sand-filled ballast ball outstretched in front of the chest, with little time to catch our breath in between. Every 30 seconds or so, Fiscelli walks over to make sure our glutes are engaged, poking at our backsides to double-check. Thanks to the small class size—capped at eight people even though we're a teensy group of two today—the routine is completely customized to our body types. For instance, we end with a cone reach (an opposing arm/leg extension, balancing on one leg and reaching forward and down) to work on improving my balance and less-than-stellar left glute-firing. The next day, I'm finally convinced I actually have core and butt muscles because they're sore when I take a seat.
When to take it Mondays at 10:30am and Fridays at 11:30am at On Your Mark, 1753 N Damen Ave (773-292-9330, oymtraining.com). $25 for a single class.